'I was feeling some signs of depression'
Fardad Maghsoudi Moud, PhD candidate at ITC
'Corona has had some positive and negative aspects for me. From the positive side, I'v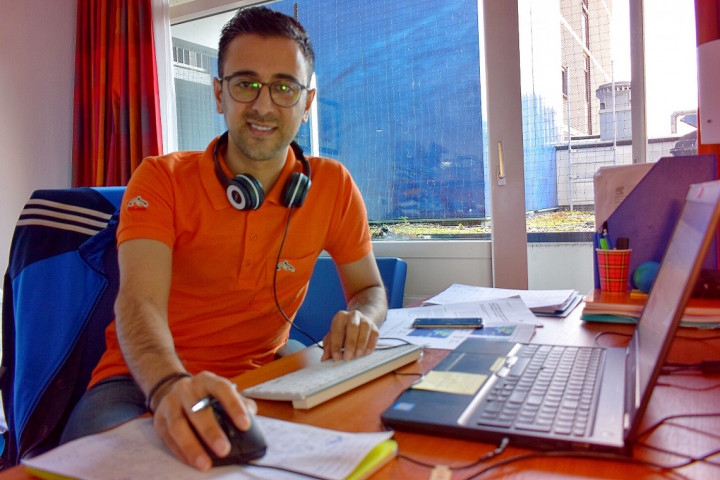 e learnt a lot of self-recognition, being more independent, I picked up new hobbies. I'm feeling good and strong. I'm one of the luckiest people at the UT. I'm now allowed to work at ITC every day. I complained about my home office and I got the permission to use ITC facilities. Staying at home all the time isn't pleasant and I was feeling some signs of depression, so I thought it was better for me to go back to the office. This really helps with my routine and I'm very happy to see my colleagues in person. Now I feel mentally and emotionally good. In some aspects I'm even happier than I was before. Covid helped me separate real friends from fake ones. Now I know who really cares about me. The main thing I learnt from Covid is that human is a social creature. We cannot stay alone.' 
'Settling in was difficult in the beginning'
Saskia Baas – Oude Hilbert, programme marketer EEMCS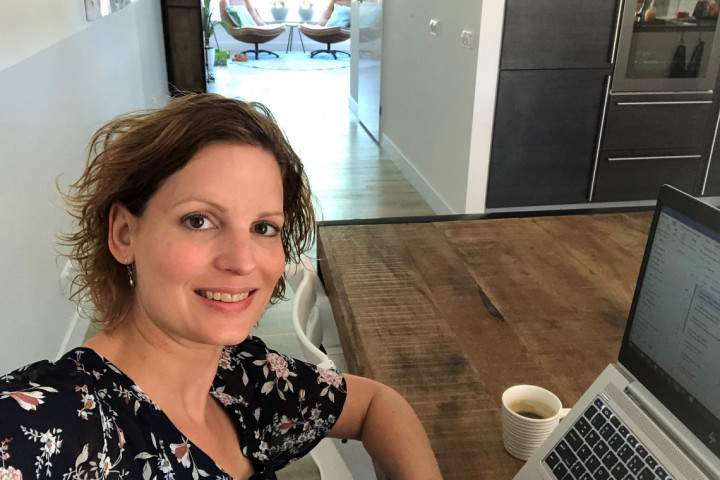 'It seems very special to me to work on a busy campus. That would be new to me. I started my job at the UT during the first lockdown, so I don't know any better. Working from home is easier than it was in the beginning because everything is better organized now. Back then, you were really overwhelmed by the crisis. Settling in was difficult in the beginning, because it works best when you're sitting next to someone. Then you can always ask small questions. You don't call someone up so quickly for a brief question. My first working day was scheduled for March. It wasn't until July that I was on campus for the first time. I yearn to be on campus again at least a few days a week. First of all, to get inspired. Especially in marketing, you get a lot more ideas and energy when you see and hear people. Online you notice that it's a lot of sending, you don't get any interaction. In addition, for building a network it is also nice to meet people physically. This year I found out that working from home – although not ideal – is perfectly possible. The advantage is that organizing the day is easier, especially in a family with younger children. You can do more in between.'
'It is comfortable to a certain degree'
Efthymios Constantinides, Associate professor of Digital Marketing
'The way I work hasn't changed that much compared to a year ago, because right after the first lockdown we moved everything online very quickly. The difference is that we are more settled now. We find it normal to get up and go the next room to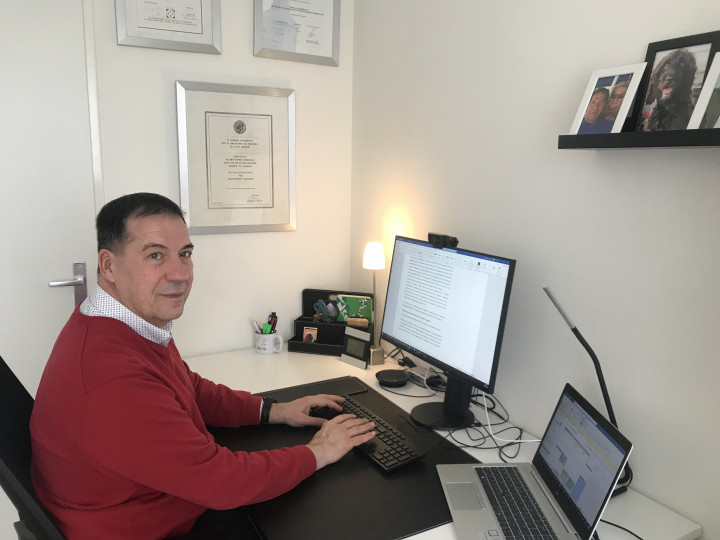 work instead of getting on a bike or in a car. On one hand, we are used to working at home, but on the other we are not because we don't like it – at least I don't. However, it is comfortable to a certain degree. I have renovated my work space and it is a nice place to work now. I can design my own agenda and it seems easier to connect with people. I just had a meeting with a PhD candidate in the US and with a colleague on the other side of the country. I also see more people at our department meetings now than when they used to be physical.
I don't come to the campus often, only seldomly. I'm more used to not seeing my office, but that doesn't mean I don't miss it. I miss it very much. As soon as the lockdown is over, I will go back. I expect a more hybrid way of working in the future. It will be interesting to see how people will behave once this is all over. I hope they will go and be together, sit in a café, go shopping. Technology is nice but it shouldn't take away from your life.'
'Coffee tastes better at home'
Henri Holtkamp, Safety, Health and Environment Officer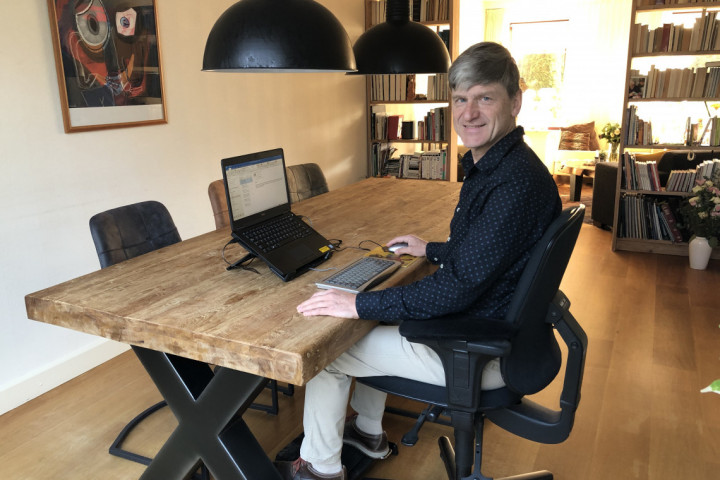 'The pathetic feeling is gone with me. Throughout the year you see that colleagues with young children have it much harder. Also, I don't have to fight with my wife for a place at home. I balance between acceptance and being completely done with it. There is just no point in resisting. My job requires me to be on campus one day a week. That feels like a relief. You notice that the informal contacts are enormously important. You miss them at home. I hope that we will soon be able to return to the old situation, but I am happy to keep working from home on a limited basis. You are less disturbed and the coffee tastes better. What remains positive is the way in which we dealt with the consequences of the pandemic in the spring. We acted quickly with a multidisciplinary team and it was striking that everyone listened. Even the Executive Board was fully behind us. That gave a lot of confidence. The most painful thing I see on campus is that people who retire or start a new job after years of service leave in silence. That they don't get a farewell they deserve.'
'I have a completely different rhythm now'
Heather Willson, English teacher at the UT
'It's going much better now. Immediately after the first lockdown, it was still a novelty. It felt scary but also exciting. Then it all went downhill for me. Some months ago, I fell into deep despair. I felt uncontrollably depressed day after day. As uncontrollably as that started, I also came out of it. I'm not sure why. Something has shifted in me and I understand that it's permanent. I need to make lifestyle changes that could last forever. I expect to go back to the office at some point, but I also don't expect to go back to how it was before.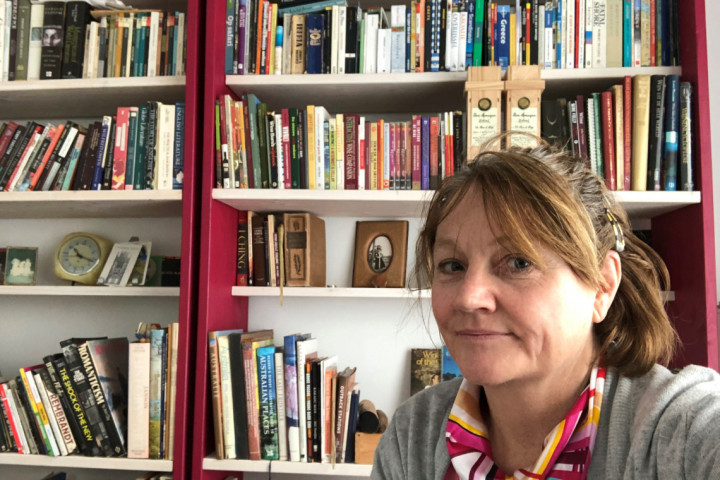 I definitely miss the stimulation from my colleagues. I would love to go back for one or two days a week, but I think that will also require some adjustments. I have a completely different rhythm now. I'm a night person and I very happily work in the evening. Now I'm much more free to work not with the clock, but with my levels of energy.
Because of Covid-19, I became a 'hobby Heather'. I've acquired new hobbies that I'm very obsessive about. After watching The Queen's Gambit, I became interested in chess, which was something I would have never expected. And only because of Covid, I acquired yet another unexpected hobby: Bob Dylan. I'm currently inside an enjoyable rabbit hole of learning about his work. Another thing I had to adapt very strictly was the way I move. I had to work on my posture, walk regularly, meditate, do ten minutes of pilates every day. Those used to be things I found marginally important, now they are a survival strategy.'
'Online meetings have their advantages'
Carla Weber – Van der Ploeg, secretary TNW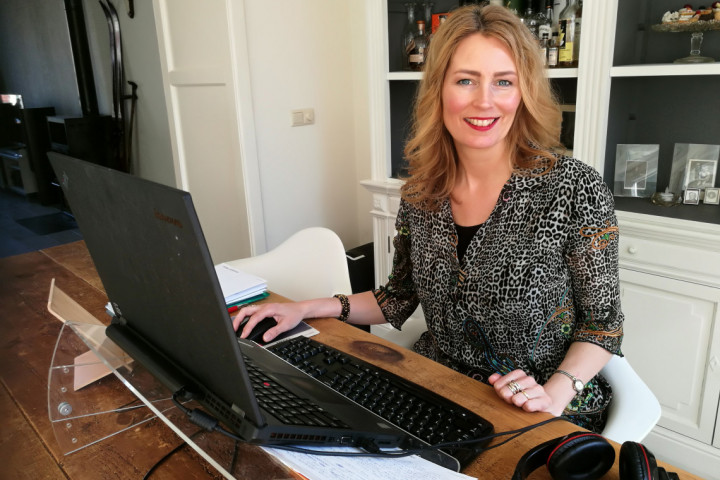 'In April, I still thought that everything would not take so long. Then we were all excited to deal with the new situation. Not much later you noticed that it was going to take much longer. Then I quickly made sure I had good working conditions at home. In the summer I went on vacation with the caravan. That was very important to me in retrospect. Without that vacation, I wouldn't have really been out of the house for a year. Starting in January, I worked one day a week back at the office. That helps enormously. The social contacts you make at work were necessary. Due to the snowfall, I skipped that day at the office once recently and you notice that immediately. That's what stays with me the most from last year. How essential social contacts are and how almost everyone feels the same about that. I especially hope that we will soon be able to go back to the old days, so that you are forced to go outside. Working partly from home would be excellent, by the way. Online meetings have their advantages, because you can coordinate things much faster. In April, I expressed my concerns about young foreign employees. Those concerns have not been dispelled, but I notice that it helps that there is a lot of contact and that colleagues are more willing to raise the alarm if necessary.'