The event kicked off with a speech by Victor van der Chijs. The President of the Executive Board highlighted the UT's main plans for 2019, including the preparation of a new strategy for 2030. The strategy should be the successor of 'Vision 2020' and is scheduled to be completed by the end of this year.
As every year since 2012, the 'UT in the Media Awards' were handed out during the New Year's Breakfast. There were familiar faces among the winners. The first prize went to Professor Arjen Hoekstra, who appeared in media 264 times in 2018. This was the fourth time he won the prize.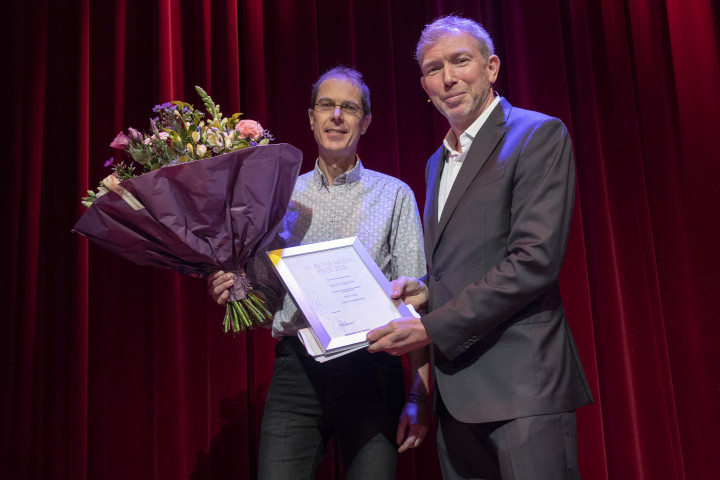 Arjen Hoekstra accepting the award from Victor van der Chijs 
'Eating our Way to Extinction'
Arjen Hoekstra has been featured in a large variety of media outlets. As a few examples, he mentions National Geographic, NPO Radio 1 and a contribution to a major piece of research journalism on Coke's water footprint, published in The Verge.
The UT scientist will also be part of two film documentaries to be released this year. One of them is titled 'Eating Our Way To Extinction'. This documentary will be narrated by Kate Winslet and showcase other celebrities, such as Sir Richard Branson. The second documentary involving Professor Hoekstra focuses on past and future of water and will air at PBS (public broadcasting in the US).
'Journalists are just people like anybody else'
How is it possible to reach such a high number of media mentions? 'I was also quite surprised by the number, I didn't count it myself. Most media contact me, because I'm generally known in my field,' answers the Professor of Water Management. 'My experience with media is very good,' continues Hoekstra. 'Journalists are mostly kind and genuinely interested in the topic, in the implications for society. They often contact me after a scientific article is published and it's of course always nice to talk about your recent work.'
Any tips for other researchers who don't have that much experience with media? 'Just be yourself,' says Professor Hoekstra. 'Journalists are just people like anybody else. They just want to understand a certain topic.'
Sixth victory in a row 
The second place of the 'UT in Media Award 2019' belongs to Hans Heerkens, who certainly isn't new to the prize – he won it almost every year of its existence. Last year, he appeared in media 100 times. How did he manage that? 'Sometimes I get in touch with media myself, but in 90% of the cases they contact me,' says Heerkens, whose work focuses on aviation. 'I have two advantages over others: I'm interested in all aspects of aviation, so journalists have a bigger chance of getting useful information on a number of topics. Secondly, I'm independent. Other experts work for companies like KLM or NLR. They can't talk as freely as I can.'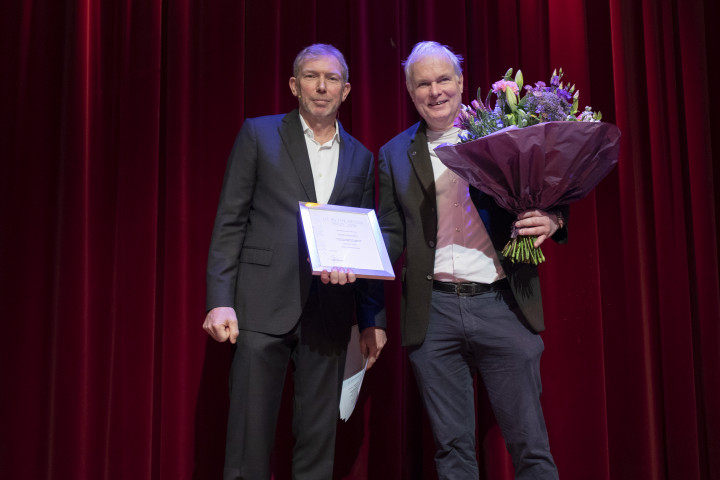 Hans Heerkens (on the right) 
'I've hardly had any problems with media. I trust them to handle the information I give them,' says Hans Heerkens. 'In my experience, journalists always try to be very honest. What I do notice, however, is that they do very little work themselves. Sometimes I think they should take more time and do more research before they call me. But I also understand the pressure they are under.'
Does the Assistant Professor have any tricks up his sleeves? How should people deal with media? 'I would advice to try to give deeper meaning to the things journalists ask about, put them into a broader perspective. Moreover, be available and be critical – don't just go with the flow, ask questions others can't. You are the expert.'
Winners of the 'UT in the Media Award'
1st place: Arjen Hoekstra, Professor of Water Management
2nd place: Hans Heerkens, Assistant Professor at Industrial Engineering and Business Information Systems department
3rd place: Marcel Boogers, Professor of Innovation and Regional Governance
Students category: Electric Superbike Team
PhD category: Joep Schyns, sharing the award with his roommate Rick Hogeboom
UT Social Media Award: Remke Burie, Managing Director of TechMed Centre