Team Pegasus secured the first place, while team CarboSens ended up second. Both winning teams worked on the same challenge 'creating a sensor for humans on Mars' and are invited to present their project in an international competition with the NASA as the jury.
Space Apps Challenge
This international hackathon is organised annually in roughly 200 cities, with over 25,000 participants in total. Two winners from each location get to pitch their idea in a 30-sec video, and will then enter a global judging process by NASA. The 30 best ideas receive global recognition, as well as an invitation to the Kennedy Space Center. In the weekend of October 20-21, Space Society Twente hosted the first NASA's Space Apps Challenge to ever take place in Enschede.
Spot that fire
What else came out of the Enschede edition of the competition? Beitske Flake (Technical Computer Science) was one of the participants and part of the KELT-9B team [Named after a very hot gas giant -red]. 'Our idea has a purpose here on Earth,' Flake explained. 'We developed an app that you can use to spot wildfires and to plot your optimal evacuation route during a disaster. Satellites take three hours to accurately assess whether there is a wildfire, hence why NASA has a need for alternative approaches.'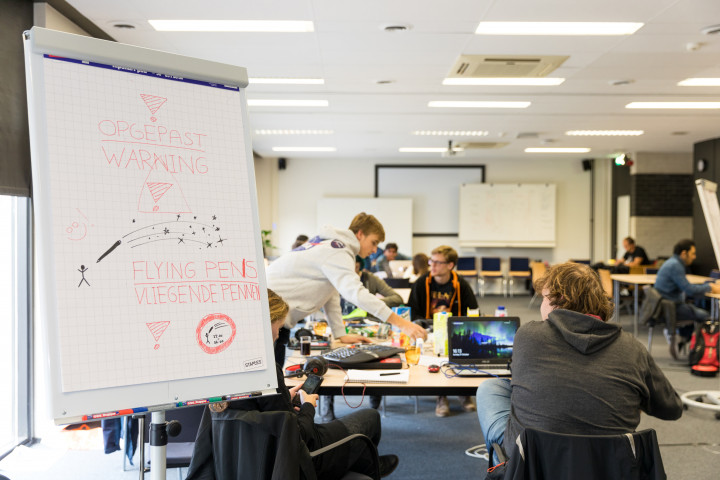 In her team, Flake was responsible for the business plan. One of the organisers of the event and chairman of Space Society, Sebastiaan den Boer (Business & IT), acknowledged the importance of this role: 'It is not just about apps. People from various studies and backgrounds are working together here, we also have some participants from TU Delft and Eindhoven. The feasibility of each idea – and thus a well-thought-out business plan – is essential.'
Free-flyer
Other ideas at the hackathon included a sensor to be used by humans on Mars, a geospatial tool related to people who were displaced from their homes, and an autonomous free-flyer to inspect spacecraft. Sehajbir Uppal (Mechanical Engineering) was one of the students working on the latter idea. He explained: 'To inspect potential damage to the International Space Station, either a robotic arm has to be used, which lacks mobility, or an astronaut is send out on an EVA [extravehicular activity, basically a spacewalk -red].'
Uppal continued: 'Our idea is to build an autonomous free-flyer, that can be deployed in small swarms, and is able to inspect the exterior of the space station for potential damage.' To the question of whether space walks will become obsolete in the future, the whole team laughed but also agreed that they indeed might. It is apparent that becoming an astronaut in the future may not be as fun as it used to be.