'It has certainly grown a lot since I joined in 1987,' says Paul van Dijk, the Director of Twente Graduate School and a member of the fellowship. 'There used to be about twenty members, but now we regularly meet with one hundred participants – although this number changes throughout the year as students graduate. I would guess that about three thousand members have come and gone over the years.'
40 years
For many years, the ICF used to meet up in the ITC hotel, but in 2014 it moved its activities to the Princeschool in Enschede, where it holds its Sunday services. However, because the fellowship is celebrating its 40th anniversary this year, yesterday's worship took place in the Grote Kerk in the center of Enschede.

Photo by: Janet Ika
'We don't focus on small differences'
ICF-Enschede was created to provide a home away from home for all international students in Enschede. 'Most of our members are students from ITC, other faculties of the University of Twente and also Saxion. However, there are also have non-students. Everybody is welcome. I find it somewhat of a miracle that, even though many people leave every year, there are always new enthusiastic members that get involved,' continues Van Dijk, who himself has stayed with the fellowship because he enjoys the international community it consists of.
'Church isn't the building made of bricks, but the individuals,' adds Van Dijk. 'We are different from other churches. Besides everything being in English, ICF is more lively compared to a regular Dutch church which is typically quite sober. There is a lot of music and singing. And unlike many churches, we don't focus on theology, but on the community. People from all possible Christian churches can join us. We don't focus on the small differences, but on what brings us together.'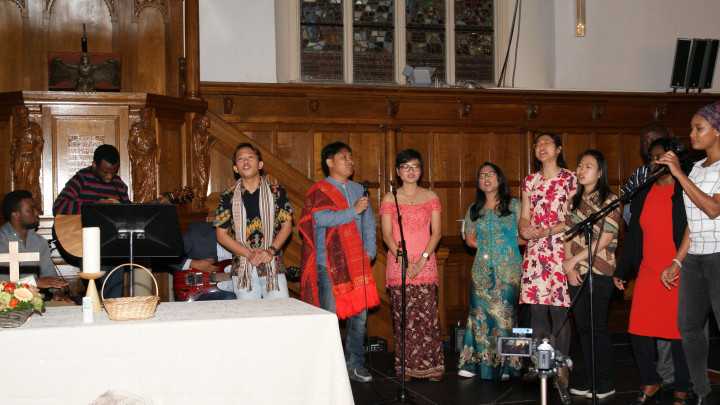 Photo by: Chris Hecker
'I would feel lonely without it'
'It gives me a sense of family. Everybody knows each other and talks to each other,' confirms Bai Xinwei, a Chinese PhD student from the UT, who has been involved in ICF-Enschede for four years. 'Without it, I would feel more lonely and it would be very difficult to go to church, because all other local churches are in Dutch.'
'Thanks to this church I can also be active outside of my studies, which is a welcome break,' says Rupert Green, Master's student from ITC. 'It makes it easy to connect with other students and it allows you to get to know different cultures and denominations. It really feels like home away from home.'