During yesterday's discussion in the Bastille, many students acknowledged that international students should receive more support in finding a room, but that a guaranteed placement would be more of an issue.
Jasper ten Napel (22, Nanotechnology) from the SU clarifies the new ideas of the CvB. The new policy aims to guarantee housing for non-EU international students from the start of the new academic year, as well as for EU and exchange students from the year 2020 onwards. However, according to the SU, this new policy doesn't take into account the opinion of students. It is also unclear how the CvB would like to achieve this goal, said Ten Napel.
Jeopardize homey feeling
The main question up for debate was: 'Where are the internationals going to be placed?' Several forum attendees insisted that there are many houses on campus that solely consist of Dutch students and want to remain that way. According to them, being able to speak Dutch at home gives a sense of belonging and freedom and having an international student placed within that home would jeopardize that homey feeling.
Jasmin Mathea (25, Business Administration), an international student herself, finds that the reluctance to change is often an issue. 'The openness from within the houses is a big problem. There is not necessarily a lack of willingness from international students. They want to embrace the Dutch culture while they are here, which can largely be achieved by living with Dutch students in the same household. It is a shame that many internationals don't know anything about the Dutch culture when they go back home after three years of studying here.'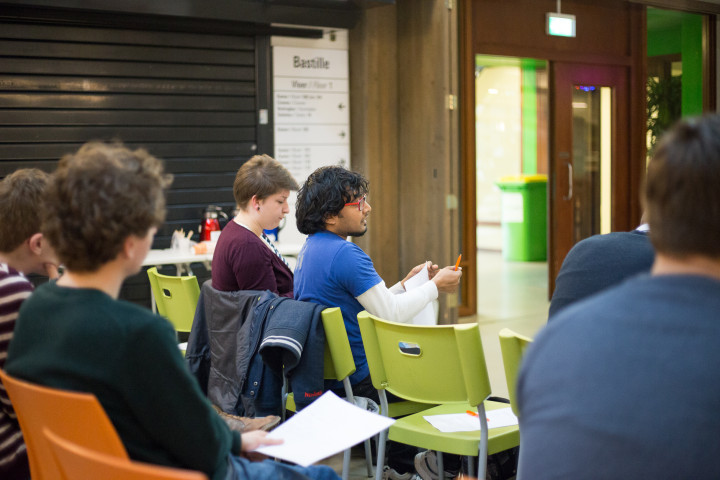 Forcing
Forcing Dutch houses to take in at least a few international students would fix the issue and would bridge the gap. But during the discussion, this was immediately met with the idea that forcing would cause an uprising from the Dutch students living on campus.
'Stealing from students'
Then there is the issue of the Hoogekamp. Many attendees believed that international students could get a guaranteed placement there, but the plans for the Hoogekamp are a cause for concern. According to the SU, the university board wants to create luxurious student houses for international students, but they would cost a pretty penny. Forcing international students to pay more because they have no other possibility in finding a permanent placement, seems unfair and Wouter Rietveld (21, IBA) would even go as far as calling it 'stealing from students'.
Guarantee temporary placement
The only idea that was met with some positivity was to guarantee a temporary placement on campus for international students. Erik Kemp (23, Cyber Security) opted to give internationals the option to choose between a 6 months or a year long guaranteed placement, in which the students could find permanent housing themselves. This would give internationals the freedom to come to the Netherlands without having to worry about where they will be accommodated, but the cooptation policy could be upheld.
However, the attendees agreed that this was not a solid plan. With the reluctance of Dutch houses to become more internationally oriented, there would still not be enough space for the internationals to be housed, considering the expected influx of international students in the upcoming years.
Survey
Yesterday's discussion gave insight in the problems that surround international students and their housing possibilities, but a solid plan could not be found. If you have creative ideas to solve the problem, then take a look at the survey created by the SU. They would like to get as many opinions and ideas as possible so that a satisfactory solution (for every party involved) can be found.