UT honorary doctorate for MIT Professor Hugh Herr
The prestigious Massachusetts Institute of Technology shimmers in the autumn sun. The centuries' old oaks on the campus are burning the yellows and reds of autumn, however Boston's Indian summer holds the top-ranked technological university in its warm embrace. Grey squirrels with thick plumy tails dart to and fro between the high-tech buildings collecting their winter stock. The students largely ignore this rodent industry; squirrelsare as common here as sparrows in the Netherlands.
It's lunchtime and students and staff made up of any number of nationalities stream out of the buildings in search of a sunny spot on the MIT grounds. No self-prepared slabs of cheese on bread here; for lunch at MIT you can visit the food area where you can enjoy any world dish you desire. MIT campus is the hip place to be. Everyone is friendly and relaxed, against a backdrop atmosphere that is vibrant, passionate and driven. Everyone knows: this is where it happens. MIT; the best university in the world according to the QS World University Ranking.
Plaster casts of limbs
It's about a ten-minute walk from the main entrance to Professor Hugh Herr's Bionics Lab. The lab is in a stylish white building featuring plenty of plate glass. On the third floor, Herr looks out over a studio full of prosthetic, orthotic and exoskeletal devices, 3-D printers and state-of-the-art measuring equipment. Dressed in a black T-shirt and black trousers, he's just topping off the last bite of his lunch as we, his Dutch visitors, arrive. One hour has been scheduled for us in the professor's tight schedule. No problem for him, as he is comfortable with interviews.
Herr lets us know that he is very pleased with UT's honorary doctorate. It's his second, he tells us. "But certainly no less special for that. UT may be a smaller university, but UT is a big player in bionics research." It was UT professor Herman van de Kooij who first nominated and later informed the American professor of the honorary doctorate. "Herman and I never worked together in a scientific sense, but we have crossed paths on various occasions at scientific conferences. I'm deeply impressed by his work. We inspire each other."
Professor Herr is looking forward to his visit to UT. This will be his first time. "How many students do you have?" he enquires. "That's approximately the number of first degree students arriving here annually," the MIT professor deadpans. His sense of humour is as dry as a bone and easy to miss when delivered through such a heavy American accent.
Fervent mountain climber
Herr was born in Pennsylvania in 1964. In his youth, he often travelled around the country with his parents and his siblings. "We used to camp and hike throughout North America." It was during these trips he first experienced climbing. "My brothers and I taught ourselves on the rocks." Herr gradually became a passionate mountain climber. What is it that attracts him so much about this sport? Herr instantly quotes Hemingway: "'There are only three sports: bullfighting, motor racing, and mountaineering; all the rest are merely games.' I couldn't agree more."
In 1982, aged 17, Herr and a friend got stranded in a snowstorm on Mount Washington in New Hampshire. It was nearly four days before rescue arrived. One of the rescue team died during the operation. Both of Herr's lower legs were amputated due to frostbite; an important turning point in anyone's life.
Months of surgeries and rehabilitation followed, and Herr only really wanted one thing: to get back on the mountain and climb again. He started designing his own prosthetic legs, which bore little resemblance to the traditional ones at the time. He created a prosthetic foot which is much stiffer than the standard prostheses, but which enabled him to stand solidly on narrow rock edges. He also used titanium nails, providing him with grip on icy slopes. The lower legs could also be varied in height to facilitate improved balance and reach when required. With the aid of his designs Herr was able to climb again just months after his amputations – and at a more advanced level than before.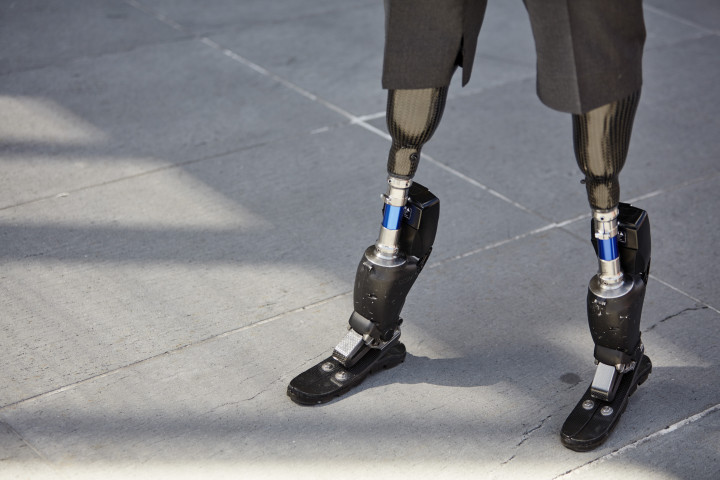 New generation of prosthetics
Herr decided to study science and engineering after that. He obtained his master's degree at MIT in mechanical engineering and his biophysics' doctorate at Harvard. As a postgraduate student at MIT Herr started developing technology for a new generation of prostheses that were computationally smart and powerful – bionic appendages capable of emulating biological limbs. At the time, Herr worked in MIT's Leg Lab, where they developed robots that could walk and run. The lab was managed by Gill Pratt at the time, who pulled in Herr to work as a postgraduate. "You see this?" asks Herr pointing to a prosthesis in his MIT office. "My MIT advisor, Woodie Flowers, developed the technology during the eighties and nineties. It's a computer-controlled knee. It uses a magnetic particles, and can vary in resistance when a person is walking. It's an early prototype of what is currently manufactured and used by patients." Herr describes Flowers as his role model. "I owe him a great deal, he is a brilliant man! He motivated me to try for Harvard."
Herr's first bionic prosthesis has evolved considerably. And it didn't end there – countless other innovations have followed. The MIT professor's inventions are protected by a total of 72 patents. His best-known one is a computer-controlled ankle-foot prosthesis – known as the EmPower Ankle - which he also personally uses and is marketed by BionX Medical Technologies, a company he founded himself. Herr has also developed a computer-controlled knee prosthesis, the 'Rheo Knee', which is marketed by Össur.
American war veterans
The foot and ankle prosthetics have been sold to the American Department of Defence and Veterans Association, to help more than 700 wounded war veterans. Herr also developed a special prosthesis for Adrianne Haslet-Davis; a dancer who lost a lower leg during the Boston Marathon bombing in 2013. Together with his research team he studied the muscle movements of dancers for many months, which they replicated with a robotic system. "That was pretty special," muses Herr, who would like to see many more people becoming eligible for his inventions. "For an incredibly long time, and I'm talking years here, I've been talking to insurers about that; a frustrating process." Herr is now also trying to make inroads into the European market via his company.
The laurelled professor still has many dreams to fulfil. He recently set up a centre for extreme bionics within MIT, which ropes in six other faculties. "We're trying to land an enormous research grant for the centre. Rather than three million, I'm now hoping for one hundred million. That money needs to be secured via fundraising. If we manage this will really launch large-scale research. My task is not only to develop new technology in the laboratory, but also to translate that technology to the market so patients can directly benefit. At MIT this entrepreneurial spirit is just plain normal, as well as a necessity."
Herr also wishes to develop bionic prostheses that are as "comfortable as bedroom slippers." What I want to do is to research a better mechanical connection between the prosthesis and the body, because this is the point at which the prosthesis will often cause patients discomfort and pain." To achieve this goal, Herr and colleagues are employing body imaging data, computational modelling and 3-D printing to create anatomically optimal "bionic skins" that safely and comfortablely transmit loads from the bionic appendage to the biological limb.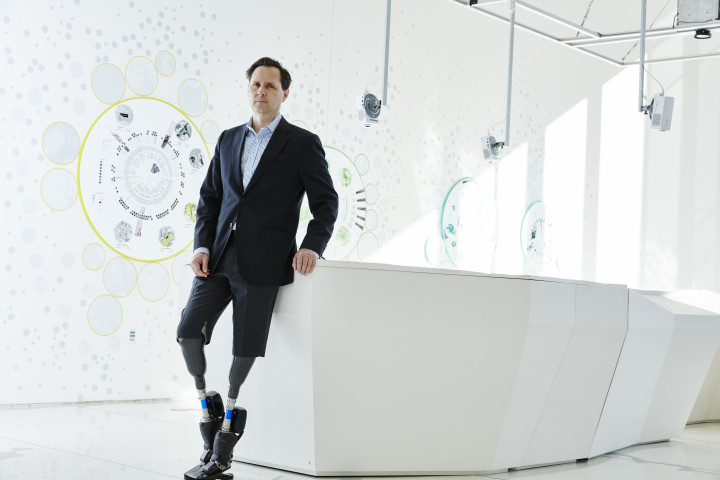 Ghandi and Martin Luther King
Herr is adamant: "I'm passionate about science, designing and helping people. It's wonderful that I can combine the three things I enjoy most." If he had never been trapped on that mountain back in 1982, he would never have become who he is today. What would Herr otherwise have been? "A professional sportsman," he confirms. These days he draws inspiration from such huge fonts of wisdom as Ghandi and Martin Luther King. "They formed part of a larger social front, which caused people to start to think differently, to become aware of certain matters."
As a scientist, Herr hopes to encourage and motivate a younger generation into nurturing an interest in engineering and science. He doesn't teach a great deal, but he sees it as a significant task to attract students into his field of research. "When I give a TED talk, it always has a huge impact. Sometimes I meet people who speak to me afterwards on the street and tell me that I'm the reason they started studying. I see myself as an ambassador for my field of research. I will also deliver a lecture at UT (on 24 November, editor) on the workings of our brain, our bodies and bionic interventions that interface and emulate such workings."
Does he have a message for the students interested in hearing him speak? "Try to discover where your heart lies, even though this may not be so easy when you're young. Do what enthuses your passion. The Dalai Lama was once asked about what the goal is in life and he answered: 'To be happy'."
The hour is up. Herr's schedule doesn't give us any leeway. He will fly to Europe a few times over the next few weeks, for lectures, conferences and to receive his honorary doctorate in Twente. One quick last question: what does Herr prefer doing when he is not working? He laughs: "Having a good time and of course sleeping."
You can also read the full article in Dutch in the November issue of the UT Nieuws magazine.