The University of Twente is hosting this event as the coordinator of a project Symbitron, a European project involving six partners from all over the continent. This week all the involved parties come together at the UT to run a large number of experiments with the main goal of developing a wearable exoskeleton that enables patients with a spinal cord injury to walk without additional assistance.
Personalized exoskeleton
'We want to make a personalized robotic exoskeleton, which complements the patient´s remaining motor function. Such an exoskeleton would then support only the joints that actually need to be supported - some patients would require only an ankle exoskeleton, while others might need an ankle, knee and hip exoskeleton,' explains Edwin van Asseldonk from NeuroMechanics & Biomechatronics group, which is working on the project. 'The new element is that we want the exoskeleton to have neuromuscular control, to mimic reflex system of the body.'
Because the resulting device needs to be personalized, 10 patients from Italy have been enrolled in the project from the very beginning. These patients are now visiting the UT in order to undergo a series of experiments and measurements, which include, for example, walking in the LOPES, a robotic device for gait training.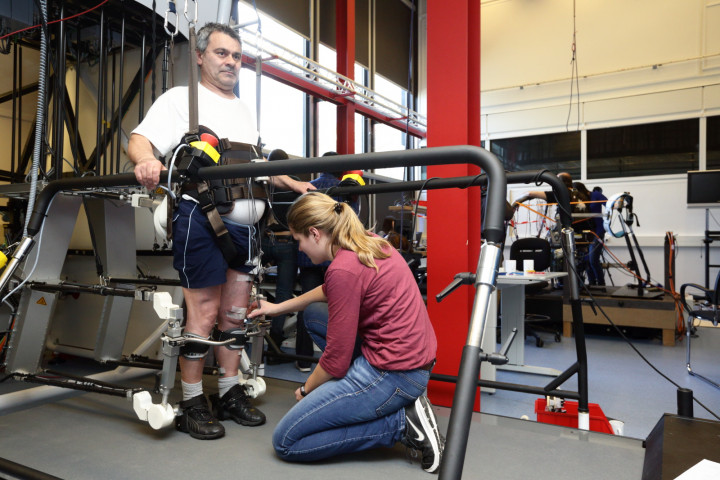 A one-time event
'We want to do as many measurements as possible to find out how well can these patients control their joints, how much support they need and so on,' saysEdwin van Asseldonk. 'It is a unique, one-time event. Its organization required a huge level of coordination. The patients are in wheelchairs, so we of course needed to arrange a suitable transportation and accommodation. They also don´t speak English, so communication can be difficult. However, this is a great opportunity and all the project partners are here, which is rare.'