54th Dies Natalis with the theme 'Lasting influence' took place today, 27th November 2015, in the Waaier and was attended by many important guests, such as the mayor of Enschede or the ambassador of the Republic of Rwanda. The main lecture was presented by Professor Dave Blank, the new Chief Scientific Ambassador of the University of Twente.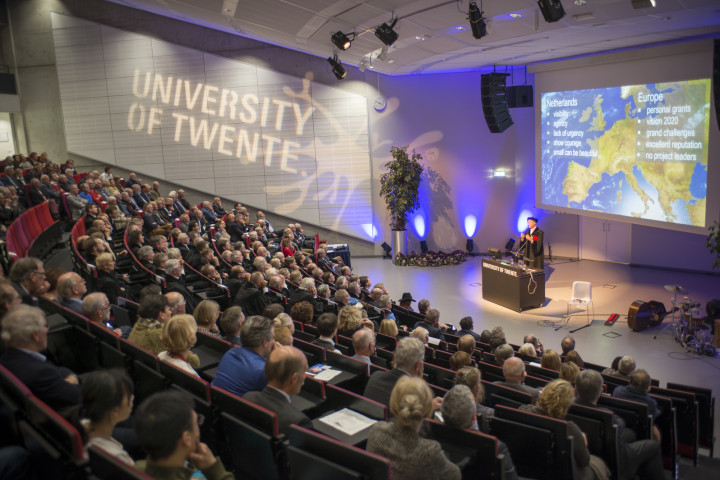 The world rankings
'I´d like to offer my personal view on how to put the UT on the map,' began Blank. 'This university is young and bold, we offer unique studies, have a unique campus and we are internationally oriented. Local students and staff members are very involved and entrepreneurial. UT is very important for the region, but when you look at the bigger scale, the picture suddenly changes.'
When choosing or judging a particular university, the world rankings play a major role. However, when it comes to these rankings, the UT gets a bit lost and could certainly do better. 'Why is that? If we look at the data, we see that the reputation is the thing that makes the biggest difference. If we skip the reputation of research and teaching, the UT suddenly becomes the number 1 university in the Netherlands,' explained Blank.
How to improve reputation
'So we certainly need to improve our reputation. How to do that? Do logo´s and slogan´s make any difference?' Blank asked and pointed out that nobody really knows slogans of other universities. 'Slogans are only for the internal use. Who knows the slogan of Stanford? And do you think Stanford needs a slogan?'
In Dave Blank´s opinion, the University of Twente should improve its reputation by focusing on a clear profile based on technology, international attitude and attracting top scientists. To do that, the UT needs to invest in the best researchers out there. 'Overall, the UT is doing well,' concluded Blank. 'It is the 16th best technical university in the world, but there are things we need to work on. And I hope to deliver a little stone to this.'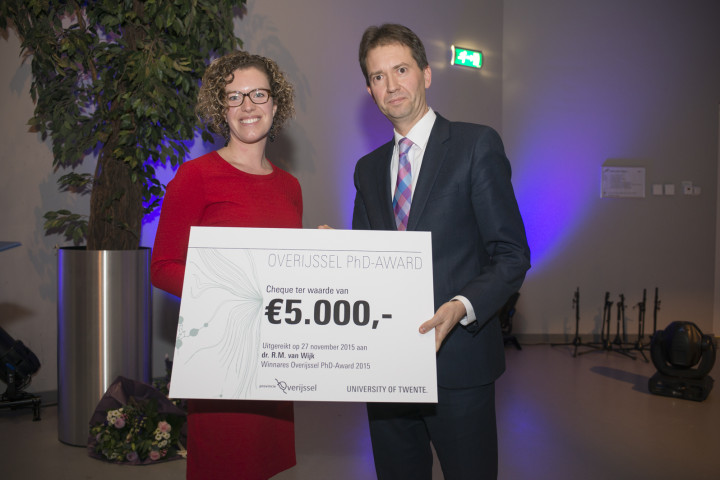 Awards
Dies Natalis is traditionally the occasion for handing out awards. This year´s Overijssel PhD award went to UT researcher Renske van Wijk for her work on helmet therapy for children with skull deformations. During her research, Van Wijk discovered that the widely used and expensive helmets have almost no effect compared to the natural outcome.
The 2015 Professor De Winter award, which is given to talented female researchers, was received by Anna Sperotto for her paper 'DNSSEC and its potential for DDoS attack', which relates to abuse of security protocols for generating too much traffic and collapsing a site.