Yesterday marked the second day of the UT-based summer school. After a morning full of courses, the students came together at the main festival area to enjoy lunch and a bit of relaxation. Some played a game of table football, others sprawled on the big lounge chairs at the entrance to the big festival tent.
Dutch snacks
German student Michael Scholz participated in the 'blind tasting'. The participants of this lunch activity were given three rounds of Dutch snacks in order to determine if they were 'supertasters', 'normal tasters' or 'non-tasters'. Blindfolded and with earplugs in their ears, the students were served traditional Dutch licorice alias 'drop', herring and rye bread. During the tasting the participants were informed that only a quarter of the world's population belongs to the 'supertasters' category. 'I'm not really a supertaster,' said the German student. 'But I think that my Italian friends will do really well here.'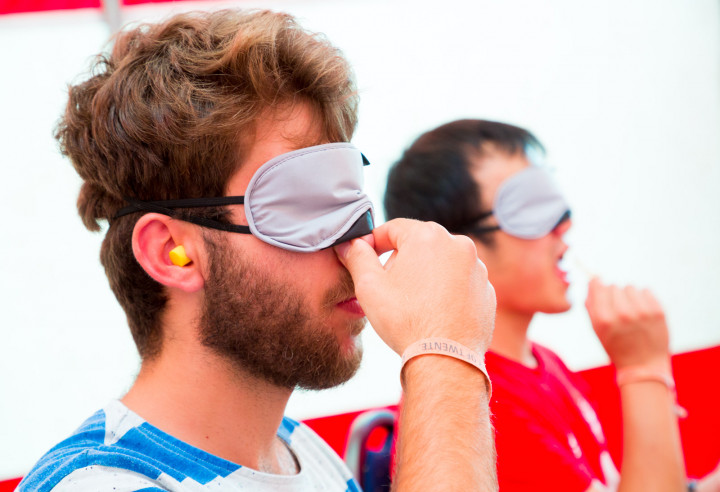 Flags
Flags of nearly all countries of the world are waving above the festival area. This isn't just for show, as the participants of the summer school form a fairly international group with a total of 51 nationalities. Russian student Lisa Oginskaya is enjoying the 'diversity and the freedom'. She shares her table with a Frenchman. She likes to sleep in a tent, but she is suffering from what she calls the 'tent effect'. 'People think "if you can't see me, then you also can't hear me", but a tent is very noisy.'
Funfair
Twenty years old Andra Mahandra Raditya is quietly eating at the edge of the big festival tent. He is from Indonesia, but has been studying Creative Technology at the UT for two years. He is staying in Enschede this summer. He is following the course 'Design the Future' and really likes the hands-on approach of the lessons. 'I prefer to learn by doing,' he says. He is also very enthusiastic about the festival atmosphere. 'This summer school is like a funfair for smart people,' grins the CreaTe student. Luckily, this Indonesian student has a lot of funfair-days in front of him. CuriousU will last until Monday.