With a fresh board of six enthusiastic members, Sirius has started their year well. By organising drinks and turning their member room into a 'walk through', all of the members are still in contact with each other. A lot of things are not possible anymore, but the board of Sirius is only thinking in solutions, says Brian Egberink, chairman of Sirius. He tells us more about the recent developments at the association.
How is the Sirius board doing?
'We are doing very well. When you start your board year assuming the worst, every regulation that isn't a complete lockdown is a win. We managed to organise two drinks together with Paradoks, the other association based in Technohal, at the beginning of the year. And we had a pizza-and-beer committee market. We are positively surprised that we can still sit in the boardroom with all six of us at 1.5 meters distance. We can still work and meet together. All meetings with people outside of the board are online of course. Which turns out to be very convenient now, as I am in home-lockdown. Someone in my near circle tested positive so I'm stuck in my room now. Luckily everything is easy to organise. Our board meeting will be streamed, so I can join in. For now, the vice-chairman is leading the meetings. It is hard to lead a meeting where everyone is in one room except for you.'
Are you organising special online events nowadays?
'We are currently in contact with all committees to think of online activities. Online guest lectures and online pub quizzes are already being organised. These are nice ways to stay in contact with the students. It is very interesting to see what is happening to the committees, actually. Each year we have around sixty exchange students from Münster. Normally we can't really seem to introduce them to the study association. But now we made a lot of videos explaining how everything works, and a lot of those students have joined our committees! And to get to know the first year students, we scheduled small chats with the project groups of each study. Every project group would meet up with us in a big lecture hall and just have a chat about the study, how everything is going and how they are feeling. We got a lot of positive feedback on this, and students now know who we are.'
How are things going with the wellbeing of the students?
'The board of last year held a survey to see how students were feeling. Together with the staff, we work towards finding solutions to make students feel better. One of the big issues students seemed to have, was the lack of social contact. We have been working to maximise lectures on the university and have as many contact hours as possible. To see whether this helped, and to see if there are other things that need our attention we are going to send out a new survey soon. It is an interesting year. Usually, you only need to introduce the first years to the university, now the second years have only had half a year of UT experience.'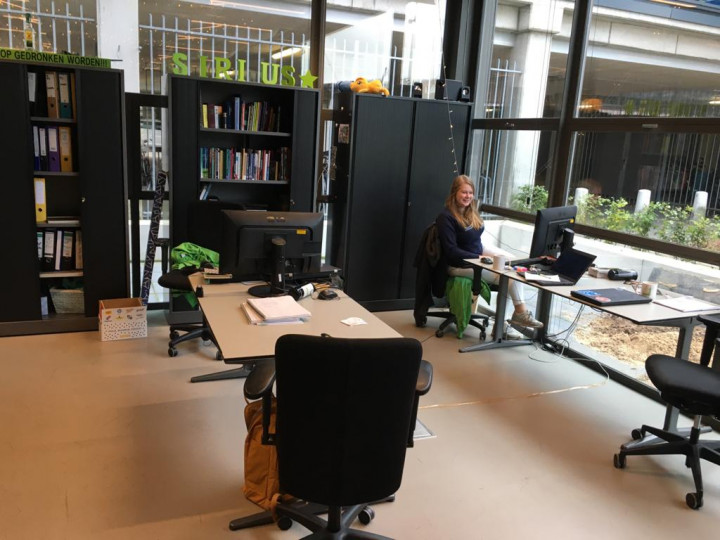 The Sirius boardroom.