After the last blog entry about the serious topic of the Brazilian presidential elections, I am back with a little story about my travels outside of Curitiba.
The past weekend I finally had the chance to travel to an amazing place here in Brazil, the city of São Paulo. It's just breath-taking in many regards (not just because the air is not the cleanest over there!).
I went there for an entire weekend, but not even an entire life would be enough to explore this gigantic city. Luckily, my parents know a family, and I could live there for that weekend. Their younger son just finished the German school in São Paulo and his older brother also came from Germany to celebrate. But not only the night life there was super enjoyable!
Curitiba roughly inhabits 3,2 Million people, about the same size as Berlin. São Paulo is in another league, with an estimated number of 22 Million inhabitants! It's the biggest city in the western and southern hemisphere of this planet. Only in Tokyo, Delhi and Shanghai, more people live in just one city.
The gigantic size of São Paulo is hardly imaginable. To cross the entire city would take about three hours by car and the traffic there is just ridiculous. Because of that, numerous helicopters circle above the city to transport businessmen from skyscraper to skyscraper and from meeting to meeting.
The family where I lived has their house in the deep south of São Paulo. Right next to the big water reservoirs and next to a country club directly at one of these lakes, were we played football and could go the gym. I definitely did not feel the enormous size of the place I was in, but of course did enjoy a lot!
Also coincidentally, at that weekend the Grand Prix of Brazil of the Formula 1 took place, and the racing track is located directly in that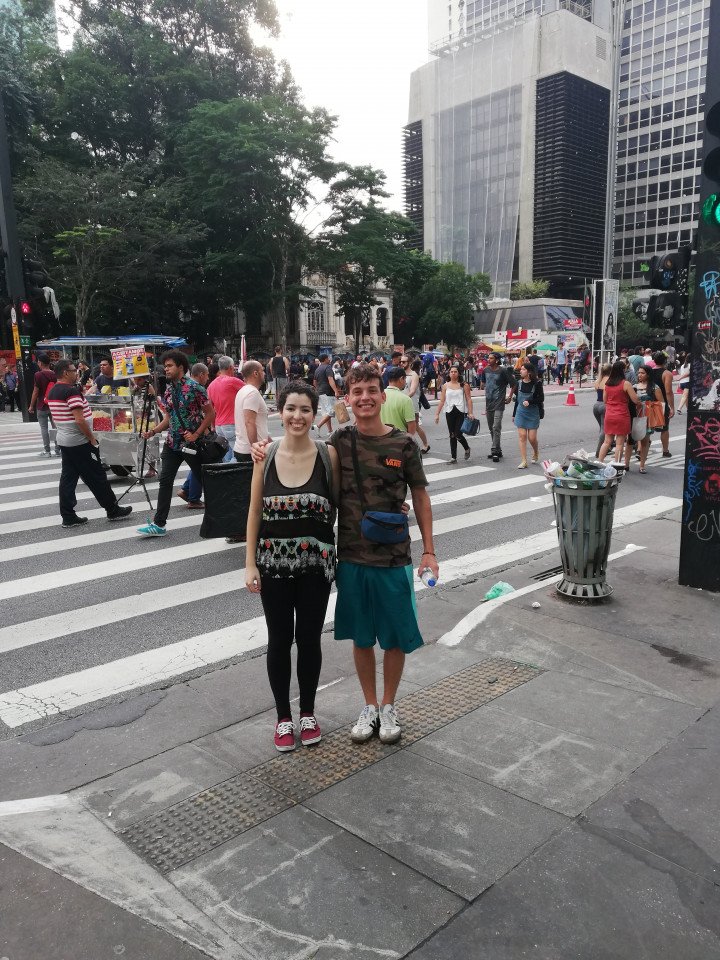 neighbourhood. So, on Saturday, I was woken up by the loud racing cars of Vettel, Verstappen and Co.
On Sunday we went to one of the main roads in the centre of the city. The 'Avenida Paulista' is blocked for cars each Sunday, so you can inline-skate, ride bikes and participate in all kinds of cultural activities. There I met up with another person from back home. Daniela is Brazilian and went to my class in the 10th grade, back home in Germany. It was so nice to meet her in her hometown after all that time; it really felt like six years ago in my small village in Northern Germany.
I have to say that this experience in São Paulo was incredible and the people there were super open and cosmopolitan, like you would expect in a metropolis like that. I will definitely come back during my stay here and who knows maybe also later but not only as a visitor.
Stay tuned and best wishes from the super hot summer right now.
Lennart