While the absolute top-class players are in sunny Melbourne taking a shot at the first grand slam title of the year, some 16,400 kilometres away, a group of Ludicans report to the smash courts for training at five o'clock in the afternoon. A winter shower cannot spoil the fun. Not even the necessary misfires, which are irrevocably associated with the warming-up. Nevertheless, there is plenty of work to be done for trainers Han and Robin.
Inside the warm clubhouse, the Paviljoen, sits Myrthe Debets. She is a third-year student of technical medicine and tournament commissioner and external commissioner at Ludica. Like the rest of the board, she does so on a part-time basis. And that is no easy feat, with an association that now has more than 620 members. 'In May and June, you can probably find me here every day. By then, the big tournaments are just around the corner. But I have my work cut out for me the entire year. In addition to being a board member, I am also a student trainer. We have so many members that we need 35 trainers for the beginners alone. And I think for the next board, we need to see where there is room for improvement. It is a good possibility that a full-time board year would be a better fit.'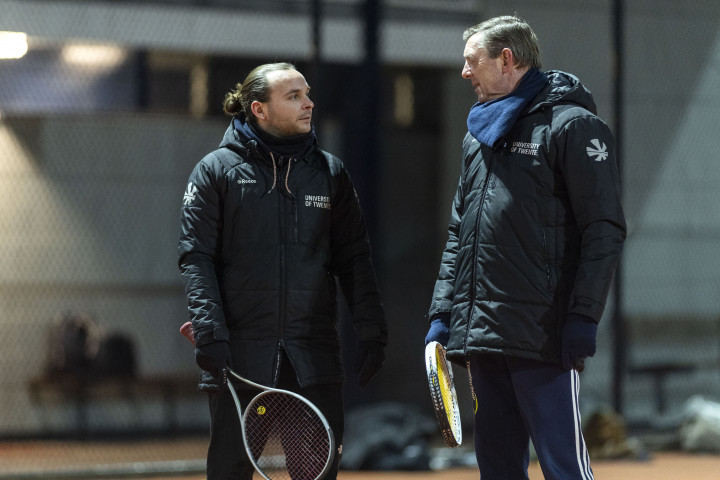 Where several lockdowns shut down other sports, tennis was still allowed during corona time. And that is clearly noticeable in the crowds on and around the courts. Over the past few years, the association has grown considerable with a lot of new international members joining, and again this academic year, with more than a hundred new members. Yet the tennis players have little to complain about, Debets knows. After all, with six smash courts and four relatively new clay courts, there is plenty of room to hit a ball. And going out for a game of padel, a combination of tennis and squash that is growing in popularity can be done nearby at Kennispark.
And then there is the luxury of an own clubhouse, the Paviljoen: an elevated canteen, with a terrace and a view of the courts. 'We renovated the interior last summer: we moved the bar, there is now a separate kitchen, and the barstools now bear the logos of former boards. And of course, several items were painted Ludica yellow. We have enough space for more than 150 people. If that is allowed again, of course.'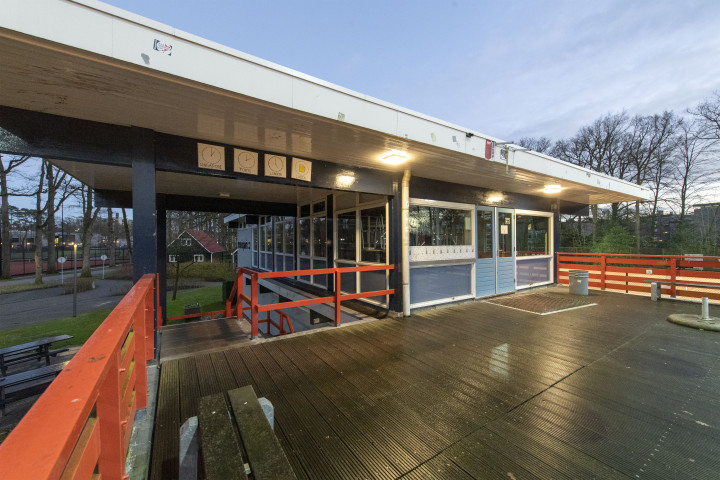 There is no shortage of Ludica yellow. And the same can be said for the number of tournaments. During Ascension day, there is the UTK for students and employees. Złoty (named after the Polish currency, after an earlier trip to Poland by the tournament committee) is a tournament for houses, sororities and fraternities. Or take the internal Christmas tournament as an example, with decorated rackets and Christmas sweaters. But Ludica can also be found away from home regularly, traditionally in Terneuzen every year or at other student tennis associations. However, the biggest feat on campus is the Ludica Open, with more than three hundred participants. 'Many participants stay in the log cabins next door. Yes, everyone can crawl towards the sleeping location afterwards,' says Debets.
Because performance or a pitcher filled with beer, there is something for everyone at Ludica, she says. 'We have more than fifty performance players, but there are also members who prefer to be in front of or behind the bar and only occasionally pick up a racket. That is completely fine.' And that sport and fun go hand in hand, is also apparent from the 'Ludica Constant'. 'It means that if you do not perform on the court, you compensate at the bar,' Debets explains.
There is no lack of parties and activities. Every Tuesday evening is the regular Ludica evening in the Paviljoen – If the corona measures allow it, of course. And every year the tennis players go on a club weekend, Debets tells. 'I think that the typical Ludican is always open to fun, both on and off the court. And is also there for others, even though tennis is a fairly individual sport. During the matches, especially when things are not going well, there is always someone behind you to cheer you on, or to provide you with food or a drink.'