It is mid-June when an acquaintance suddenly sends her a message congratulating her. What on earth, with what, Lemmens-Krug thinks. 'Turns out it was my birthday that day. Both my husband and I had not thought about that,' she says six months later.
It is a typical example that shows the rollercoaster ride the family has been on since October 2020. That is when their son Jop, now four years old, was diagnosed with neuroblastoma, a rare form of child cancer. Jop's situation has improved since then, but his mother knows that they are still a long way from the end.
Yet she is able to extensively look back on the past fifteen months. 'Even though I usually do not realize what day it is. Working days and weekends are all one big blur. When I think back to the past year, I do not think in months or seasons, but in treatments and associated complications. October 2020 the diagnoses, last October the operation, in May the MIBG treatment, in those ways.'
'We went back to the doctor. This was followed up with an ultrasound in Almelo and a ride in an ambulance to Utrecht. Eight days later, Jop received the first round of chemotherapy.'
Nightmare
Lemmens-Krug still cannot comprehend the days surrounding the diagnosis. How quickly their carefree life turned into a nightmare. 'Jop was sleeping poorly, but a lot of children do. Through a sleep coaching program, we ended up at the doctor for a check-up. Nothing was wrong there, but a few days later he no longer wanted to walk, eat, and play. Then we went back to the doctor. This was followed up with an ultrasound in Almelo and a ride in an ambulance to Utrecht. Eight days later, Jop received the first round of chemotherapy.'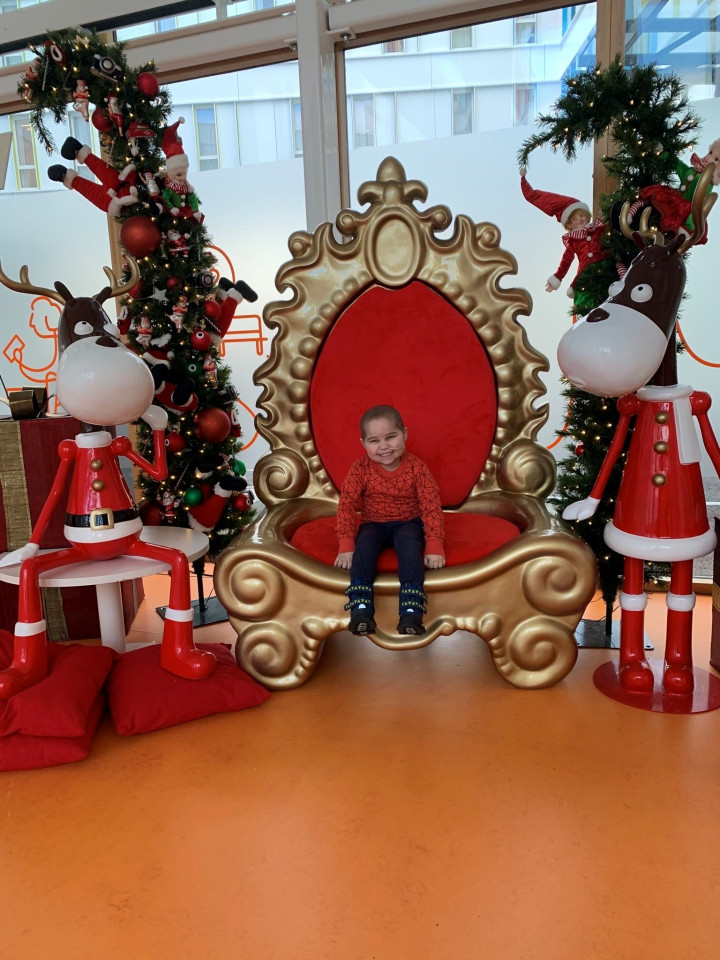 Like so many others, the policy advisor had never heard of neuroblastoma but suddenly found herself almost daily in Utrecht at the Princess Máxima Center for pediatric oncology. 'I remember the first time I entered there and saw all these sick children who had no hair left. I almost wanted to run away with Jop. This had to be a bad movie.'
Jop turned out to have a tumour measuring 13 by 15 centimetres in his abdomen. There are metastases all over his body. His SIOPEN score was 60 out of a maximum of 72. That score indicates how much the cancer is present and how far it is spread out. Kathi and her husband Koen were told that their son has a chance of survival if the chemo kicks in. If not, the hospital could do nothing more. 'That all was still in the first week. Two weeks earlier, we thought we had a healthy child who just slept poorly. The only thing I was worried about was the schools perhaps closing again due to the lockdown.'
neuroblastoma
According to KIKA, every year, approximately 25 children, usually under the age of four, develop neuroblastoma in the Netherlands. Neuroblastoma is cancer of the precursor cells of the autonomic nervous system. The tumour can remain in one place, but often metastases develop in other parts of the body.
When neuroblastoma has not metastasized, the average cure rate is between 70% and 90%. When there are metastases or if the tumour is very aggressive, then the chance of survival is much lower, on average between 35% and 50% Usually patients can be treated well with chemotherapy after diagnosis. Yet in half of these children, the tumour returns after a few years.
The side effects of chemotherapy had a big impact on Jop. His lungs were badly damaged by a haemorrhage. He urgently received a chest tube, after which he was on a ventilator in the ICU for a week. Less than two months later, he was allowed to go home for the first time. 'That felt as crazy as the admission because it all went so fast. At first, he was still very ill in a large hospital bed and a week later he was walking through our house again. Two of the six chemo treatments had been completed. He had lost his blond curls to the chemo.'
UT community
In the spring, Jop started other procedures, with less severe side effects. His SIOPEN score went down from 60 to 14. Positive, but not quite enough to perform a surgery. Lemmens-Krug returned to work for a few months in February. 'I missed that enormously because work is a part of my life in which I can show myself and do beautiful things. I really missed the connection with the UT community.'
A young child, alone in a room for seven days. We saw him through a camera, in which we sat behind a screen in suits, but Jop could not comprehend.
Jop's disease affects the whole family. 'Koen and I were busy 24/7. One of us was at the hospital with Jop, the other at home with Pim, who had to attend children's parties, school, and swimming lessons. The tricky part was that on one hand, you wanted to be in the hospital with your sick child, but on the other, you wanted to be at home to let Pim's life continue as normal as possible, while home was actually where you wanted to rest.'
She looks back on 2021 seemingly calm but breaks down when she thinks back to May this year. Jop received an MIBG treatment spread over two weeks, in which they injected radioactive liquid into his body. 'This meant he had to be isolated. A young child, alone in a room for seven days. We saw him through a camera, in which we sat behind a screen in suits, but Jop could not comprehend. He was furious and stood crying at the door, which he kept trying to open. There was nothing we could do.'
Trust
After the treatment, Jop was not allowed to have contact with other children for a week – because of the radioactivity – and therefore not with his brother, Pim. 'So, Jop and I went to live with his grandparents for one week, twice, in Limburg. Pim was at home with Koen. The worst part is that the treatment destroyed Jop's trust in us. This recovery, together with the supervision of the child psychologists, took months. Even now I notice that he is more alert and wants to know everything. The childlike carelessness has disappeared on many occasions. Hopefully, that will grow back.'
'We celebrated his birthday at home. I can still see him standing on top of his chair when he asked the visitors to sing for him. He is very good at having his birthday.'
In the summer, Jop recovered from the treatments. That went with ups and downs. In August, his stomach swelled up again, much to the shock of his parents, who had to immediately think of the tumour. But it was a liver disease that made him very sick. That is also what happened when a bacteria crept into his Port-A-Cath, which is a box under the skin to give him medication. Jop was at home for less than an hour and had to be rushed to the MST in Enschede by an ambulance. He also spent most of August in the hospital, but good news finally followed at the beginning of September. His SIOPEN score, which was 60 at the time of diagnosis, was reduced to 3. That meant surgery was possible.
(Text continues below the photo).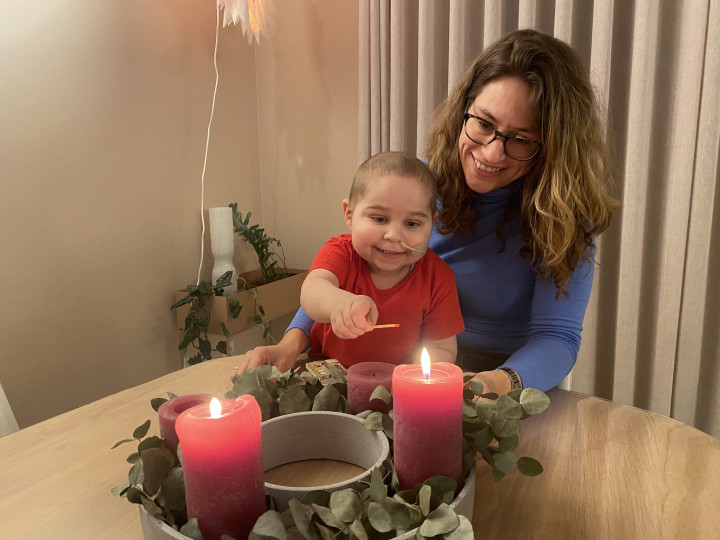 Jop was allowed to go home to recuperate before the surgery, but he was at home for less than a week before things went wrong once again. In response to the treatments, he was barely able to breathe. 'His lungs were completely destroyed and were supported with extra oxygen. It was cutting it close and luckily, he was spared the ventilator in the ICU. It did mean that surgery was far too dangerous. His lungs recovered, but not fast enough.'
The interdisciplinary team was hesitant to perform surgery. Surgery could not wait any longer and nobody knew how it would end up, because every patient with neuroblastoma is a unique case. Nevertheless, the doctors decided to perform surgery, on Wednesday 20th of October.
Muscle strain
Lemmens-Krug saw that her son was suddenly doing wonderfully well in the days before the operation. Thinking back on that, a smile breaks out on her face for the first time in the conversation. She saw Jop run, cycle and he even went to the school in the hospital. He was given oxygen through a nasal cannula. 'I can still see him cycling through the corridors. I had to run after him with the oxygen bottle. That caused quite the muscle strain. Fortunately, I found a bicycle where the bottle could go in the back so that he was able to cycle alone.'
'Even when everything was going better for Jop, physically and emotionally, or when we could sleep through an entire night: the disease is always present.'
The surgery to remove the tumour, which took several hours, went excellent. Completely against expectations, because doctors assumed that Jop would have to be on a ventilator for days or even weeks after the operation. However, he was happily talking and sitting up in bed again and hardly needed any supplemental oxygen. He is now receiving his last treatments of 2021. This involved multiple radiation treatments to remove the tumour parts that are left behind.
Not afraid of anyone
For Jop, death was closer than life on several occasions. Those were also the hardest moments for his mother. 'At that time, you literally see the sickness next to you. A pile of child in a bed with a bunch of tubes attached. Then it is hard to stay hopeful.' At the same time, it was also Jop, who in his good moments ensured that the couple remained positive. 'Seeing him race through the hospital corridors on his tricycle, for example, gave me so much hope. He can enjoy himself so well, he talks to anyone and is not afraid of anyone. He asked a teacher from the hospital school in the corridor who she was. He then found out that a hospital school existed. He immediately asked if he could go with her, while he was actually still too young. He went to that school on every occasion presented to him.'
On November 11th, he celebrated his fourth birthday. That was also one of the better days of 2021 for her. 'We celebrated it at home. I can still see him standing on top of his chair when he asked the visitors to sing for him. He thoroughly enjoys all the attention he gets and is very good at having his birthday.'
Those are the moments she cherishes because there was not one moment in 2021 in which she could relax. 'Even when everything was going better for Jop, physically and emotionally, or when we could sleep through an entire night: the disease is always present. That is constantly on your mind. We have not had a moment to process anything yet. That emotional blow might come in later.'
The family hopes for peace and no unexpected side effects during the holiday season, before looking towards 2022. 'We will only go out to visit family for one day and receive some visitors at home, a compromise between connecting with people and rest. The children love the Christmas decorations at home, so we are going into the new year with the four of us.' In 2022, Jop will undergo immunotherapy for six months. 'That will be the next part. We are not at the finish line yet. We also know that there is a chance that the neuroblastoma will come back. It's a terrible disease, but we have to carry on.'
In addition, the policy advisor hopes that in 2022, she will be able to work more often. 'I always thought inclusion was important, but now that force majeure makes it more difficult for me to plan and I need flexibility and solidarity, I experience the importance of an inclusive society even more. My wish is that, as a society, we look even more closely at how everyone can participate fully, no matter their circumstances. Sometimes colleagues trigger me to think about something and on the one hand that makes me feel very good. On the other hand, it can be confronting to see what you are missing out on. In the hospital, we usually ran on adrenaline, but we mostly long for peace and regularity for the family next year.'