On an industrial area in Enschede, between a garage door specialist and a waste processing company, is the home base of Solar Team Twente. There is no shortage of space. Kirsten Bouwman (team leader) and Daan van Haren (event coordinator) proudly show off the various rooms. A large workshop leads to a room used for testing the electric motor. The private bar down the hall betrays the fact that this space belongs to a student team. The students pass through a small room with a droning server for simulations and walk past the various meeting rooms.
On one of the walls there is a bar graph showing the team's progress in raising the funds needed to be able to compete in Australia. With every edition, it is a challenge to raise sufficient funds, and this year is no exception. 'Inflation is rough,' says Bouwman. 'It's become much more expensive to travel to the other side of the world. On top of that we have increased costs for the premises and other things. It's quite a financial challenge. That is why we started a crowdfunding campaign. But we'll be going to Australia one way or another, because we want to become world champions.'
World Solar Challenge
The course of the World Solar Challenge cuts straight through the Australian outback and covers the distance of over 3,000 kilometres. The race starts in Darwin and crosses through Alice Springs to Adelaide. Only solar-powered cars participate in the race, competing against each other in two different classes.
New technology
In the reception room, Bouwman (master's student in Management of Product Development) and Van Haren (master's student in Technical Medicine) talk about the high ambitions of the Twente Solar Team. They aspire to push boundaries and take on challenges. 'A good example is the development of new battery technologies,' says Bouwman. 'We wanted a battery with the highest possible energy density. This year, we finally found a company that can realise a very high energy density with so-called silicon-anode batteries.'
This discovery came quite late in the development process, the team leader continues. 'We requested a quote and considered whether it would be financially feasible. Ultimately, we decided to take the risk.' According to Van Haren, it is going to be a race against time to implement the new technology before the race in Australia. 'But if we make it, it'll pay off big time.'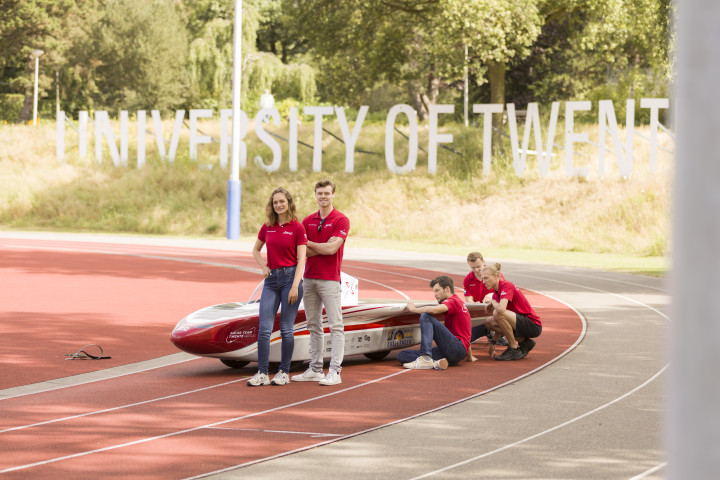 Energy transition
According to the students, taking risks is in Solar Team Twente's DNA. Ever since its foundation, twenty years ago, the team has valued guts above all else. Twente is competing in the solar race's Challenger Class, the Formula 1 class for solar cars. 'This class aims to force innovation. We push the limits. Solar Team Twente is basically a research institute. We design prototypes that can later be implemented on a larger scale. Take the silicon-anode batteries, for example. If they work well for us, we might find them in the latest electric cars for consumers at some point.'
According to Bouwman, solar cars can play an important role in the energy transition. 'Maybe not so much in the Netherlands. But in other, sunny countries, you only have to charge the car a few times a year. Other than that, the car is self-sufficient, thanks to the solar panels on the roof. The big advantage is that this eliminates the need for a large-scale infrastructure with charging stations. The most energy-efficient solar cars can cross a continent without having to recharge.'
Military standards
Solar Team Twente is celebrating its 20th anniversary this year. The team was formed in 2003 and in 2005 the Twente students competed in Australia for the first time. Bouwman and Van Haren say that a lot has changed in recent years. 'I think we've become more professional,' says Van Haren. 'Both in the preparation for the race and during the race itself. The team's founders told me the same thing. One example is the communication protocol for the race. We have worked hard on that for the past twenty years. We now use military standards.'
The solar car itself has also undergone a lot of changes over the past decades. Every two years, the teams create a whole new design, which means that a total of ten cars have been built to date. 'The most noticeable difference is in the aerodynamics,' says Bouwman. 'By using software, we can make very accurate simulations for the aerodynamics, which was not possible twenty years ago. This has a major impact on the design. The differences are also due to the organisation's rule changes. Sometimes teams are allowed to use four wheels and then the next edition it's only three. Or the surface area for the solar panels has to be smaller. If the organisation doesn't change the rules, the teams soon all end up on the same level, thus eliminating the racing element. That would be disastrous for innovation.'
Extra exciting
According to Bouwman, it is going to be 'extra exciting' to see what innovations the other teams will surprise us with this year. Because of the COVID-19 pandemic, the 2021 edition could not take place. It has therefore been four years since Solar Team Twente last travelled to Australia. However, the team did participate in an alternative World Championship in Morocco in 2021, where it took overall victory. Does that make the Twente team a top favourite in Australia? That, the two students cannot say. 'Our team did extremely well in Morocco, but it's a very different race. Besides, only European teams participated in that race. In Australia, we will be facing teams from all over the world, which we haven't seen for four years.'
Bouwman and Van Haren say that winning in Morocco has not led to extra pressure. 'Rather extra motivation. Getting the first prize depends on many factors. I think it's going to be a close battle between seven teams in Australia. In the end, victory may be decided by the smallest of things. But we're definitely going for the win.'