Running a non-profit organization was certainly not the plan when Christy Aikhorin arrived at the University of Twente in 2003 to study Chemical Engineering. 'This is a very new journey for me,' she says, while giving a tour of WECF's Netherlands office. It's a practical, unassuming space tucked right in the heart of Utrecht. And it is one of many worldwide. The network consists of over 150 women's and civil society organisations in 50 countries. 'In short, we believe that women are a force of change and need to be included at all levels of policy and decision making,' explains Aikhorin, who joined the NGO in March 2022.
From Nigeria to Twente (and back again)
The path to her new role as a director – 'although I'd say I steer more than I direct' -, was far from straightforward and lined with coincidences (or faith, depending on your philosophical bent). Christy Aikhorin grew up in Nigeria and studied in South Africa, where she accidentally saw a poster promoting the UT. 'I chose to come to the Netherlands simply because I wanted to explore Europe. I didn't fully realize where I was going until I was on the train from Schiphol to Enschede. It felt like I was leaving civilization,' she says with a laugh. 'The UT is in its own secluded space, which I came to love. It was the first time I was surrounded by so many different cultures. It was like a melting pot of nationalities.'   
During her Master studies in Twente, the alumna did an internship at Shell, where she worked on liquified natural gas research. When asked if she'd liked to stay on in the company, she refused. 'I didn't want to be a tiny speck in this giant running machine. I didn't feel that I could contribute enough,' says Aikhorin. She embarked on her own journey, first in Nigeria and later back in the Netherlands. 'I switched from engineering to project management because I wanted to work with people and see the bigger picture. For many years, it was a wonderful time.' Until unexpected events interfered.
Slow down
In 2015, Christy Aikhorin's world changed. Her appendix ruptured, causing serious health problems and forcing her to stay home for several months. Having a 'real downtime' allowed her to look into the topic of renewable energy. 'This woke me up,' she says. 'Before my crisis, I was working on projects that, to put it nicely, were not sustainable. Suddenly I was thinking: what am I doing? Why am I contributing to burning of oil and gas? At that point, I saw the other side of technologies I had been working with.'
Knowing that she wanted to do something more aligned with her values and personal convictions – and not wanting to wait for someone to give her a job -, the alumna 'created her own space'. She founded UnikBlends, a slow clothing brand that combines her love for colours, sustainability and Africa. 'But I would not call myself an entrepreneur,' she adds quickly. 'Or maybe a reluctant entrepreneur.' Christy Aikhorin sees UnikBlends as a social enterprise, which aims to educate people about the dangers of fast fashion. 'After oil and gas, fashion is the second most polluting sector,' she stresses.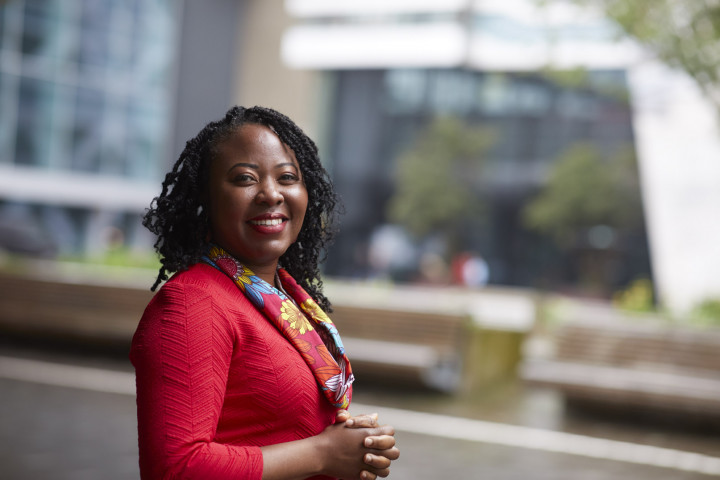 'I really liked the idea of creating something new out of something old. If you go to a Nigerian wedding, ladies wear this fancy headgear called 'gele'. But once you wear it, you should not wear it to the next wedding. By the time you are forty, you might have a room full of these headgears. I hire women to use old fabric from 'geles' and turn them into new functional pieces. Like these earrings I'm wearing!' She points to the pink accessory that doesn't even remotely resemble a used piece of fabric. 'The fabric was pressed and solidified,' she adds in explanation. With UnikBlends, Aikhorin also provides workshops and training to victims of human trafficking. 'We help them get vocational skills, so they can hopefully find a decent job later.'
Alma mater
Even though she is not actively using the chemical engineering knowledge that she acquired at the University of Twente, her alma mater has played a big role in Aikhorin's work and life. 'Being on campus was an amazing experience. It was the first time that I took walks in a forest. Until then, forest was something I could not be bothered with – definitely not without an experienced nature guide. Here, I could just go there, think, reflect. Twente is where I fell in love with nature.' It was also where she met the man she'd later fall in love with. 'I met my husband on campus. In the corridor! He was visiting because of his PhD research. We became friends and our friendship later turned into a marriage proposal.'
Covid crisis
'Another crisis!' the alumna answers the question of how she eventually ended up at WECF. 'Covid brought me here. Crisis is a beautiful opportunity to re-evaluate yourself and your situation.' Aikhorin did exactly that. 'I was working long hours and was approaching a burnout. It was madness. You need time to think and reflect, the time to ask why things are the way they are and Covid provided me the downtime to do just this. I took courses, I read books, and also got engaged in a number of NGO's. Slowing down is a part of sustainability. We are human beings, not human doings. We should be just able to 'be'. I truly believe in the power of independent thinking. The quality of your thinking influences the quality of life. And good quality of life – that is sustainability.'
'We are human beings, not human doings'
'Upon reflection, I realized that it was mainly women who gave me positive energy and encouraged me to do the impossible,' says the alumna. 'I didn't get that same level of creativity and enthusiasm  while working with engineers. And at one moment, the WECF vacancy popped up on my screen.' She'd never heard about the organization before but it spoke volumes to her. 'I saw a lot of problems such as poverty, unemployment, climate change, modern-day slavery and mental health issues that could not be solved with technology alone. Many societal issues stem from inequality and I see WECF as an opportunity to close the gap.'
Women Engage for a Common Future
According to WECF, sustainable development and gender equality go hand in hand. 'I didn't fully realize the connection of gender and climate change until I started working here. Sustainable future truly requires feminist solutions. We are really committed to creating a healthy and gender-just word for everyone,' Aikhorin highlights the main purpose of WECF. The non-profit network is involved in policy advocacy, providing recommendations to governments as well as the UN. It's also active in capacity building in renewable energy solutions in the Global South and Eastern Europe.
'We believe women should be more involved at all levels and we facilitate their voices,' says the director. 'Take war or a similar humanitarian crises. After the fighting is done, it will be women who are left and need to rebuild. Yet, they were not involved in any critical decision making. Women need to participate and be heard.'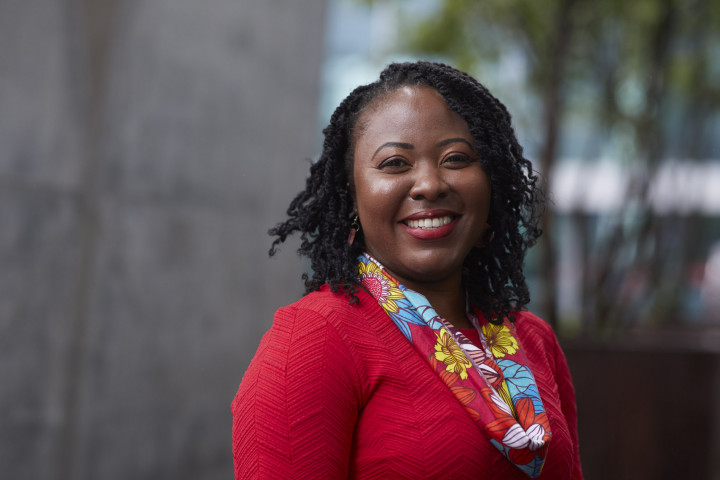 'It's a man's world'
Christy Aikhorin has experienced gender inequality herself. 'When I worked in engineering, I recognized how underrepresented women were. The higher I climbed on the career ladder, the less women I saw. Sometimes I was the only woman at the table and I felt how lonely it was, but it also felt like the norm. We live in a man's world and we have become so gender blind that we don't see it anymore. I wanted to be surrounded by women who remind me that I'm wonderful and unique.'
And so the alumna co-founded SheSustains, a platform focused on women sharing stories that matter for personal, professional and business development. 'It does something to you when you know others have your back. Having this community has cheered me on.'
'Everyone is part of the solution'
Thanks to this support and Christy Aikhorin's willingness to walk the paths less taken, she is now excited to guide the Dutch branch of WECF. 'Where I am now, it is a beautiful opportunity and I'm really committed to it. I want to act as a bridge that connects generations and continents while closing the gap between academia – where technology is developed -, policy makers and practical application by cultivating spaces for multidisciplinary engagement. Because everyone is part of the solution. Can WECF solve all the problems? Absolutely not. Can we contribute? Yes! And that is what I always wanted to do.'