On the morning of 24 February, Dudareva is called out of bed. She wakes up in her room on the seventh floor of an apartment building in Mariupol. The person calling is a friend from Kyiv, who asks if she is OK. 'There are bombings,' the friend says. Dudareva reacts confused. Ever since the annexation of Crimea in 2014, there have always been bombings in eastern Ukraine, haven't there? 'No, it's Kyiv this time,' says the friend. Immediately Dudareva turns on the television for the news. 'Oh my god, I thought. The war has started.'
Dudareva lives with her 82-year-old grandmother. Immediately after the news of the invasion, they pack their things and leave for Dudareva's parents, who live on the second floor of the same building. 'We knew that it would be safer there in case of bombing. Next, we went to the centre to buy canned food and petrol, like all the other inhabitants of Mariupol. We filled all the bottles and jugs in the apartment with water, which would come in handy later.' Meanwhile, her employer, the energy company DTEK, reassured employees and asked them to continue working. 'But of course I couldn't concentrate and only watched the news.'
Surviving
Then the bombing started. Within three days, the Russians had surrounded Mariupol. Dudareva and her family contact an aunt who lives in a safer area, where they might be able to go, but miscommunication prevents an escape attempt. After that it is too late. Fleeing the city becomes very dangerous, as the Russians also shoot civilians. And if they do let people through, it is completely random. With her mother, father, twelve-year-old brother, grandmother and dog Karma, Dudareva is forced to stay behind in Mariupol.
On 28 February, they are cut off from electricity and water, and not much later gas is also cut off. From then on, they cook in the street, with an open fire. Washing is only possible using the freshly fallen snow. They leave their mobile phones off as much as possible to save on batteries. To avoid getting cold, the family sleeps in one bed. Dudareva herself sleeps under a pile of blankets in the bathtub, together with her dog. 'The bathroom was safer because of the double walls. I slept with my passport on my chest. If the bombing killed me, I did not want to be buried as an unknown victim. When our flat shook from the hits further away, I begged my parents to come to the bathroom too. But they weren't afraid and stayed in their bedroom.'
'You don't want to know what it's like to collect snow to wash your hands, or to flush the toilet'
Since the power cut, Dudareva has been keeping a diary. 'To avoid going crazy, I wrote everything down.' On her phone she shows screenshots of the sheets of paper. 'Look, 5 March. We tried to flee for the first time on that day, after a tip from a friend. It was supposed to be safer. I got my car. But once we drove, terrible bombings broke out. Every second a bomb landed. I drove through Mariupol at a hundred kilometers an hour to get away safely.'
After the failed attempt, the family stays in the flat for some time. Until, on 16 March, the bombing seemed to subside. Dudareva climbs to a higher floor in the apartment to get a signal on her mobile phone. 'I called my aunt. She told me there was a green corridor for evacuation from Mariupol. It would make it safer to leave the city. As our mobiles were off all the time, we didn't know anything!'
Fleeing
They decide to take their chance. Dudareva's car is filled with food and the family drives to the part of Mariupol where Dudareva's grandparents live. Grandpa takes care of grandma, who is partially paralysed due to a disease. The family wants to bring food and let them know they are going to leave the city. But in the centre, they are stopped by the military. They are not allowed to pass through. As a result, the family is unable to say goodbye. Although it is hard for Dudareva and her family, they have no choice but to continue their attempt to flee.
'I prayed that we would survive. And if we were to be killed, then all at once, as sad as that may sound'
As they leave the city, the family is constantly checked by Russian soldiers. They have to show their hands, to prove that they did not fight in the army. At walking pace, the family drives past craters in the road and broken military vehicles. After three hours, they manage to reach an old house, fifteen kilometres outside Mariupol, where it is relatively calm. In the village, Dudareva made her first phone call to her husband Ivan Struzhko, who is working at the UT as a PhD student. She can also finally wash herself again. 'You don't want to know what it's like to collect snow to wash your hands, or to flush the toilet. This was a huge relief.'
After two days of relative calm, the family drives towards Zaporizhzhya, a town in the southeast of Ukraine. On the way, Dudareva calls friends to find a safe route: many roads and bridges have been destroyed by the Russians. Due to missiles, it remains dangerous. 'Along the way I saw destroyed cars at the side of the road and hoped the passengers could flee in time, but really I knew better. I prayed that we would survive. And if we were to be killed, then all at once, as sad as that may sound.'
Following a journey between hope and fear, the family manages to cross the border into Ukrainian territory. 'No more bombing at last. In Mariupol I slept one or two hours a night, I was so scared. Finally, in Zaporizhzhya, I could sleep well again.' Dudareva decides to flee to the Netherlands, where her husband Ivan lives and works at the UT. The rest of the family stays in Ukraine. With her dog, some warm clothes and documents she takes the night train to Lviv. From there she travels to Poland, where she sees her man Ivan again for the first time. 'In Mariupol we didn't cry. We were busy surviving. It was only in Zaporizhzhya that I cried. And seeing Ivan again in Poland was also very emotional, of course.'
And yet, once in the Netherlands, Dudareve experienced her most difficult moment of the war. Through Ivan's parents, who also live in Mariupol, she hears that her grandparents were killed in a bombing. 'A fire broke out in their appartment and my grandmother could hardly breathe. Grandpa stayed with her until the last moment and then jumped down from the fourth floor to save himself. This jump he did not survive. The Russians took the bodies; we have no idea where they are now, which is very tough for us.'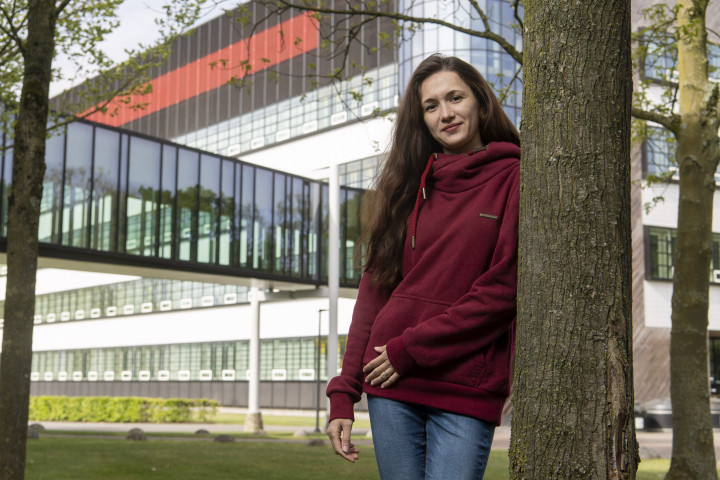 Job offer
As best as she can, Dudareva tries to pick up life in Enschede. Together with Ivan she moved into a flat on the Witbreuksweg. 'We were really lucky with that', she says, visibly delighted. 'I am also taking a Dutch course, where I can share my stories with other Ukrainians.' And not much later, something surprising happens. UT professor Frank Leferink asked Ivan to take Dudareva along to a drink at the UT. There the two got talking. The professor tells her that she might be able to work at the UT, since the young Ukrainian studied Electrical Engineering in Mariupol, just like Ivan. A few days after the get-together, Dudareva receives an App: 'It has been arranged with HR'.
'As soon as I can, I want to buy a car for my father. That is his big dream'
Just two months after the war broke out, she found work as a technician at the UT. 'Of course I am very happy and grateful. But I am also shocked. It all happened so fast', she says on her first day at work. 'Moving to the Netherlands seemed scary. But I was surprised how beautiful this country is and how sincere and kind people live here. I am very happy to be in Enschede and with this job opportunity, for which I am very grateful to the UT. Also, a special thanks to the Dutch government, the volunteers and all the people for their help and support. What they do is very important and valuable for me and all Ukrainians. Therefore I want so say: dankjulliewel.'
Perhaps Dudareva's new job will allow her to look to the future again? 'No, I will only be able to do that when the war stops', she responds. 'And when Mariupol will be a Ukrainian city again. But I do hope that my job will help to support my friends and family in Ukraine. Especially my parents, whom I am very grateful to. Actually my mother did not want to leave Mariupol. But they did it for me and my little brother. As soon as I can, I want to buy a car for my father. That is his big dream.'
Ukrainian refugees finding work at the UT
The faculties of the UT provided a budget to employ a total of 20 refugees from Ukraine. Academic staff can work for 18 months and support staff for one year. 'The news about the budget coincided exactly with the talk I had with Dasha,' says UT professor of Electromagnetic Compatibility Frank Leferink. 'I actually wanted to offer her a PhD position, given her study background. But she was more interested in a position as a technician, because she hopes to eventually return to Mariupol. Because of a new project, we were short of technicians. So she comes just at the right time. We're going to have a lot of work to do in the near future. I find it incredible how things have come together. I must also pay a big compliment to the faculty and HR. The contract was arranged within a few days.'