Behind the brand new program coordinator, a large painting is displayed on the snow-white wall of her office in the Vrijhof. 'Of course, it is unacceptable not to have art on the wall if you are in charge of a culture department,' says Bril. 'But because of the renovation of the Vrijhof, nothing was displayed at first. I immediately went to the art library with Tessa (Lieffering, ed.) to handpick a piece. Yes, I can wholeheartedly recommend every UT employee to make use of it.'
Flute, festivals and culture coach
Before coming to UT, Bril (49) had already practically seen all sides of the culture sector. She grew up in Holten and graduated at the music academy in Zwolle as a teaching musician of the flute and subsequently also became a flute teacher in the Salland region (next to Twente). However, physical setbacks in her shoulder made that work impossible, after which she went to study art management in Utrecht. That is how she entered the festival world, in Rotterdam. In 2003 she moved to Enschede, where she started working at the Enschede Muziek Festival, the predecessor of the Muziekkwartier – the physical location that was opened in 2008 by Dutch queen Beatrix.
From 2013 she worked in the municipality of Hof van Twente, where she was busy with the combination of culture and education for years. First as a culture coach for primary schools at the CuBaHof Foundation, later as a coordinator at the Hof van Twente music school. And in 2020 Bril became head of art education at 'Home of Talents'.  And then suddenly there was the UT. 'A friend pointed out the vacancy to me. This was really something for me, she said. Yes, I agreed. And now I am here. I have always worked very broadly, from the educational side to the performing arts. I think that background fits in nicely with UT.'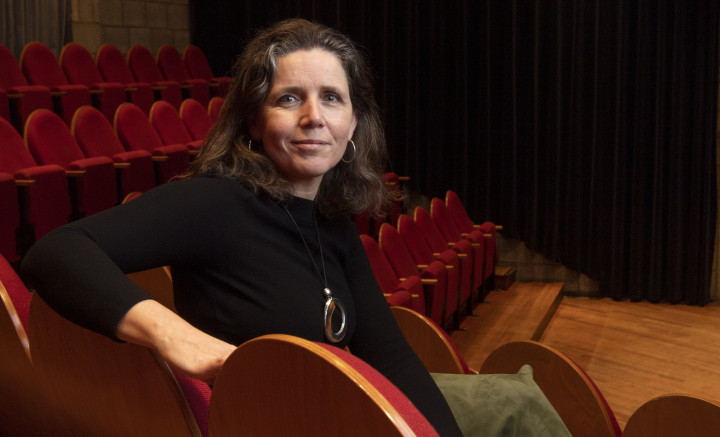 'We are quite comfortable in paid employment, but the artists and conductors are hit the hardest'
Thinking in possibilities
She has been employed for a month now and started in the middle of the last lockdown. 'That also had its advantages, you don't have to jump on board of a moving train,' is her glass half-full approach. 'I could focus on getting to know the team, the Student Union and Apollo peacefully. And luckily more and more is already possible. The courses could be resumed earlier on and now the performances can also take place again, even if it is with one-third capacity.'
No, complaining about the culture sector being neglected in the crisis is not an option for Bril. 'I am glad I am not the one who has to decide at a national level what can and cannot be opened. You don't have that much to decide about such a major crisis. But you can decide how you deal with it. I prefer to think in possibilities and what we can do. We will soon have a yoga concert. This is where culture and sport come together nicely. We do that in the Agora, we place mats at a distance of one and a half meters from each other. It can all easily be organised.' The pain is mostly with the makers, Bril knows. 'We are fairly comfortable in paid employment, but the artists and conductors are hit the hardest. Fortunately, I already understood that the conductors here were still paid by the associations over the past period.'
'Culture has been under pressure for the past two years, now things have to happen. We have to do that together'
For and by students
Bril is happy that the culture sector can start up slowly again, also at UT. But she also notes that cracks have formed. 'Preparations and rehearsals were at a standstill. It will take some time before associations can be back on the stage. I heard about board members who have not experienced performances yet. Anyway, we are open. And I hope it stays that way.' Still, she has not yet been able to experience the buzz of all kinds of rehearsals and performances in the Vrijhof. 'That is a shame. It is still quite quiet and empty inside the building. Students mainly walk in to study in the library. I am curious what it will be like when everything can continue again.'
For Bril, this month is all about getting acquainted with all cultural associations. In any case, her first impression of the culture sector at UT is good. 'I work with a very experienced team, with a lot of historical knowledge. I am also very charmed by the idea that we do things here for and by students. It is not about inventing something yourself and hoping that people like it. The strength lies in the intensive collaboration.' She notes that this collaboration has suffered as a result of the corona crisis. 'The connection between us, the Student Union, Apollo and the associations has always been good. However, the lockdowns have limited physical contact and activities, and much of the communication has been online. Culture has been under pressure for the past two years, now things have to happen. We have to do that together. And I am definitely looking forward to that.'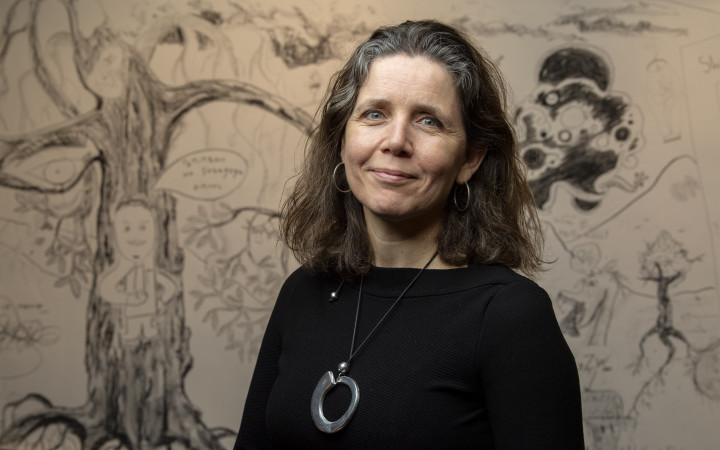 Culture towards the people
Bril hopes that contact will increase again, that students and staff will find their way to the Vrijhof more and more. 'It was just decided that Apollo will move back to the Vrijhof. That will make the lines of communication even tighter, you can enter each other's office more easily. And I think that we can look for more collaboration, for example with the sports sector and Studium Generale.
The brand new program coordinator also has plans to not limit culture to the halls and theatres of the Vrijhof. 'The campus is a fantastic area. I see plenty of opportunities for street-theatre performances in the summer, performances on the O&O square or in the buildings. I think we should not only let the people come to the Vrijhof, but also bring culture to the people.'
'I hope we can be an enrichment for personal and academic development'
Enrichment
Bril also wants to know what students think about this. 'We have plenty of ideas, but I also want to know what ideas students have. For example, I think we can involve the international students more. They are here often, seven days a week. What do they want to experience on the weekends?'
If it is up to Bril, many more UT students and staff will be experiencing culture. 'Whether it is active or passive, for relaxation or deepening... I think we can play an important role in the broad development of people. There are also many parallels between the process of a scientist and that of an artist. Those processes, the creativity, the imagination... I hope we can be an enrichment for personal and academic development.'