It is awfully quiet in the UT's board wing. This is the first week when it is 'urgently advised' to wear a face mask in public areas. It goes without saying that Palstra and Veldkamp are both wearing theirs. Although working from home has become the new standard, they cannot avoid having to talk to each other face to face from time to time. There are important matters to discuss or, like today, joint interviews to conduct. We don't take off our masks until we are all seated at a safe distance of 1.5 metres from each other. Palstra opens the window of his office a bit further. A cold October wind blows into the room. 'This is the only way to air the room out,' the then-current rector says apologetically.
This must be a strange time in which to say your goodbyes?
Palstra: 'It certainly is. A year ago, no one could have predicted the situation we now find ourselves in. The virus has had an enormous impact. I miss the physical interaction with others. I love nothing more than talking to people face to face as I walk around the campus. These days, the entire UT has been transformed. Realising that transformation in a correct and controlled manner was and continues to be a daunting task. You have to offer top-quality education, keep the labs open, maintain in- and external contacts, etcetera. Of course, we dedicated most of our attention to our education. Initially, that left little room for matters like research and internationalisation. The virus impacted everything.'
thom palstra
For the past four years, Thom Palstra served as rector of the University of Twente. During that time, he worked on policies for integrity, diversity, talent and the further development of the Twente educational model, among other things. Before coming to the UT, he worked at the University of Groningen as a professor and director of the Zernike Institute for Advanced Materials. Palstra studied at and obtained his doctoral degree from Leiden University. Palstra now works as professor of Solid State Chemistry at the UT Faculty of Science and Technology.

You made your decision to pass the torch prior to the crisis. Can you remember that moment?
Palstra: 'I reached my decision during the Christmas holiday, last year. It was quite a process. I made my decision in peace, away from the daily hustle and bustle. After serving one term as rector, I decided to return to the world of science. I look back on these past four years with great fondness, but in the end I am still a man of substance. As rector, you do not always have the time to explore every issue as well as you would like. This was a constant struggle for me. Of course, I was supported by a team of highly skilled people, but I still felt the urge to take the time to truly dive into the issues at hand.'
Professor Veldkamp, what are your thoughts as successor to the position?
Veldkamp: 'It is different for me. To me, managing is about making decisions based on the information available at that time. That is how I did it when I was dean of the ITC faculty. Sometimes you have to stay your course; at other times, you have to make adjustment along the way. It is a continuous process.'
Palstra: 'It is also about charting a certain course and creating expectations. By plotting your course, you create expectations among twelve thousand students and three thousand employees. The current pandemic is a clear example. The forty percent occupancy rate for the campus was the result of a careful and deliberate decision-making process. It was an educated guess: what can you still do while following the rules of social distancing? You know people have a strong urge to meet up with each other in person. With the figure of forty percent, we have defined a clear goal. It has created expectations that we do not want to retract.'
tom veldkamp
Tom Veldkamp served as dean of the ITC faculty for the past ten years. Under his guidance, the former International Educational Institute transformed into the UT faculty for geo-information science and earth observation. Veldkamp studied at and obtained his doctoral degree from Wageningen University & Research, where he was appointed as professor of Soil Inventory and Land Evaluation in 2002. On 27 November, he took over as the new rector of the University of Twente.

How is the onboarding process going?
Veldkamp: 'We mostly talk to each other online to discuss ongoing matters. I knew about some of these issues, while I had not yet heard about some others. Of course, you look at these things differently from the perspective of the faculty than from that of the Executive Board. But that is no issue for me. My sabbatical in the spring literally and figuratively allowed me to walk away from my position as dean. It gave me a chance to really think things over.'
Are there any lessons to be learnt from the office that you are now passing on?
Palstra: 'I have spent three quarters of my working life at a university. Being a rector in particular brought with it so many new aspects and insights that I did not know anything about beforehand. One of the things that characterises the job in my eyes is diversity: you have to know the university inside and out. Managing a university involves much more than education and research alone. For example, I was recently involved in the LGBTQI+ day. That empathic aspect is one of the things I love most about this position. As rector, you truly have to get involved in every community at the university.'
Veldkamp: 'I believe that human side is very important. You have to incorporate it in different ways. It also ties in well with Shaping 2030. Our ambitions for the future will require a significant cultural shift. The current crisis has brought certain important aspects to light. Seeing how an entire community responds to something like that really helps you determine what is important. For example, working from home proves not to be an issue at all. All of a sudden, people are forced to make up their minds about it. I do not think the virus will go away. I believe corona will simply become a fact of life. Some students love studying from home. They relish their freedom and the opportunity to set their own schedules. That is a lesson in its own right: some things should not be managed.'
As the new rector, what do you admire about your predecessor?
Veldkamp: 'I respect the thoroughness with which Thom goes about things. I know I am not cut from the same cloth as a board member. I do not feel as strong a need to go through the entire process. Of course, you have to know what you are dealing with and understand the facts. You have to be aware of certain perspectives and arguments. You are not in it alone, either; you have people supporting you and a collegial board.'
Would you describe the rectorship as a way of life?
Palstra: 'I think it is. Aside from the impact of the coronavirus, it is a very demanding job. There are so many amazing initiatives here at the university; as rector, you do not want to get in their way. You have to talk to a ton of people, read a lot and spend much of your time on the road. For me, this job has absolutely been a way of life these past four years. Six months or so ago, I started taking Saturdays off and - because I work from home - I can eat lunch together with my wife. She is very happy about that. The position is also physically demanding. Last summer, I walked from Cologne to Metz towards Santiago de Compostella. The journey was not as easy as I had hoped it would be. Although I have given my heart and soul to the office, I have not really been taking good enough care of myself during that time.'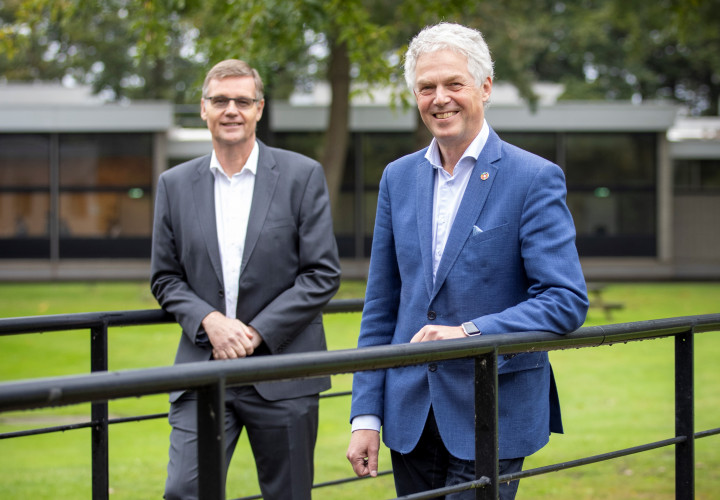 How will you take care of yourself as the new rector, professor Veldkamp?
Veldkamp: 'A lot of what Thom is saying rings true for me. Being a dean is not that different. I get my release through exercise; I go on ten-kilometre runs several times per week. Although the coronavirus has significantly reduced the amount of travelling we do, I know the work does not stop in the evenings or on weekends. Fortunately, I am good at structuring my time. Nevertheless, there will always be aspects of the job that give you energy and others that drain your energy. That is just part of it.'
Lastly, what about a rector's ceremonial duties? Do you enjoy that part of the job?
Veldkamp: 'I know it is part of the deal, but I do not enjoy being the centre of attention. It will not be my favourite part of the job, that much I know.'
Palstra: 'I know what you mean, but speaking at an LGBTIQ+ gathering is quite an experience. It requires far less preparation than, say, giving a speech during the Dies Natalis. The latter also requires you to show your vision and offer substance. That makes it far more stressful. I look back fondly on certain student gatherings, like the one where Green Team Twente presented me with a glittery jacket. It feels great to demonstrate our gratitude to them as a university. That's what makes the job so gratifying; you can make a difference for a lot of people.'
Everyone puts their face mask back on. Time for a photo shoot. Since the drizzle outside won't let up, the photographer has decided to turn the hall of the administrative wing into a makeshift studio with professional lighting, white screens, umbrellas and all. The former and current rectors take their time; the office is not going anywhere.