'A mentor and a visionary. That is how I think of Arjen,' says Rick Hogeboom, who worked with the professor at the Multidisciplinary Water Management group for ten years. 'The world will mostly remember him for his scientific merit and his contributions to research on water consumption and water scarcity. I'll mostly remember him as my mentor. I can honestly say that I'm still at the UT as assistant professor because of him. If it wasn't for him, I'd have left after my PhD. He helped me build my academic profile. But not only that. I considered him a friend. I will remember the discussions we had over lunch every day – even more than our papers.'
For professor Hoekstra, lunch was indeed the time to spend with his direct coworkers. 'Every day he'd be knocking on your door with his green lunch box,' describes PhD candidate Oleksandr Mialyk. 'I only worked with Arjen for about two months, but I got to know him as a friendly, supportive and down to earth guy. He was really easy to talk to considering the level he was on. He was a professor, a very famous scientist, but he'd always pick you up for lunch. Arjen was always open to discussions no matter the topic. He was a good listener but also a good story teller. He would be telling us stories about everything from his adventures in Africa to the impact of climate change.'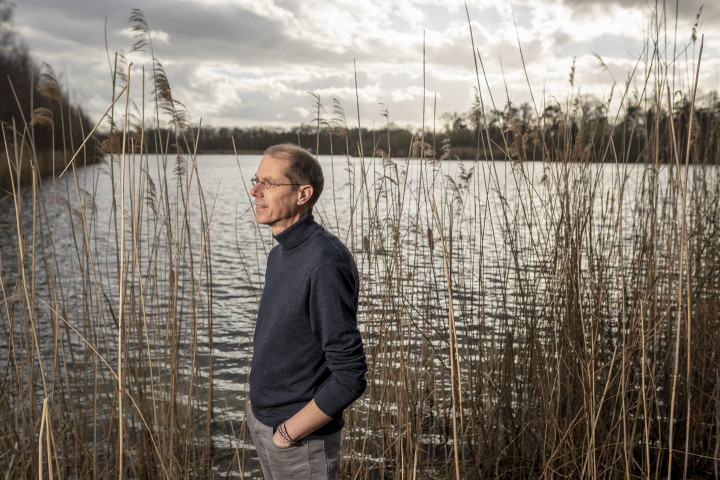 'He was definitely a story teller,' agrees Maarten Krol, associate professor in integrated water modelling and Hoekstra's scientific 'right hand'. 'He was always eager to share his stories. At Christmas lunches he always told a fable, a story with a strong morale – which was also something he searched for in his research. He had a real drive for acquiring knowledge but also for that knowledge to be meaningful.'
'I'll remember him as a driven and inspirational thinker'
Krol first met Arjen Hoekstra in 1993 when they were working in neighboring research groups. As he says, 'it was interesting to see this ambitious and wild guy.' Twelve years later, when Hoekstra arrived at the UT, the two scientists began closely collaborating. 'Arjen was a visionary, a thinker. He liked debates. He was interested in what makes the difference in opinions. Some people always search for compromise, but he found differences in views more interesting. I'll remember him as a driven and inspirational thinker.'
Missing a leader
As all the researchers say, professor Hoekstra was the heart (and brain) of the Multidisciplinary Water Management group – on personal, scientific and leadership level. That made receiving the news from the 18th November 2019 so much harder. 'His passing was an absolute shock. It took quite a while to understand that it was real,' says Krol. 'In the weeks and months to come, the entire group was running on adrenalin. People were really engaged. There was a strong feeling that we should honour Arjen's legacy and continue his mission to the best of our abilities. But soon the practical issues of missing a leader became apparent. It was a void we could not fill.'
Rick Hogeboom also speaks of a huge shock. 'It really came out of the blue. He was in the office some fifteen minutes before he passed away. He had just come back from a trip in China. He was happy to be back and was talking excitedly about the new project. He wished us a good evening and said 'see you tomorrow'. And he died minutes later.' The group learnt of the tragic event the next morning. 'It all happened so fast,' describes Mialyk. 'On Monday we had a project meeting, everyone was happy and enthusiastic. Everything was on track. The next morning we had a typical biweekly group meeting and I saw that everyone was sad and that Arjen wasn't among them. Then they told us. It was harsh. People were devastated for weeks. And yet, the bad news wasn't over.'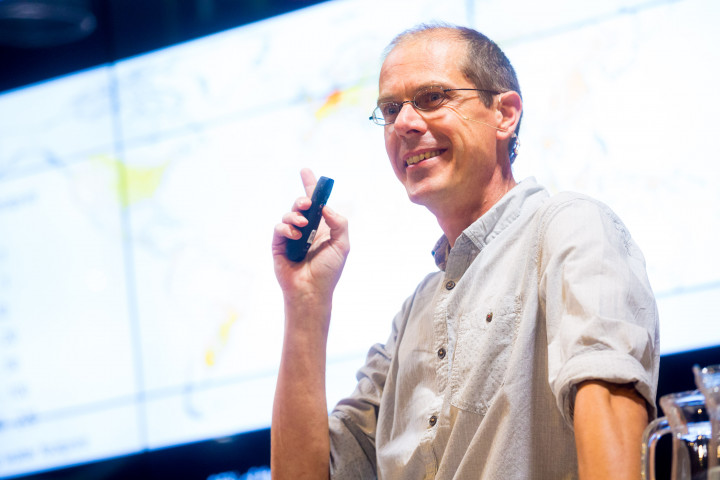 Professor Arjen Hoekstra
Arjen Hoekstra (1967 - 2019) was a professor at the University of Twente and a renowned scientist who pioneered the concept of the water footprint - a way of measuring the extent of water consumption. He worked at the UT since 2005, holding positions of Professor of Water Management and Chair of the Department of Multidisciplinary Water Management. Hoekstra laid the basis for the field Water Footprint Assessment, which deals with the relation between water management, consumption and trade. He was one of the most cited researchers in his field in the world. He also set up the Water Footprint Network, an international network of researchers and practitioners that strives for more sustainable and equitable water use worldwide. He led a variety of interdisciplinary research projects and acted as an adviser to governments and institutions such as UNESCO and the World Bank.
'We lost most of our team'
All three scientists describe that Hoekstra's death was a start of an extremely hard year for them. A few months before he passed away, Arjen Hoekstra was awarded a prestigious ERC grant for Earth@lternatives project which he planned to carry out with his group. Eight people from all over the world were hired and began working at the UT in the autumn of 2019. Oleksandr Mialyk was one of them. 'We just started and in a couple of months our supervisor passed away. Yet, it got even worse a few weeks later, when the ERC decided to withdraw the grant and the university decided it would not finance the whole project. All the people who started later than me were fired, so we lost not only Arjen but also most of our team. And all of this happened just before Christmas holidays. It was heartbreaking.'
Rick Hogeboom believes that the UT didn't offer sufficient support to the group. 'I feel like the leadership of the university has failed us,' he says. 'When Arjen passed away, we were promised that the university would do everything in their power to keep all our team members, regardless of what the EU would decide. But once EU indeed decided that the ERC grant would not be paid out in full, the UT didn't need long to fire five people. That was another big blow for us only a few weeks after Arjen's death. What is more, the ERC project was not granted for nothing. We had an amazing plan, but our ambitions for research had to be severely lowered. We had such an extraordinary opportunity and we could have successfully completed it, if only we were given the chance.'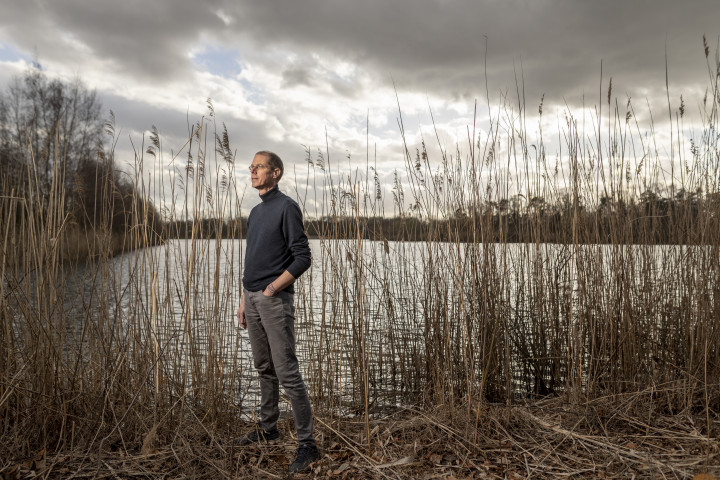 Long-lasting consequences
The group is still struggling with the consequences now, a year later. 'It's been a tough year,' says Hogeboom. 'As soon as we learnt about Arjen's death, we had to think about the implications – for us, for the group, for his research. And there have been implications for sure. Arjen was so passionate about his work. He was working at a very high level – if it comes to strategy and his effectiveness. Plus, he worked crazy hours. He worked the equivalent of three people, so when he passed away we lost a lot. And we had to work hard, as all his tasks fell on us. Only now we are slowly settling down. Only now I feel like I'm slowly catching up on where I left off before Arjen's death a year ago. There has been so much extra (educational) workload, there has been no time for research. Science has been put on hold in the past year. It has been all about mourning, surviving and keeping things afloat.'
'It has been all about mourning, surviving and keeping things afloat'
The team is certainly not giving up, though. 'Our research is different now, but it was Arjen's dream to do this and we will try our best to keep it alive,' says Mialyk. The overall atmosphere in the group is also improving, he adds. 'It is getting better. The mood in the group is optimistic. One thing is for certain: What Arjen developed is very much alive. The water footprint concept and the network he's created are still here. Water footprint is something that entire countries and companies are applying, it wasn't just an idea in his mind. I don't think there is much to improve in the theory he developed. He established the field and now it's up to us and others to expand it. What he created will for sure live on for a very long time.'
Arjen Y. Hoekstra memorial event
To commemorate their late colleague, researchers from the Multidisciplinary Water Management group at University of Twente are organizing a public memorial event today from 4 pm. They will commemorate professor Arjen Hoekstra by means of four speeches from people who closely worked with him during several stages of his career.
'Large footprint'
'He was of course not alone in his research,' says Hogeboom. 'Water footprint assessment has really matured over the years and the scientific community will continue working. Although water footprint remains Arjen's biggest legacy, I know he didn't want to be only the 'Mr. Water Footprint' guy - he mainly wanted to have intelligent discussions, not just reduce things to numbers. That being said, everyone in this field looked at Arjen for the next big step. He had a clear vision. With him gone, it is unclear where the water footprint research will be in ten years. For midterm we have a good idea, because he prepared it in the ERC project. But for the long term we really miss the visionary. And nobody can fill in the gap he left behind. Arjen was exceptional. He left a large footprint in science.'