'It's quite ironic. I didn't want to work in fluid dynamics. I thought it was too difficult. Now I'm a full professor in this field,' says the UT scientist. But let's put a pin in that for now. Because as Kees Venner wisely remarks later on in the conversation: 'You should not only look at where people are, but how they got there.'
Has academic career always been the dream?  
'I wanted to be a fighter pilot, a surgeon… I considered many professions. But I met a girl and she lived in Enschede, so I ended up at the University of Twente, studying mechanical engineering.'
So you came here for love?
'Yes, you could say that. Love changed, though. And I stayed.'
Right after graduation, you spent five years doing research at the Weizmann Institute of Science in Israel. What was it like to live there?
'It was a very intensive way of living. I came there right after the first Gulf War, so it was still a bit stressful, but people there take care of each other. I felt very much at home. I loved living and travelling there. In the Netherlands no company wanted to insure my motorcycle for me, though.'
You actually drove your motorcycle from the Netherlands to Israel?
'Yes. I drove there. My dog came there by plane.'
You are a dog person, I think.
'I'm an animal person.'
Let's back up a bit. What inspired you to pursue a career in fluids engineering?
'During my studies I was inspired by one professor. I was really intrigued by the way he gave lectures. I met a PhD student who worked with him. He told me about the topic he studied and how difficult it was, so I thought I should give it a try. For my PhD research, I worked on developing a numerical method in lubrication. It was a very challenging problem and I wanted to solve it. I did it and I'm actually still using the method in research now, 28 years later.'
Was this the plan?
'Of course I considered doing something completely different, but this was the path that opened. I came back to the UT and became a professor in 2014. I was honored to get the opportunity to lead and inspire a group.'
What do you enjoy about working in this field?
'I enjoy solving problems that have practical applications. Fluids dynamics is everywhere. In your cup of coffee, in our fight against the sea and living under sea level, in insects flying around. I try to understand physical phenomena related to a problem and translate it to a practical solution. For example, in my group we work on reducing the problem of aircraft noise and we contribute to medical applications. I might not be doing a lot of science myself in this job, but I do create openings and possibilities for people. I initiate research and I am the bridge between physics and practical problems. That is why the title of my inaugural speech was "Crossing scales and bridging disciplines". I think it's important to do that. Talking to people from different backgrounds makes you realize how much you use the language of your own field. And we need to learn how to talk to each other.'
Since you returned from Israel, have you only lived in Enschede?
'Yes, I've lived on different spots in Enschede. For now I'm settled near the campus. We have four kids - ages 16, 18, 21 and 23 – and three of them still live at home. We have five dogs and three cats. And there is of course my partner. She is the most important one.' 
'I do everything I do with my heart'
How did you meet?
'We met eleven years ago. She was my neighbor. It all started because she knocked on my door and asked me if I wanted to jump out of an airplane with her. With a parachute. I said yes. We jumped and it developed from there. It was funny. When I told my colleagues that I jumped out of an airplane, their first response was "why? Was the plane broken?" Aeronautical engineers, you see? I just thought it was fun.'
You also do karate.
'Yes, I learnt it in Israel. Now I have a third degree black belt. Karate is not only about technical development, but also about personal development. It's like a playground for real life. It teaches you to be calm in face of difficulties. It teaches you to be kind. It helps you develop many qualities. I still teach karate on Sundays.'
Kees Venner in a nutshell
1963      Born in Eindhoven
1987      MSc Mechanical Engineering, University of Twente
1991      PhD Mechanical Engineering, University of Twente
1991 – 1994       Postdoc, Applied Mathematics and Computer Science, Weizmann Institute of Science in Israel
2002 – 2014       Assistant and Associate Professor, Engineering Fluid Dynamics, University of Twente
2014 – now        Full Professor of Engineering Fluid Dynamics, University of Twente
That sounds like you have quite a busy schedule.
'Yes, I have a busy schedule and sometimes I think the workload is really high. I must admit that there was a lot of time I could have spent with my family that I spent for the university instead. However, I do everything I do with my heart. Moreover, I'm lucky to be in a position where I can help others with their workload. As a professor, you can create an environment where people can grow.'
'This is not an academic snake pit'
You enjoy teaching, right? You even received the Brinksma Innovation Grant in 2019 for your innovative teaching method. 
'I enjoy creating an environment in which we all learn. It is not about one direction teaching. I like to share my enthusiasm for the subject and I believe that education is an important part of development. It opens doors. The prize was awarded for the idea to introduce 'twin teaching' method. It uses the presence of not one, but two teachers in the classroom – one is giving a lecture, as usual, and one is sitting in the audience together with the students. Having a teacher in the audience lowers the threshold for students. It creates a more inspiring environment in which students are less afraid to ask questions – they see that an expert, sometimes a full professor, is there but still doesn't understand the topic and is asking questions. In science we are so focused on a small area of expertise. We are specialists that hardly talk to the specialists next door. However, in that sense, the UT is a good environment. This is not an academic snake pit. We have a good collegial atmosphere here.'
Is there anything you'd really like to accomplish or try in your lifetime?
'Whatever you do, you should do it with full dedication. You should express yourself with full ability and with enthusiasm. The most important thing for me is to have a healthy and inspiring group of people doing good science and contributing to the world. I want to open doors to people who have difficulties. When hiring people, we always look at their CV and their distinctions. What we should focus on is their potential, though. We should make our university inclusive also for people who have had setbacks in life. We should create ways for people to develop themselves, also among supporting staff. And we actually need to do it, not just agree to it. We need to create opportunities for people with difficulties.' 
'You learn from every other human being'
You seem very passionate about this topic. Where does this motivation come from?
'You see that you grow yourself if you create opportunities for others. You learn from every other human being. It is very rewarding. And it makes you aware of how lucky you are if you have had no setbacks in life. It's not all about achievements. You get a lot from your parents, from your environment and so on. You should not only look at where people are, but how they got there. I cannot change the entire world, but if I hire one person with difficulties, then I already change the world for one person. We should not wait for big decisions from above. We should develop ourselves and inspire others. If you are aware of your role as a human being, you can change someone's life without even realizing it.'
One last thing. I just have to ask: why do you actually have five dogs?
'Kind of by accident. Sometimes we regret having so many, but it is so nice to see them all together as a pack. And it's a good management exercise. In a way, it's like managing a team. If you allow them space, they grow and you end up with a good team. Which doesn't mean I'm comparing people to dogs!'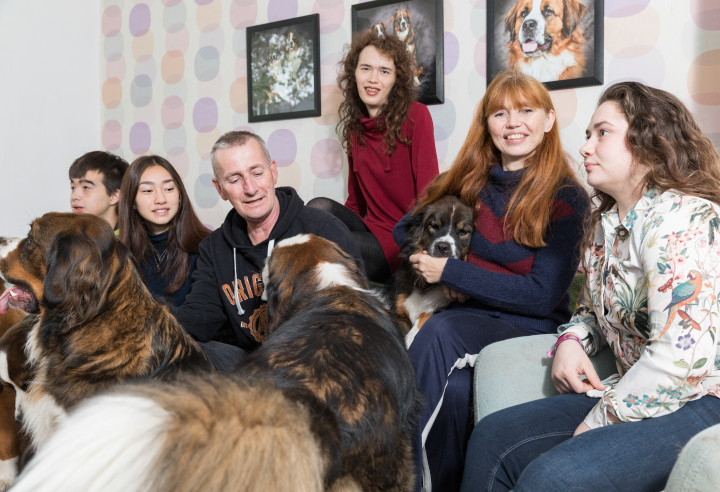 ---