Two Hypatia positions filled
In order to increase the number of female professors, the University of Twente introduced Hypatia chairs open to only female candidates. Bojana Rosic was the first professor to be appointed for one of these Hypatia chairs. She started her new position at the MS3 department at the Faculty of Engineering Technology (ET) in May.
Another 'Hypatia' candidate has been selected at the Faculty of Science and Technology (TNW). Professor Armagan Kocer, currently working at the University of Groningen (Faculty of Medical Sciences), will officially start at the UT next week, on the 15th of July.
Can you tell us about your background? I tried to look you up online but could not find anything.
Rosic: 'That is on purpose. I want to be visible on Google only as a scholar. I'm originally from Serbia, but I lived in Germany for over ten years. I worked at the Technical University in Braunschweig, at the Institute of Scientific Computing. My background is quite interdisciplinary, and therefore, I am always being asked if I classify myself as an engineer or an applied mathematician. The honest answer is that I'm both. To be a good engineer you need to have a deep understanding of mathematics. But, only theory is not enough. I want to see the theory materialized in practical products, to feel its real impact. That is how we can change society.'
Why did you decide to apply for the Hypatia chair?
'That is an interesting question. My specialization is in machine learning. Last year I was writing a proposal for a big European project for which I needed a list of publications. Therefore, I visited the ResearchGate to check if all important scientific works were listed in the project. Once I scrolled down the main page I saw the Hypatia chair vacancy as a recommended job – so in a way, machine learning found me as a suitable candidate. I didn't know what "Hypatia" meant, but the topic immediately attracted me. At that time I didn't want to focus on machine learning solely. My interest has grown towards the so-called physics based learning - combination of both applied mechanics and machine learning. In this sense the Hypatia chair position was perfect for me. I realized only later that the position was female oriented, and that made me reluctant to apply. By accepting such a position one is immediately exposed to prejudice and judgment. People might think that you were selected only because you are a female, even though that is not the feature that defines you as a scientist. Eventually I applied as the topic was interesting. And as I had possibility to choose, the gender related topic was not an issue anymore.'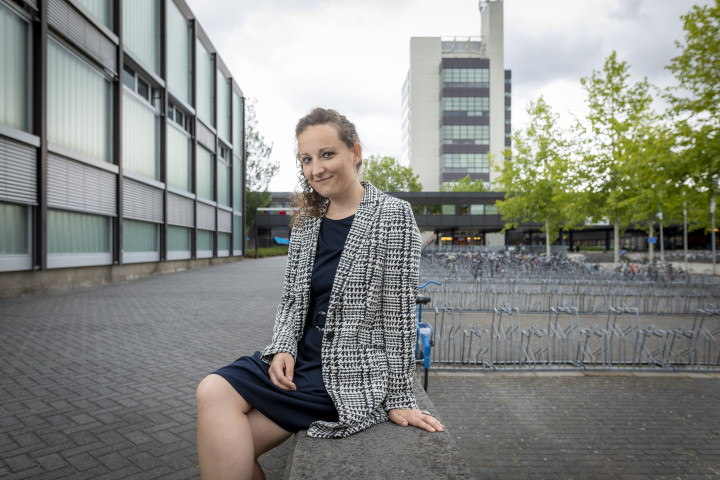 What made you choose the University of Twente?
'The topic. Also, I visited the campus on the day of the interview, and liked it very much. It is very green, and the personal communication at the UT is more lively than in Germany. There is a lot of interdisciplinary cooperation. This is very important as one can always get another perspective or an input from other fields. Plus, the UT is a relatively young university which means that you can help build it up and gain new experiences.
As I said, I was a bit hesitant, but I decided to look on the position as a challenge, a way to promote women in science. I want to encourage girls to study engineering, because many of them are afraid to. Maybe there are not enough role models, or simply said women consider engineering as not so creative. In addition, we cannot deny that there is a silent female discrimination in male dominated fields. I experienced that few times. Once I was invited to an interview elsewhere as one of the top three candidates. The plan was to have individual interviews with each of the committee members, and then the joint one. The president of the committee was negatively surprised once he saw me. He didn't expect to meet a woman. Then the whole interview was only a discussion about topics such as why girls don't study engineering, why we are so sensitive and not proper logical thinkers. You could probably imagine how I felt. It was a moment of revelation. In this light, I accepted the Hypatia position to prove stereotypes wrong.'
Based on this, do you think that the Hypatia chairs are the right way to attract talent to the university?
'Yes. Positive discrimination is a complex solution, but unfortunately there are no other tools that we could use at the moment. Either that or we need to change the way the majority thinks about women in engineering. Female oriented positions is something we can do right now. In this way one promotes female talent in engineering, but more importantly encourages girls to study. To survive in a male dominant world confidence and self-promotion are important tools, something we need to empower girls to embrace. I also understand the male point of view, though. They are discriminated because they can't apply for the women-only chairs. However, let us not forget that the silent discrimination women face speaks more loudly than this obvious one.'
Bojana Rosic
2010 Master's degree (summa cum laude) in Mechanical Engineering, Applied Mechanics and Automatic Control, University of Kragujevac (Serbia)
2014 PhD in Applied Mathematics, University of Kragujevac (Serbia) & TU Braunschweig (Germany)
2010 – 2019 Scientific research assistant, TU Braunschweig (Germany)
2019 Professor of Applied Mechanics and Data Analysis, University of Twente
You said many girls are afraid to study engineering. What brought you to the field?
'I'm a dreamer. I had big dreams already as a child. As a five year old I knew that I would do something like this, and gradually I paved my way to here. My dad is a mechanical engineer so I was attracted to the field, but most of the encouragement came actually from my mom's side. She is a very confident and extremely intelligent woman. Finally, my interest in logic and art brought me to engineering. I often say that I am an artist in an engineer's brain, and a mathematician in the soul. And only this trinity makes me complete. However, I could study only one subject at the time. So, I chose to study engineering, although my parents didn't agree with the choice. It was not considered suitable for a woman, especially not for someone who graduated as a top ranked student. Moreover, the economic situation in Serbia after the war was difficult, and my particular choice would mean that I would not get a job. The industry almost didn't exist anymore. But I was confident enough that I would succeed one day.'
And you did.
'Let's see. This is just the beginning.'
What are your plans now?
'First of all, I want to build the group and to bridge the gap between engineering and machine learning. The aim is to make manufacturing industry fully automated, or vaguely said smart and ''personalised''. The data are available in industry, but are not really exploited. Can you imagine the amount of information that lies in that treasure? It just waits to be used. But on the other side, the focus of the group will be also on modelling. One cannot only observe the data, and make reliable conclusions. The physics laws cannot be neglected. They need to be seamlessly integrated into the data driven process. Unfortunately, there is not yet proper tool to do that. Finally, when we model or design something, we tend to simplify it. The question then is what are the implications of these simplifications? And this is something we will be strongly focusing on. The goal is to quantify uncertainties, and possibly to reduce them in everyday applications. For instance, I'd like to work on modeling of bones affected by osteoporosis or cancer. Bones are porous tissues of a highly complex nature. The question is then if we can quantify their complexity on lower scale descriptions ranging from molecular dynamics to the macroscopic models? If we could quantify these uncertainties, then we would be able to improve medical equipment and create more efficient personalized healthcare with the help of data.'
You have only been here for a few weeks. How are you settling to life in Twente?
'People here are very supportive. I was a bit afraid because of the "female only" chair. I expected some resistance but that didn't happen. Everyone is very supportive and I extremely appreciate that.'