When it became clear that a vaccination site was needed in the region, the parties involved unanimously opted for the large parking lot on campus. 'The first vaccinations go to healthcare workers in Twente, about 25,000 to 30,000. The easiest thing to do then is to have a central location. In addition, we are offered the BioNTech/Pfizer vaccine in large batches, which must be kept at -70 degrees Celsius. We can certainly use the help of the UT for this,' says Liesbeth de Wit on Monday during a press tour.
The general health team leader of the GGD Twente tells and shows what the employees in the two tents will have to deal with in the foreseeable future. After all, both the testing and the vaccination involve an enormous logistical operation. 'In contrast to many test sites where a drive-through has been arranged, people who have themselves tested or vaccinated on campus simply have to park there. And then it's a walk-through. The testing takes place on the left side of the tent, the vaccination on the right. In the tent these streams don't meet each other.'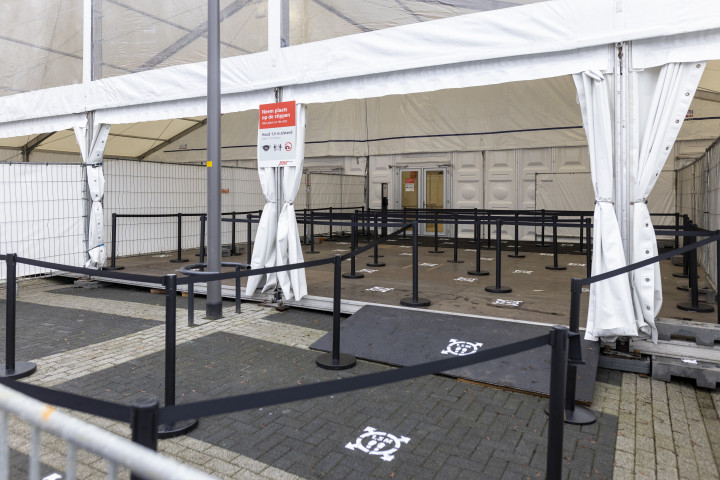 Traffic
Particularly from 15 January - when the vaccination starts - a large flow of traffic is expected on campus. De Wit indicates that around 2000 people a day will then be able to use the tents. In the first weeks of the year, workers will administer between 300 and 400 vaccinations a day, and testing will continue. In order to direct this traffic in the right direction, it was decided to open several entrances in the direction of the UT site, so that there is no congestion at the main entrance or a constant traffic jam on the Drienerlolaan or Boerderijweg. The UT also insisted on this. 
Anyone who gets tested on campus in the coming days will have the feeling on the way there that they are approaching a festival or tent party. The two gigantic tents are visible from a great distance and on the Boerderijweg there is a large arch across the road. On the arch, Prime Minister Mark Rutte is quoted as saying: 'Only together will we get corona under control'.