A few weeks ago, the Connecting Hands committee started a fundraiser. 'We wanted to start this initiative among family and friends. We didn't even have promote it on our socials, because within a few hours we already reached our goal,' says committee member and Technical Medicine student Esma Alasağ.
Rough time for refugees
With 380 euros, the committee raised enough money to buy plants and interactive games like Memory and Connect Four for refugees at AZC Almelo. They went over there this afternoon to donate two games for each of the 47 living units. 'Our core operation is organising activities to connect students with refugees. We were unable to do that because of the crisis. They've been through an extra rough time. Their shared areas were closed and even the contact between COA and refugees has been kept to a minimum,' Alasağ explains.
'We ourselves tried to stay connected by organising online dance sessions, but that wasn't as successful as we hoped,' she continues. 'If they can't join online, we can still bring something over to make things easier. We wanted them to know we are still thinking about them.'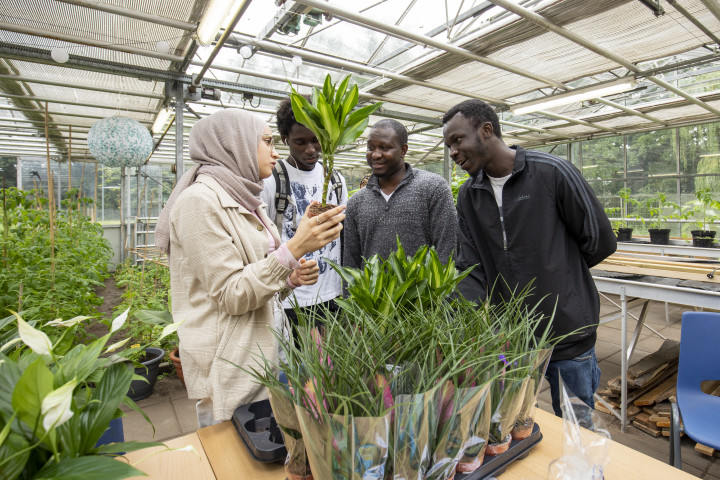 From committee to foundation
Connecting Hands, which started in 2015 as a Student Union committee at the peak of the Syrian refugee crisis, now wants to become an independent foundation. 'We hope to be one within a month, we're currently in touch with a notary,' says committee member Hamza Riaz. 'This legal status will give us more freedom and we will also be able to receive funding from multiple other parties.'
Every year, about thirty UT students are active for Connecting Hands. 'Mostly in organising events, but we've started with more projects,' says Hamza. 'We figured we could use our knowledge and contacts to help with education and employment, not only in hosting events.'
One of those projects is aimed at developing soft skills of refugees to enable them to contribute to society. 'A lot of the refugees currently here were business owners and skilled workers in their home country,' says Hamza. 'They possess the necessary technical and entrepreneurial skills, a small boost in personal development will enable them to work as highly skilled migrants in The Netherlands. We can help with in developing soft skills: what is the corporate culture here in the Netherlands? And how to best interact with someone in the workplace?' Still, Riaz ensures the changed legal status will not affect the raison d'être of Connecting Hands. 'We will always keep trying to connect UT students and refugees as best as possible.'