Host Peter-Paul Verbeek and Lisette van Gemert-Pijnen talk to each other at a safe one and a half meter distance. The duo sits in front of the green screen on which the campus is projected. Both have a tablet in front of them. It still seems a bit awkward – as everything is a bit awkward these days. Anyway, the conversation about the much-discussed corona apps kicks off. 
Surveillance or solidarity?
'What exactly is the problem we want to solve with these apps?' asks Van Gemert-Pijnen, specialized in how technology can help contain infectious diseases, and a member of the Behavioural Sciences Task Force (RIVM). 'In my opinion, the new app shouldn't become a kind of vaccine, but rather a tool that helps people adapt their behavior in these corona times. To do that, we need to involve the users in the development.'
'Should we base the app on surveillance or solidarity?' Verbeek asks. 'I think both,' responds Van Gemert-Pijnen. 'But surveillance in a positive way. We'll need some form of surveillance to control the virus. To make a good app, a multidisciplinary team is crucial. In my view, the Outbreak Management Team (OMT) does not yet consult enough different scientists, such as social scientists or economists, in addition to the virologists.'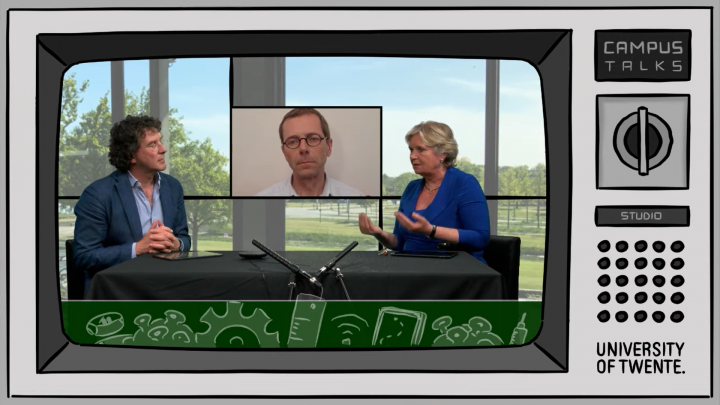 Technology
A third person appears on the screen, safely at a distance, from his own office. Maarten van Steen, scientific director of the Digital Society Institute, discusses the technical (im)possibilities of corona apps and talks about his role at the hearing in the Tweede Kamer. 'I was pleasantly surprised by the quality of the questions from the members of parliament. I tried to keep things as simple as possible for them, without lying, which is quite an art.'
'Well, let's try that again,' says Verbeek. 'The basic idea of these apps is that smartphones send out signals continuously,' Van Steen explains. 'We can track corona patients with these signals. The problem is that mother nature also plays a role and strongly influences the signals. For example, the signal passes through water with great difficulty. I'm not very optimistic about the possibility of developing these apps. There's another practical problem: for a good result, 60% of the population needs to install this app. I don't see that happening.'
'A good alternative might be the apps that use self-reporting data,' Van Gemert-Pijnen suggests. 'People can, for example, decide for themselves to participate. This technology is fairly simple and feasible. Solidarity is needed for the use of these apps. People need to feel responsible for one another.' Van Steen also sees something in this technology, but the application will still be difficult, he concludes. 'People now use a very simple technology, namely keeping a distance of one and a half meters, and even that doesn't always work out well.'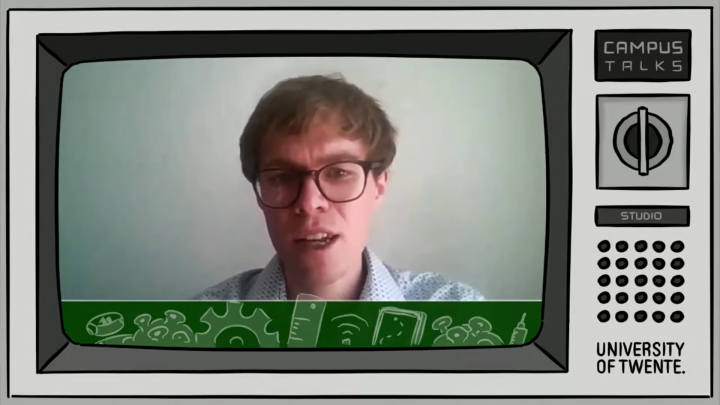 Self-confidence and resilience
At the end of the show, UT student Erik Kemp also gives his (critical) contribution – at a safe distance. 'We have to work on the empowerment of people,' he states. According to him, the app should be developed together with the users. 'The user also needs to understand the technology. That's very important.' Van Steen fully agrees. 'People should be able to make an informed decision.'
According to Van Gemert-Pijnen, no app at all would be a bad decision. 'We need data to get insight into the spread of the coronavirus and how to deal with the next big pandemic. If we build an app, we need to create an environment where people are part of the solution. That creates more self-confidence and resilience.'
'A nice conclusion,' Verbeek states. 'Certainly at our university, where it's all about technology and people.' Laughter. The first episode of Campus Talks is over. It's not as slick as Jinek and Op1. But that doesn't seem realistic either. The content of the show is in order. The use of English of some of the speakers is probably part of the growth spurt the university made to fully embrace English as its working language. In two weeks the next episode will follow. Can the tablets be taken off the table then? In any case, we'll stay tuned.