Mayors and the regional top management therefore gathered in Brussels yesterday. 'Regions should be better organised so they can benefit more from EU funds', says Maarten van Steen, who is scientific director of the University of Twente's Digital Society Institute. 'The goal of this meeting is to make sure that the regions, including their local ECIU partner, will organise themselves better,' says Van Steen 'Here's an example: I asked the Twente Board to be involved to draw up an up-to-date list of businesses, so that when the European Union issues a call, we can quickly find out to whom it might be of interest. When all regions do this, they can make sure together that regional, digital issues feature more prominently on the European agenda. At the same time, we will be better able to make use of European financing.'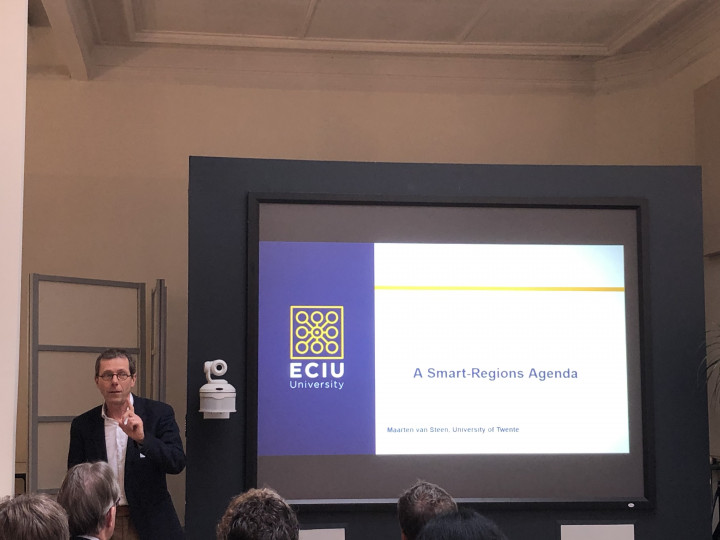 Unique
The more than forty participants gathered at the head office of Neth-ER, the association for the Dutch knowledge field, yesterday. With presentations, representatives from eight ECIU regions explained what makes their region unique, what their region's prominent themes are and what topics they would like to add to the agenda. Next, the attendees talked about, among other things, organic food in the French region of Occitania, cross-fertilisation in the Swedish region of Östergötland, the 181 nationalities living in Stavanger, the high quality of life in the Italian region of Trento and the Nokia Legacy in the Finnish region of Tampere. These are just a few examples of the extensive regional diversity of unique selling points.
Smart Regions
Van Steen explains that each partner university is located in a so called rurban regions. 'The universities were all formed to compensate for economic decline. Today, they give their regions a socio-economic boost. They are rural regions with solid centres.' These regions require different attention than cities.' No Smart Cities then, but Smart Regions. This is backed by a special Smart Region Agenda. 'I developed this agenda together with my ECIU colleagues. We introduced it at the end of last year. With it, we give the European rurban regions and the digital issues they face the attention they need.'
Interregional
The EU has various funds dedicated to regional development. The available budgets are currently being reassessed and the next long-term budget will run for seven years from 2021 to 2027 and will invest substantially in climate- and environment-related objectives. Normunds Popens, Deputy Director-General of DG Regio gave a keynote and stated that the so-called Green Deal represents an enormous transition for some regions. 'Some regions have no idea how to innovate. We are there to lend a hand.' He also stressed the importance of interregional collaboration. 'It already exists to some extent, but not on the scale that the European Commission would like to see.' His message: foster cooperation.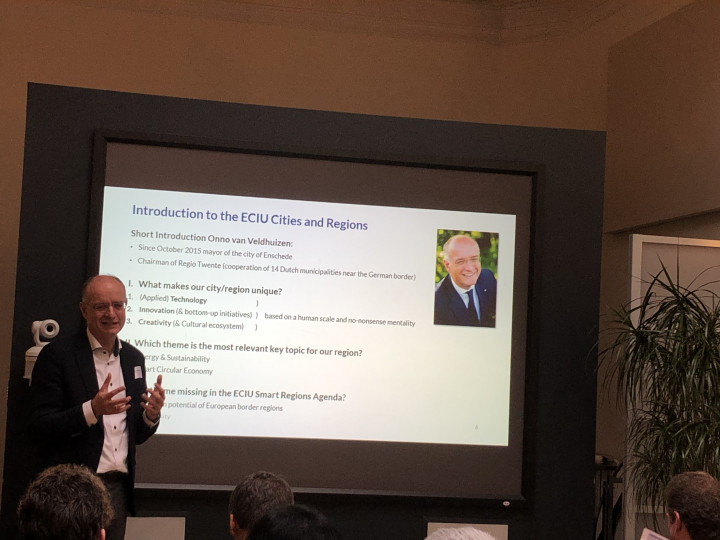 The mayor of Enschede, Onno van Veldhuizen, is one of the initiators of the gathering. 'The city is important to the university and vice versa. When a university scales up, it is important to involve the cities and the region in that process. For ECIU, it is good that the universities and cities actually work together. This might well turn into the largest living lab in all of Europe. By collaborating more effectively, we are also better able to choose our position towards Europe. First, however, we must develop a solid foundation to build on. It is okay to do this through trial and error. What matters is that we are doing something, because doing nothing is not an option.'