Appèl had its official launch at the UT in July 2018. Since then, the new caterer has been organizing focus group sessions to get direct feedback from the university's staff and students. 'The sessions take place once a month and always include a randomly selected group of ten students and staff members,' says Evelien Dommerholt, Appèl's Innovation Manager at the University of Twente.
What type of feedback was given during the sessions? 'That the prices are too high. That is something that was mentioned by all focus groups,' answers Dommerholt. Her colleague and the caterer's regional manager Bas van Noort reacts: 'The prices are actually not higher than before. We carefully looked at prices offered by the previous caterer Sodexo and tried to match them. Some products are indeed a bit more expensive, but overall the prices remained the same – they are perceived as higher, though. This might be because we try to display our products in a different way, so they appear more luxurious. The service is also different. For example, the coffee is a bit more expensive but we have trained baristas and high quality coffee.'
Negatives and positives
The caterer has also received complaints regarding its program BENQUE, used for food orders on campus. 'We know it hasn't been working properly,' says Van Noort. 'The program is very new for Appèl as well. It's been customized for the UT and unfortunately there are still bugs in it. It is taking too long, but we are working hard to fix it. We take it very seriously.'
Besides complaints, there have been positive reactions to the new catering, says Dommerholt. 'The focus groups have been very enthusiastic about the new look of the restaurants. They like that each of them has a different offer. We also get a lot of "little" tips which we try to incorporate. For instance, people said they missed having small pieces of bread with their soup so we are offering that now.'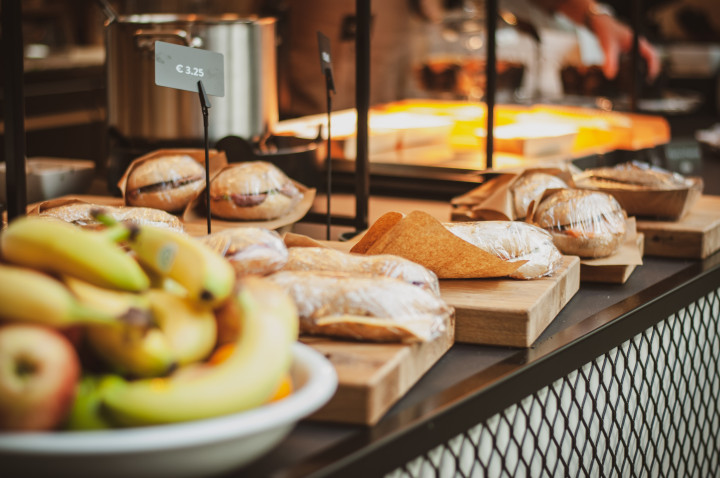 Too much plastic
One known concern raised by UT staff and students is the caterer's use of (what appears to be) plastic cutlery and plastic packaging. Appèl's Sustainability Manager Cecile Theunissen explains how the caterer operates in this regard. 'We want to reduce the use of plastic as much as possible. We make sure that only the products that really need to be wrapped in plastic are packaged that way – because some products need to be packaged in plastic due to food safety regulations and shelf life. For our cups, trays and bowls we selected bio-based recyclable packages made of FSC-certified carton with a water based coating. We carefully thought about these things and, in our opinion, we selected the best options available.'
'In our opinion, we selected the best options available'
How about the cutlery? 'It's not plastic,' says Theunissen. 'We have two types of cutlery: metal and disposable. There are disadvantages to using metal cutlery – it gets stolen, to regularly replace it is not very sustainable and you can't use it if you get take-away. Which is why we also use disposable cutlery. It might appear to be made of plastic, but it's made of biodegradable material. It's fully composable – in an industrial setting.' In an industrial setting is an important side note. 'It takes twelve weeks for it to decompose in a special industrial machine,' explains Theunissen. 'But the waste treatment companies usually leave it there for only two weeks, which means they need to burn it afterwards anyway. We are currently looking for a solution to compost this nevertheless.'
Limiting food waste
Cecile Theunissen says that Appèl aims to make its catering services as sustainable as possible. 'If it comes to sustainability in catering, there are several very important things. Firstly, the food of course. We aim for a more sustainable food system by trying to switch to more plant-based products. We try to persuade people to buy less dairy and meat products – not by labelling products as vegetarian but simply by offering good vegan or vegetarian options that people want to eat.'
'We try to limit our food waste'
'Then there is the circular economy aspect of catering,' continues the Sustainability Manager. 'We try to limit our food waste. We just joined an app "Too Good To Go" which allows people on campus to buy leftover food at a very discounted price – food that would normally get thrown away. We also try to limit food waste in the entire food chain. We have one main supplier that offers a broad range of sustainable products. However, there is still lack of transparency in the entire food chain. Not all information is available to us. For example, we buy seasonal produce. If it's tomato season in the Netherlands, we buy a lot of tomatoes, but we can't be sure they don't come from other parts of the world. This is something that needs to improve in general.'
'We underestimated communication'
How do the Appèl representatives look back at the first months at the UT? 'It's the first university where we provide catering, so it's been a new process for us,' says Bas van Noort. 'We've realized it's quite different from our other locations. Something we underestimated is communication. We focused on renovating restaurants, on applying the concept and offering good food. After that we wanted to focus on bringing information about our products, but perhaps that is something we should have started with.'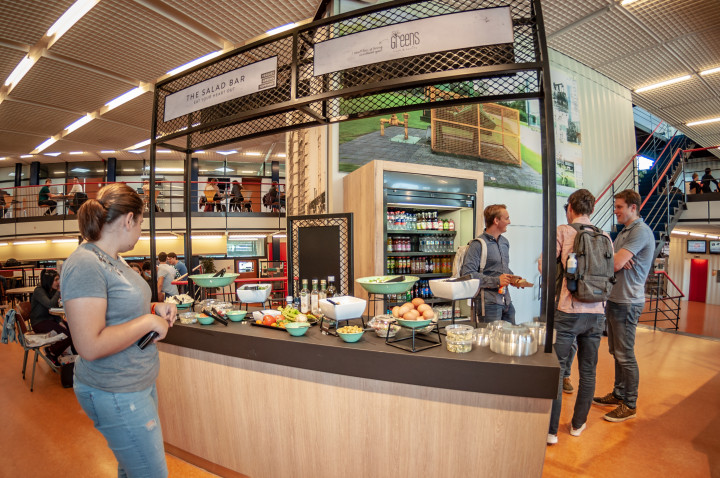 Changes to come
The caterer will introduce a few changes in the near future. In line with its rotating FoodCity concept, Appèl will bring new food options to campus in January. For example, the Waaier will host Happy Asia (currently in the Spiegel), as well as new 'Hieper de Pieper' jacket potatoes. The Spiegel can look forward to 'Break a l'egg' focused on egg products and the Horst cafeteria will be the place to get 'Bliss Bowls'.
'We try to test new things to see what people like and dislike,' says Van Noort. 'For example, we just started selling vegan yoghurts in the Waaier. They are new on the market and we are the first company in the Netherlands to sell them. Let's see what works and what doesn't.'