Behind closed doors, no less, in the House of the Dutch Provinces, located in the European heart of Brussels, the participants formulated five big questions on the future of higher education. 'Something of a unique event,' according to Olga Wessels, head of the ECIU office in Brussels and one of the organisers. 'During the day the meeting focused entirely on the students and they were also the ones who determined what the talks would be about. Something quite special really! In the normal course of things it would be the European policy makers that would set the agenda. Today we take a step back, away from all the political commotion. Central to this is the question,  what will today's babies need when they start their studies later? What type of university education will they experience in another 20 years from now?'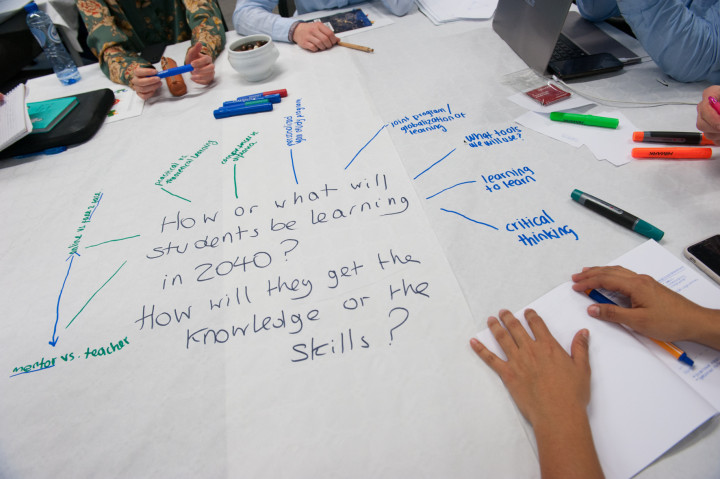 The participants bent over the paper table cloths in two groups, coloured markers in hand. In red, green, black, with arrows, lines and circles they sketched out their ideas on the paper. A mélange of key words and phrases eventually appeared: free education, society versus economy, face 2 face, learn how to learn. The free flowing brainstorming resulted in five big questions.
The five big questions
How and what will students be learning?
What role do universities play in lifelong learning?
How can students be involved in shaping universities?
What is the role of universities in 2040? To produce workers or citizens?
What will universities' business model be?
Thyne Scholte (17, UT, Atlas) on his participation: 'I've been to meetings on education before, but this one looked a lot more professional. There were interesting speakers and later on, representatives from the European Commission, European University Association and European Students' Association also arrived. I had the distinct feeling that what I said made a real impact. We sat around the table with a range of students who all had experience in higher education. I believe in education. It's about forming opinions and not about memorising facts. The world needs thinkers to solve problems.' Erik Bösert (18, UT, Atlas): 'Someone at the UT asked if anyone would like to take part in this session. I've always been seriously interested in education and in how it should be shaped. It was great to get the opportunity to be there. My aim was to pick up new information about the role of universities and higher education.'
'This is the first time students have come together in a formal way'
A plenary session was set up after lunch. Mark Brown, director of the national institute for Digital Learning at Dublin University, is Chair of the ECIU Steering Committee for Innovation in Teaching and Learning that initiated the event. 'This is the first time students have come together in a formal way. We always mention education and students in the same breath, but have never actually heard their voice. It's time we did so in a powerful network.' Continues: 'The focus on 2040 is extremely important.That's the year today's babies will graduate, if they've been lucky enough to be born into the right background that is. But what's the point of universities, if we have Google? And will universities still exist? The fact is, demand for higher education grows faster than we can lay the bricks. That's why we are here. If you are not around the table, you are on the menu.'
'We'll never lose all our teachers'
Via a sort of musical chairs system, students and stakeholders discussed the questions in ten minute sessions per question. When the music stopped: change chairs! Among others Diana Paola (Monterrey), Vna Ruzic (Stavanger) and Sverre Daniel Gaupås (Stavanger) occupied the 'How and what will students be learning' table. 'There will be more freedom of choice in what you'll learn', said Diana. 'In the future the focus will be more on learning soft skills. You will be able to take part in education anywhere in the world, so you'll also learn how to interact with other cultures.' Vna: 'We'll probably move more towards online courses, but we'll never lose all our teachers. The teacher is not an extinct species yet.' Sverre: 'Certainly not. For example, think of receiving feedback. That comes from your fellow students as well as from your teacher.'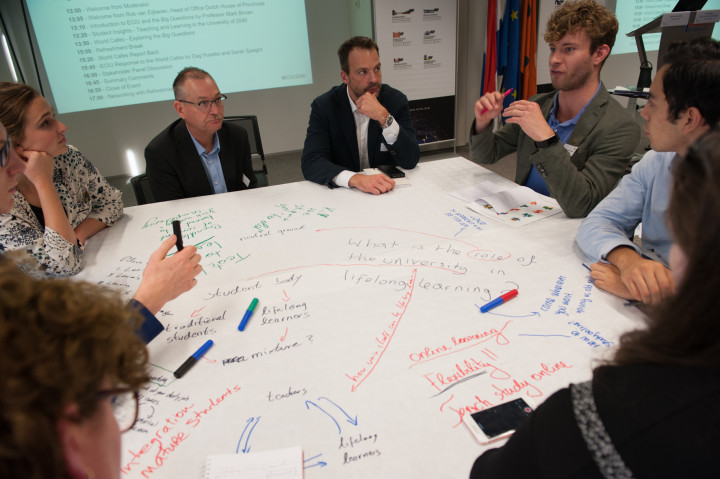 Sverre, who studies political science, said after the event: 'It's great to meet other students from different countries and to hear what they are up to. Most challenges are the same, however we can have a lot more impact if we move forward in unison. I hope to return home and nourish some new thoughts and ideas. How do other students view their studies: as an investment or do they see at as mere costs? That type of questions stimulates my curiosity. We learn from each other. Hopefully we can also get an interactive version of the ECIU network at students' level to get more value out of it.' Cassie O'Boyl, (recently graduated from Nottingham University and currently working for the Student Union), agrees: 'Coming together with students from different organisations is of real importance. Especially for the UK in view of Brexit. This is the moment to ensure relationships with the EU are kept up. What struck me was how involved and passionate everyone is.'
'The main changes lie in student involvement'
After all the rounds, ECIU representatives Sarah Speight and Dag Husebo concluded the event. 'We cannot yet envisage dramatic changes,' mentioned Sarah Speight. 'Everyone agreed that in 2040 there would still be a physical university with lecturers. The main changes however will probably lie in student involvement. And that means you. You are our future leaders, clearing a path for your children. In my own time as a student an event such as this one was unthinkable. The key thing is that the student voice must be included in the whole process.' Dag Husebo: 'Your voice will be integrated in our thoughts. Your voice will be heard.'