'Intergalactic planetary, planetary intergalactic', van de Beastie Boys klinkt tijdens de opening van GOGBOT, een festival voor kunst, muziek en creative technology. Niet geheel toevallig luidt het thema dit jaar 'intergalactic'. Dit kosmische thema komt terug in de creaties van de UT-studenten.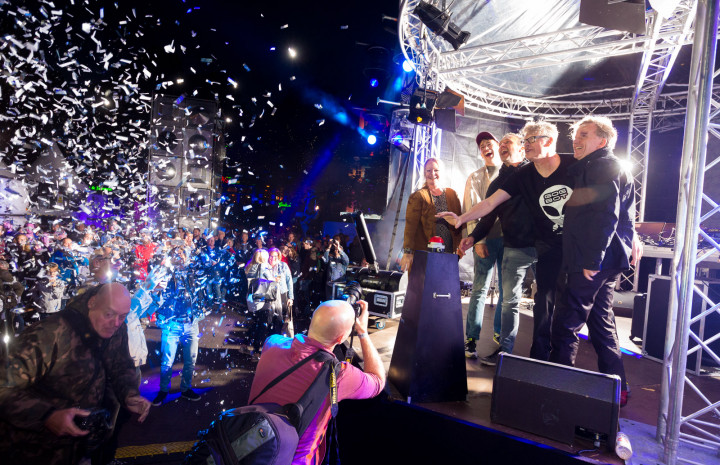 Ruimterace ervaring
Verspreid over de stad zijn de installaties van drie studententeams te bewonderen. De jongens van Bus Lightyear komen net terug van de Oude Markt, waar ze de gedeelde eerste prijs in ontvangt hebben genomen. Bovenin de Menistenkerk staat hun capsule opgesteld. 'Wij willen mensen laten ervaren hoe het openbaar vervoer er in de 21ste eeuw uitziet', vertelt Jesper Provoost (19). 'Het is bedoeld als ruimterace-ervaring, met de herkenbaarheid van het ov zoals het nu is.'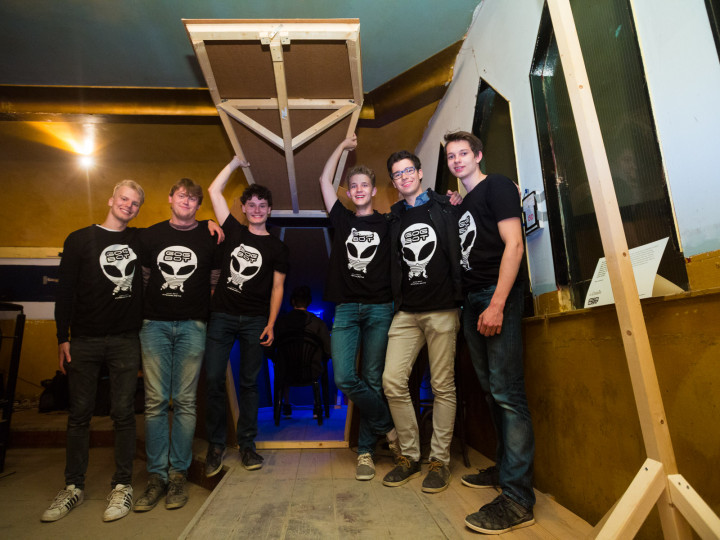 McDonalds
'De reiziger checkt in met zijn ov-kaart, neemt plaats in de cabine en zet een Virtual Reality Bril op', vult Martijn Poot (20) aan. 'De ruimtecapsule vertrekt vanaf de herkenbare Oude Markt en eindigt met één minuut vertraging bij de McDonalds op Mars.' De geldprijs komt onverwacht voor de tweedejaars studenten CreaTe. 'Het begon gewoon als een eindopdracht,' vertelt Poot. 'Nu is het is een beetje uit de hand gelopen.'
Fabriekshal
De tweede winnaar, The Glitch, staat verderop opgesteld in de Coberco Melkhal. De grote, duistere fabriekshal leent zich griezelig goed voor de exposities, maar The Glitch is nergens te bekennen. Hun installatie staat achter een gesloten deur. 'Ik denk dat ze aan het feesten zijn', vertelt een medewerker. Niet getreurd: de UT-installaties zijn nog tot en met 10 september te bewonderen.
Wat is GOGBOT?
GOGBOT is sinds 2004 een festival dat jaarlijks terugkeert in Enschede, uniek in Nederland en misschien zelfs de wereld. Het festival combineert elektronische muziek met creative technology en hedendaagse kunst. GOGBOT is vrij toegankelijk en duurt van 7 september tot en met 10 september. Klikt hier voor het complete programma.