The interactive playground is a part of the project AIRplay, a collaboration between the University of Twente, MST, ZGT and Roessingh Research and Development. 'The main purpose of AIRplay was to support self-management for children with asthma and help them to be more physically active,' says Randy Klaassen, one of the UT researchers involved in AIRplay.
Education, medication and physical activity
AIRplay consists of two elements: an app on a tablet for monitoring and coaching physical activity and symptoms in daily life and the aforementioned playground. 'The playground is tied to this app, which monitors the children's activity and progress using wearables like Fitbit, for instance. The results of their activity are then rewarded within the playground – the kids gain access to special features, cooler backgrounds and so on,' explains Robby van Delden, HMI researcher who developed the interactive playground that can be used to play tag and other games.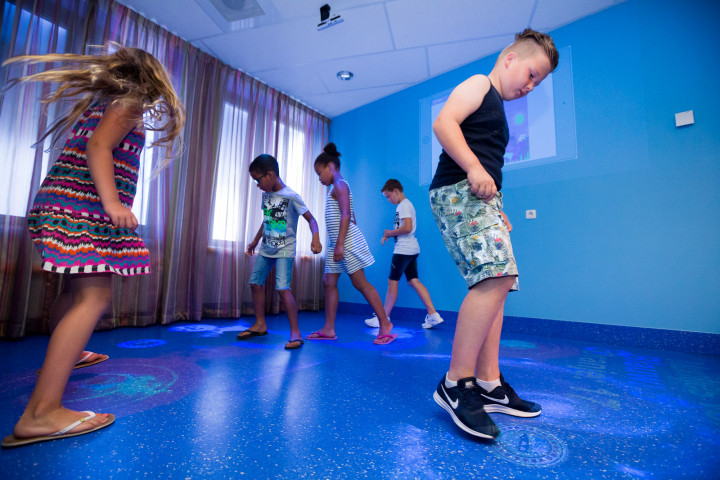 'For good control of their asthma, children need to stick to three main items: medication, education on how to deal with the condition and physical activity. However, in daily practice they often refrain from one or more of these items and have a hard time keeping up with their healthy peers during play and sports,' continues Klaassen. 'That is why the playground is ideal for them. It can steer and monitor behavior in an unobtrusive way, and children can keep on playing with their peers at their own unnoticed pace. Being able to do this boosts their self-esteem and encourages them to move more.' 
More to come
The AIRplayground at MST is the first interactive playground of this kind installed permanently for a real-life scenario. As of today, it will be running every day and anyone is welcome to try it. In the future, the playground could be used for physical assessments and monitoring of children with chronic diseases such as asthma. 'We also hope to open more playgrounds at various locations,' says Robby van Delden. 'We are aiming to involve schools, more hospitals, but also other types of playgrounds at fast food restaurants, for example.'
Today's opening was the result of the one year long project, which started after being awarded the Pioneers in Health Care voucher in 2015. Monique Tabak from the BSS (Biomedical Signals and Systems) group instigated AIRplay on behalf of the UT working closely together with the other partners. And although the AIRplay is now officially finished and the app is ready, the cooperation between the partners will continue and there is another project in the making.