Awards
The start of the event belonged to award winners. Professor De Winter Award, an international publication prize for outstanding female talent, went to Jeannette Hofmeijer, a neurologist and a researcher at the Clinical Neurophysiology group of the UT. Hofmeijer received the prize for her article Early EEG contributes to multimodal outcome prediction of postanoxic coma, which presents a novel method to determine if patients in coma will recover.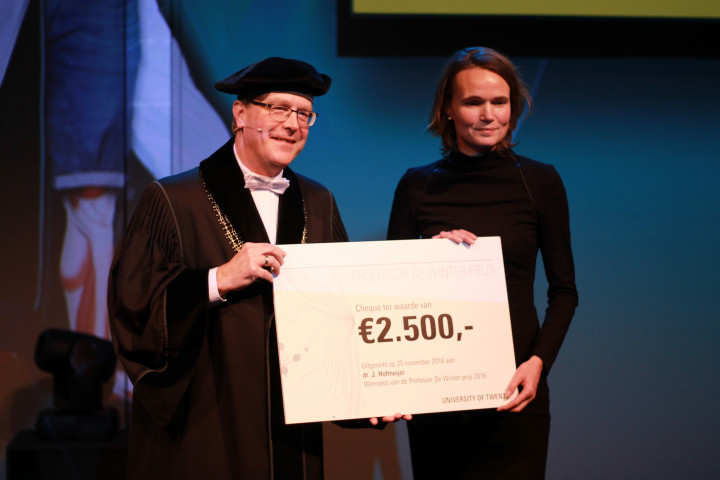 The Overijssel PhD Award for 2016 was given to Desirée van Dun from the BMS faculty, who was chosen based on her research on Lean Management. Earlier this year, Desirée van Dun already received an international dissertation award for her work.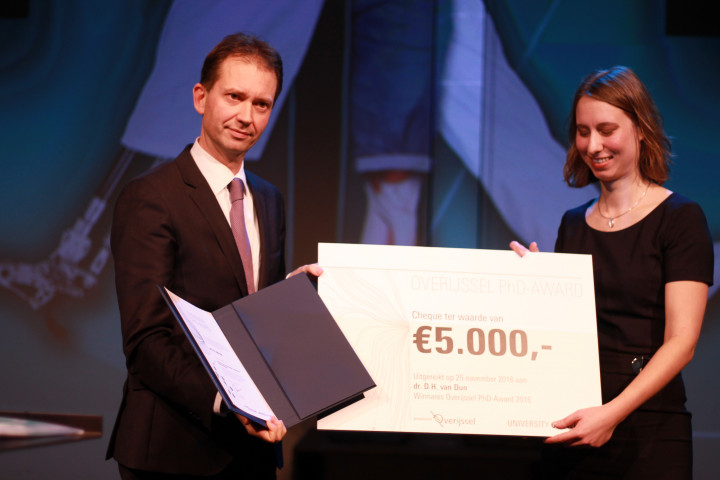 Emphatic engineer
Today, the day of the UT's 55th anniversary, was Ed Brinksma's last official day as the Rector Magnificus of the University of Twente. 'I hope to be remembered as a good rector,' he said before presenting his Dies Natalis lecture titled 'Emphatic Engineer', in which he focused on the importance of soft skills for engineering. 'Already the legend of Golem, a powerful servant that is a bit clumsy and always in need of human supervision, warns us about unsupervised technology. Engineering is never just technology, but always a social technology,' began Brinksma.
'New technology, such as internet, is now available to everyone and a citizen is becoming a part of the discussion, a part of the quadruple helix that otherwise includes industry, academia and government. However, all of these stakeholders speak a different language. The fact that everyone is involved doesn't mean that communication is easier. We have to make sure that the implications of science are delivered in an understandable language,' continued Brinksma. 'That is something we need to combine with our education and research. Skills needed for communication and for design need to be integrated into one approach.'
Ed Brinksma named an Officer of the Order of Orange-Nassau
'It's been a privilege and honour to work with so many of you to make this university a success,' Ed Brinskma finished his last speech as rector. To his surprise, Ank Bijleveld, the Commissioner of the King, then joined him on the stage and appointed Ed Brinskma an Officer of the Order of Orange-Nassau.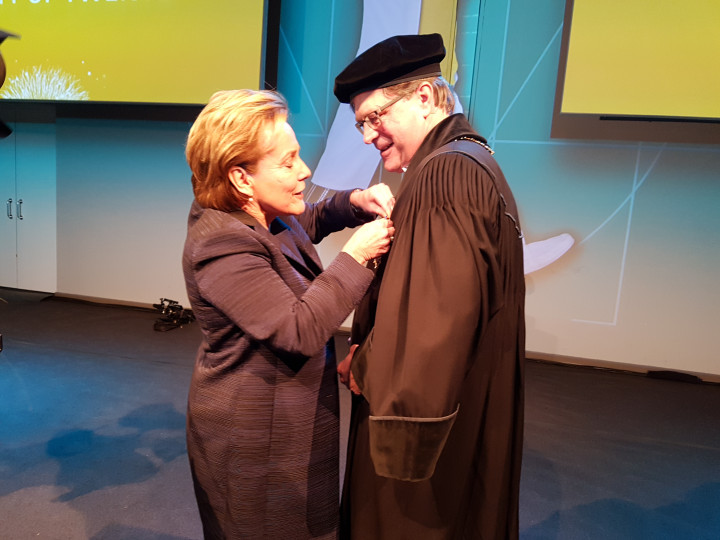 Honorary doctorates
Then it was time for another type of honor: honorary doctorates. At today's Dies Natalis, the University of Twente awarded four honorary doctorates, which went to former politician Neelie Kroes, MIT professor Hugh Herr, expert on nanotechnology Christoph Gerber and statistician Edward Tufte.
All honorary doctors expressed their gratitude in short speeches. 'The wonderful thing about honorary degrees is getting two days of flattery and praise. On top of that, meeting my three colleagues, I'm immensely proud to be among them,' said Edward Tufte and Neelie Kroes agreed: 'When I got the call, I didn't hesitate for a split of a second. Especially when I heard who my fellow honorary doctors would be.'
New rector Thom Palstra
As mentioned, the 55th Dies Natalis was also the occasion for the transfer of rectorship from Ed Brinksma to the university's new rector Thom Palstra. 'It is a great privilege to serve the UT community. I have many ideas for the upcoming years,' Palstra began his first ever speech as the UT's official rector. 'I want to express admiration to Ed Brinksma. Thanks to you, the UT is ready for the future.'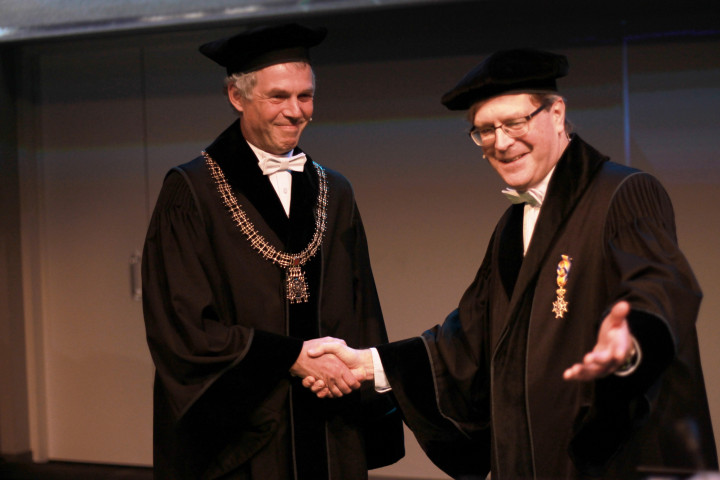 Palstra spoke briefly about his vision for the UT: 'All starts with individual talent and individual talent needs space to flourish in an environment that breeds innovation. Because talent attracts talent. My goal is to let the UT shine brightly across all spectra. I want to facilitate environment where students can flourish as individuals. Starting at an individual level is the only way to ensure the success of the university as a whole.'