The one to come up with the idea of smart mirrors was third-year CreaTe student Ivar van Wooning, who met business developer Menno Noorlander last spring after a pitch at a Hardstart event. Programmer David Huistra, a recent Computer Science graduate, joined later.
Makeup and tie tutorials
So what would the smart mirror be able to show us, except ourselves? 'That all depends on the apps the user adds to their mirror. For example, the time of day, the weather, radio, a planner, traffic info, or YouTube videos, such as makeup tutorials or an instruction video on how to tie your tie.'
'A kind of DIY smart mirror already exists,' says Huistra, referring to people who hook a Raspberry Pi (a small computer) up to their mirror. 'But that's not widely accessible for consumers. We're working on something more user-friendly, with touch support, made of the same material as those mirrors that they have in interrogation rooms.'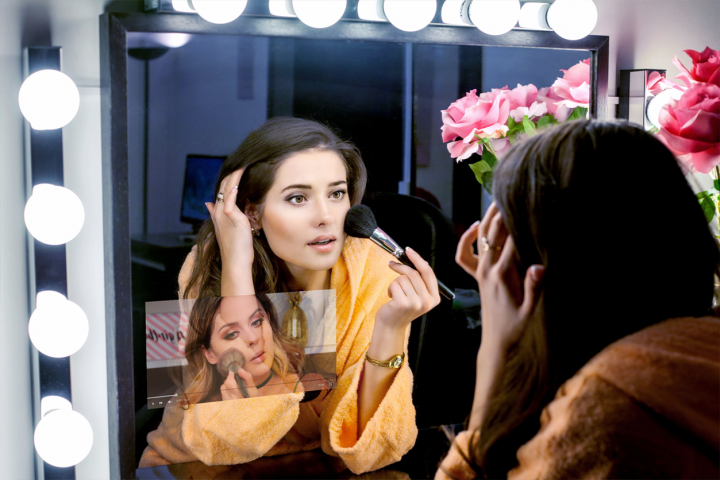 'Huge opportunity'
November 18th will be D-Day for the three men. On that day, they will be presenting their prototype to the innovations director of the above-mentioned sanitary ware company, which was quick to show an interest in SmartMirrors. 'They realise that they have to somehow make use of the technology that exists nowadays,' says Noorlander. 'If not, it might be too late, and they might get outflanked by the competition.'
If all goes to plan, the UT start-up might land an order for thousands of products. Noorlander: 'This is a huge opportunity, but now's the time that we actually have to make it happen. We have to remain level-headed and give it our all.'
Live bathroom
At the same time, they cannot escape the fact that the market for these kinds of mirrors is immense. 'Mirrors are everywhere, aren't they?' Noorlander muses. 'Not just in the bathroom, but in fitting rooms, cars, at the hairdresser's… There are so many opportunities. We just keep finding new ones.'
Van Wooning, Huistra and Noorlander's focus for now is on the presentation for the sanitary ware company. Van Wooning: 'It will be an entirely new experience. Your bathroom will come to life.'
But how much will these mirrors cost? The men estimate that the price will be between 350 and 1750 euros, depending on the model. And a lot is riding on their pitch on November 18th. In the meantime, they are still looking for people whom would like to join the project. The first fully operational prototype has to be finished in three weeks' time.