That was the first lesson the students learnt during an 'Entrepreneurial Inspiration' event, which took place today as a part of the Master Kick-In. 'Entrepreneurship is the main theme of this university,' explained Brinkman, a lecturer from NIKOS. 'By the year 2020 every UT student and staff member should have some kind of experience with entrepreneurship and we are here today to get you involved, to inspire you and develop your entrepreneurial skills.'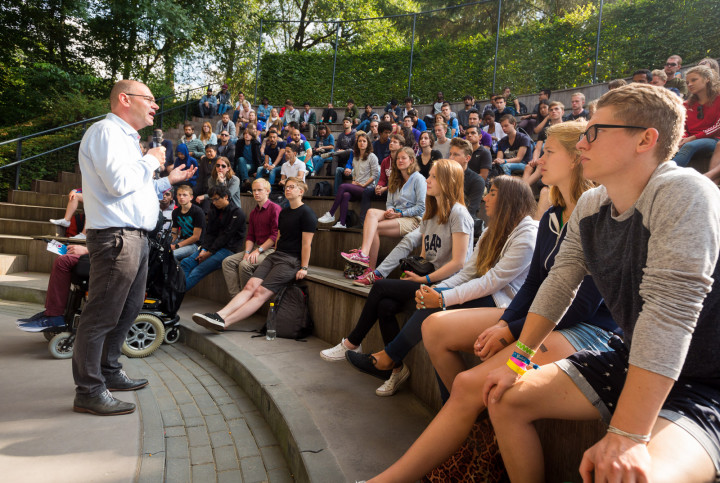 SciSports as an inspiration
Because one of the best ways to learn about running a business is from a real-life entrepreneur, Giels Brouwer took the stage to tell the story of his company SciSports, a successful UT spin-off that combines science and football. SciSports was recently proclaimed as a so called 'unicorn company', meaning a startup valued at over €1 billion, and the company founders will soon be visiting Silicon Valley. 'I didn´t finish my studies here. I dropped out, but I don´t encourage you to do the same. I advise you to get the most out of your student time. It´s the best you will ever experience,' were Brouwer´s final words to the UT newcomers.
Brouwer´s talk was followed by a discussion on whether or not football players should be selected only based on statistics. 'This is what we call case education. This is how we teach,' clarified Brinkman. 'It´s not only about a teacher telling you something. It´s up to you to bring up your opinion, to step out of your comfort zone and explain your views to others. We accelerate your entrepreneurial minds.'
Pitch your idea, win money
At the end of the session, the students were given a pitch training, which they will surely need because they were immediately given an assignment to record a one minute pitch for any good idea they might have. Divided into random groups, the participants had one hour to make a video of their pitch and send it to the organizers at NIKOS. This exercise was not just to train the students´ entrepreneurial skills, though, the best pitch will in fact be awarded by €250.