'It often feels like it gives me more freedom'
Corjan van der Kuil | Communication Advisor Sustainability, Energy & Environment
'At this point, I choose to work mostly from home, but I'm on campus about once a week. Before the summer I found it difficult to only work from home, I missed the contact with my colleagues. Also, being on campus and talking to people is an important way to hear information needed for my job. On the other hand, you get used to working at home. It certainly has advantages. I always say that my dog is the biggest winner of this corona crisis. She is very happy these days, because we're nearly always around.
'My dog is the biggest winner of this corona crisis'
At first, working from home felt like a restriction, like something that limits your options. Now it often feels like it gives me more freedom. I really like the combination of working at home and on campus. I can do my job at home without any obstacles now. I enjoy that I can go for a walk with my dog during the day or play with her if I take a short break. At first I had trouble staying productive, but now that I can be on campus sometimes I have contact with my colleagues again, which makes it much better. And while contact with colleagues is very nice, it is often easier to focus at home, and so it's nice to come home and work here. What I miss is the information you'd get just by hearing it in the office or through a chat at the coffee machine. I also can't work on location with clients, which is something I used to do. But now we are moving towards the 'hybrid' way of working. In the future, I would enjoy a fifty-fifty situation: half the time at home and half the time on campus.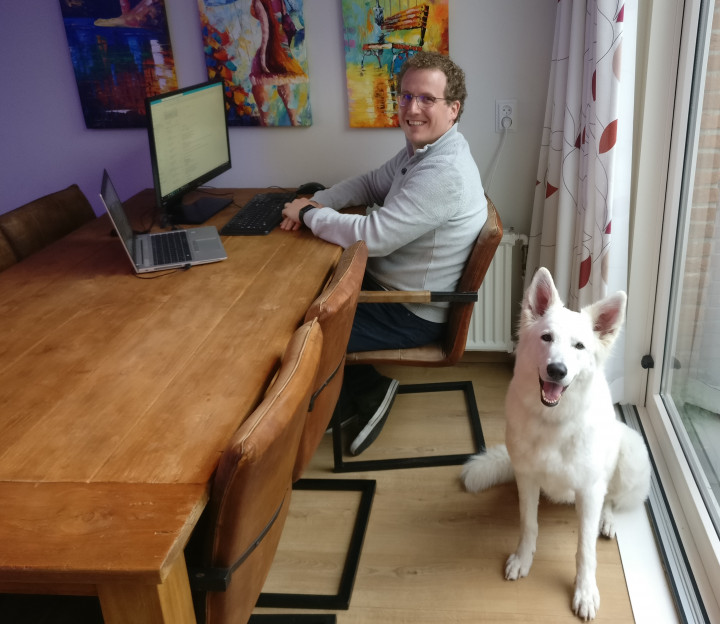 I go back to campus only because it's not only possible, but also easy to keep distance. It is becoming more natural for people to stay the 1.5 meter away from each other and the measures taken at MC are very good. I'm extra careful because my wife is pregnant. We are expecting a baby in a few weeks, and so this would not be a good time for her to get sick.'
'The work-life balance seems better now'
Lisette Woud–van der Graaf | Policy Adviser Education, Strategy and Policy
'I still work from home for health reasons. I have a skin disease and I take medication, which essentially stops my immune system. I'm therefore more vulnerable to viruses and can get sick easier. I'm very careful these days. I only go to the campus in limited cases. For example, I've been to our team 'heidag' and other small meetings, but I always think carefully about whether I will go or not. I haven't been to my office at all, only to pick up my things.
Working from home is all fine now. It is a good solution for me. I have everything I need at home. I have a good working space here. The work-life balance also seems better now. I can do my job and be there for my children at the same time. It's easier to spend time with my kids now.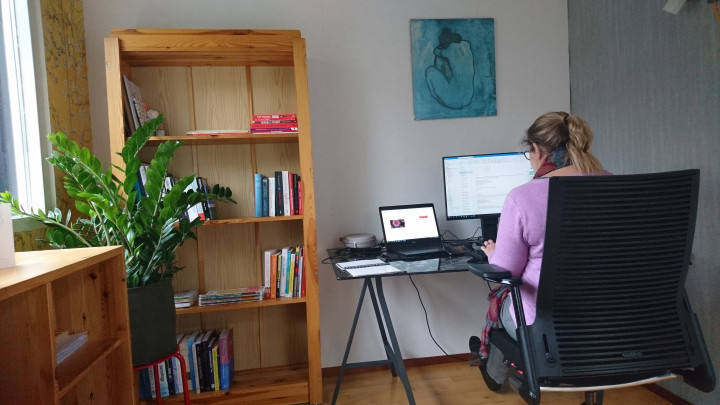 What I miss the most about the campus is the chats with colleagues. I feel like I know less now, mostly things that you don't make meetings for, that you'd usually discuss over coffee. I also miss the daily bike rides to campus, so I'll need to find another way to get fresh air and exercise. However, overall I can work just like I used to because most of my job is done behind a computer. I also used to have a lot of national meetings with colleagues from other universities. We would often meet in Utrecht, which would essentially take me a whole day. Now it is done online, which saves time. I don't know why we travelled so much before. Of course, it's nice to see each other once in a while, but I think we can keep working partly online even after corona.
'I don't know why we travelled so much before'
I would go back to the office either if the virus is completely gone or if I can stop taking the medication. Otherwise it is simply safer and more comfortable for me at home, even though I know the university is doing a lot to keep everyone safe. In this situation it is easy to work from home, because everyone is online. If everyone else is on campus, then it becomes difficult for me.'
'It can get a bit lonely'
Priyanka Pereira| PhD candidate, Department of Teacher Development (BMS Faculty)
'Although we now have the choice to work partly on campus, I'm working only at home. Currently, I have health issues, and so it is not a good idea to possibly expose myself to the coronavirus. It is not difficult for me to work at home. I only need a laptop and an internet connection, and for a large part of my job, I work alone; so my work hasn't suffered at all. This is the new normal for me. At the same time, I know I'm lucky. I have an entire spare bedroom that I can use as my office and a comfortable workstation. I know others struggle because they need to work at the dinner table, for example.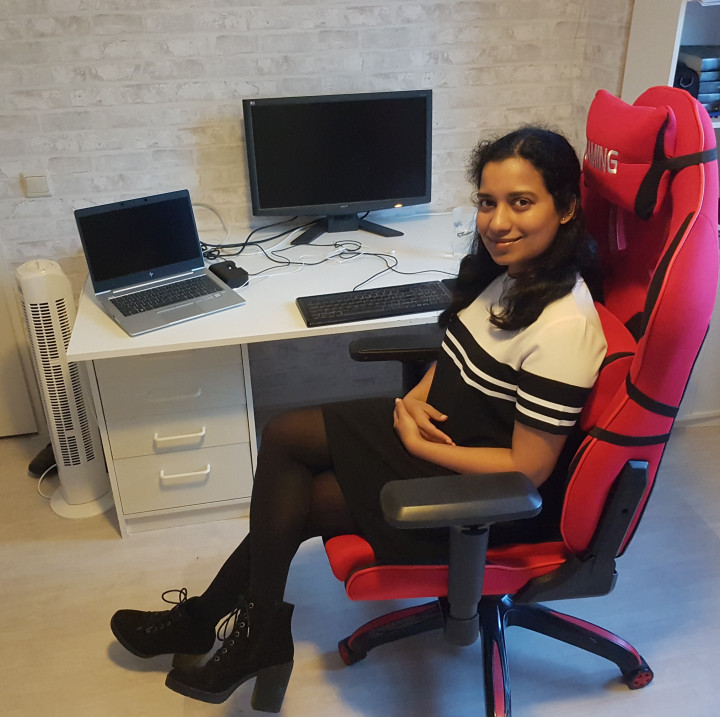 There are naturally pros and cons to this situation. Nowadays, I can decide my own work hours. I like to wake up very early in the morning and start working at 7:30 am, which obviously wasn't possible when I used to go to the office. This situation gives me more flexibility. I can take a break in the afternoon and continue again in the evening. I find myself more productive if I have two working sessions.
'This situation gives me more flexibility'
On the other hand, it can get a bit lonely. My boyfriend works outside of the house, and so I'm alone all day. I miss the social interaction with my colleagues. In the office, we would have coffee breaks and lunches together. Now I still take breaks, but I do it alone; there is nobody to talk to. Because of that, I don't fully switch off. Even if I'm not working physically, I'm still working mentally – thinking about the job and what to do next. Also, when I went to the office I would often go to the gym after work. That was my routine. At home, I often lose track of time and just keep going.
I'm certainly looking forward to returning to campus when my health allows or when the corona situation is better. I will go back five days a week like I used to as soon as that is possible. I will miss the flexible working hours, but I'll enjoy the social interaction. I guess I have to choose which I prefer.'