6. Food for thought
Feeding time! After a long study session on campus or behind your laptop at home, your stomach starts to rumble. But how do you score a healthy and nutritious meal for a nice price? It's simple: just cook your own meal! Use your super clean (*ahem*) student kitchen. Or even better: cook together. That's 'gezellig' (you really need to learn this Dutch word if you're an international) and cheap. On campus you'll find a small supermarket (Coop), where you can find all the ingredients. For the more competitive deals, the many supermarkets in Enschede are of course a good option. But let's agree on one thing. If there's a second wave, you won't be 'hamstering', okay?
Another tip: pillage your parents' fridge if you visit them at the weekend. It couldn't be simpler. They'll probably turn a blind eye to the apple of their eye. If you don't feel like cooking, there's the mensa (student restaurant) in the Waaier building. For less than five euros (4.65) you can have a complete dinner. Unfortunately the canteen is closed at the moment because of corona. If all goes well, the canteen will be open again on September 1st. Pro tip: use the Too Good to Go app, if you want to reduce food waste and save money.
7. Recharge or refill
The student loan system, bsa and TOM (you'll hear about that soon enough): you sometimes wonder where students find the time and resources to get out at all. Still, you're undoubtedly going to hit the town a couple of times. So here are a few tips for a memorable night out. Though you can argue about how 'vibrant' Enschede's nightlife is, especially now. But still, if you know your way around, you're bound to have a great night in Enschede (if allowed by our minister of health, you know, the one with the weird shoes).
If you're joining one of the bigger student associations (Audentis, Taste, AEGEE-Enschede and Alpha), you'll probably end up a lot at 'de Pakkerij'. If that's not your cup of tea (or beer), on and around the market square in the city centre (Oude Markt), there are more than enough options to get your fill. Student bars? Go for places like San Remo, Friends and 't Gat in de Markt. Although in the latter case we have not yet received official confirmation of a reopening: 't Gat, as an underground pub, is notorious for its ventilation (or lack thereof). And let's not forget the Vestingbar on campus, with its infamous birthday drink. If you're really in the mood for a party, there are quite a few large party pubs and discos in Enschede, such as Aspen Valley, Fellini, 't Bölke and Irish pubs Paddy's and Molly Malone. But let's face it: dancing at one and a half meters is a tricky task, even for the most seasoned dancers in the dark. Want to drink some craft beer? Go to the trifecta of Proeflokaal België, De Beiaard and Stanislaus Brewskovich.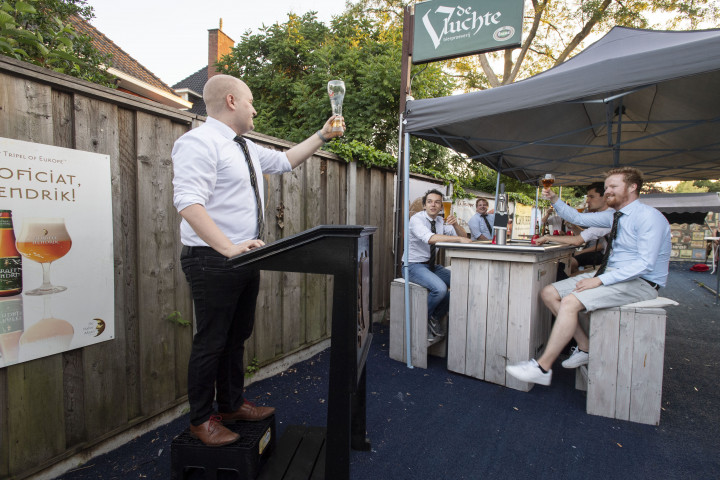 Then a few more hidden gems outside the city center. You didn't get this from us! How about tasting a beer at the Vluchte at the Oldenzaalsestraat, 5 minutes from the city center. With its own beer tasting pass, blue pieces of carpet where you can sit and doors that open with a foot pedal, the café is fully 'corona proof'. For relaxed (and very international) evenings, Tankstation is the place to be for an evening filled with jam sessions, good food, board games and workshops. In all cases, it's always good to remember to drink and act responsibly. Now more than ever.
8. I want to ride my…
Bicycle, of course! This is your trusty steed that gets you from point A to point B. Now, what steel horse to choose? A safe bet: you can pick one from the pricey yet serviceable blue-tired mercenary armada called Swapfiets. Your bank account will probably be more thankful in the long run if you're able to find a second-hand bike - for instance from a fellow student on the UT Marketplace or a local bike shop. Flat tire or other mechanical problems? There is a bike pump at the NanoLab. And there is a bike repair shop on campus called De Versnelling (at the Box apartment complex).
Dutch people see busy streets as a fun obstacle course, with bonus points for skill moves/combos. Especially on campus during bike rush hour (why leave five minutes early, right?), things can get quite hectic. Make sure you know how to behave when you're on your bike. Reach out your hand to indicate that you're making a turn. Red pavement is usually a bike lane. And have you spotted the white triangles on the road known as 'haaientanden', roughly translated to shark teeth? If you're nearing those, you must yield the right-of-way to all traffic. Otherwise, traffic from your right has the right of way. And: have properly working lights on your bicycle, as the night is dark and... (we'll just stop right there before we have flashbacks of the final season of Game of Thrones).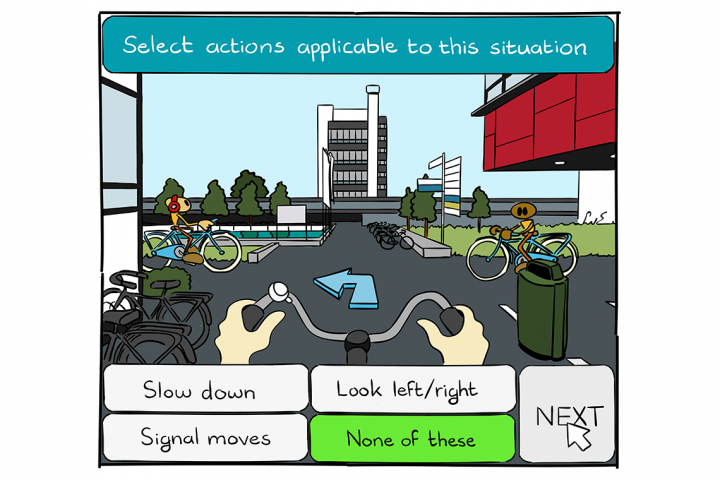 9. UT phone home
Enschede is known in the Netherlands as the city with the cheapest student housing (and beer), so prices should be okay here. Students in Enschede pay an average of 329 euros per month for their room. In Amsterdam the average is 611 euro! So you see: in Enschede you can still study without rich parents. But if you still think you're paying (way) too much for your room, the Dutch Student Union (LSVb) offers a handy rent check tool. One of the pros of Dutch bureaucracy is that the government doesn't allow landlords to overcharge you, since there is a point system in place. Also check if you've been charged money along the lines of 'administration costs', since landlords aren't allowed to do that.
Still need a room? You might be a little late. But maybe you're in luck: there are reports that the housing supply for students has risen sharply due to the corona crisis. At Kamernet, Roomspot or Kamersite (Student Union) you'll probably find a nice place. Be careful, though. There are scammers operating on the housing market in Enschede as well, especially if you're dealing with shady private companies. In any case, it is wise to have a look before making deals with the provider.