The Waaier cafeteria at lunchtime has always seemed to be the most 'hustly bustly' food spot on campus and, new caterer and a sleeker look or not, nothing has changed in that regard. It still appears to be the place where a large portion of the UT community comes to grab a quick lunch and where you are likely to hear more English (or Spanish, or Chinese, or…) than Dutch. What is different now when Appèl is in charge?
More variety. Although I must admit that the food selection was already rather good in the Waaier, it has improved. Many internationals, me included, will be happy to hear that there are even more warm meals to choose from. The main counter offers three different warm dishes, including a vegetarian option; or you can opt for a burger, Mexican meals or one of the several soups. Eaters not accustomed to hot lunches won't suffer either. There is a wide selection of sandwiches, accompanied by a milk machine where you can even get the Dutch-favorite 'karnemelk' on tap. You can also pop in to one of the bars – a juice one or a salad one.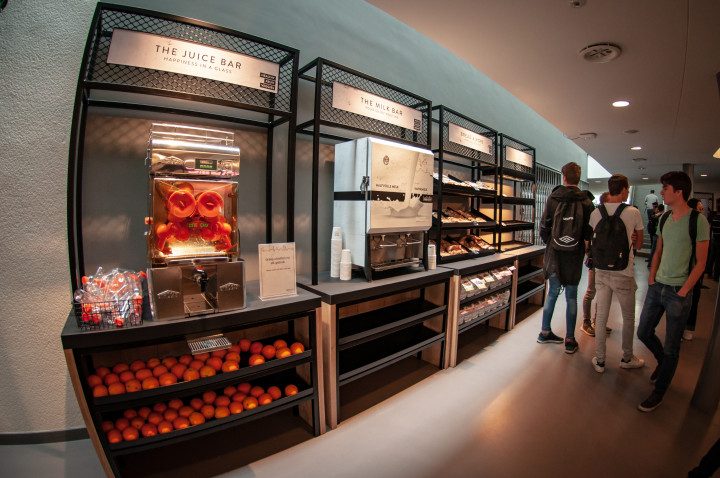 What you think
Katrin Dircksen, staff member
'The offer is more diverse and there are more vegetarian options. I like that there are more international meals. I also enjoy the look, it seems more spacious. However, I'm really upset about all the plastic around here. They only have plastic cutlery, all the salads come in plastic bowls. I'd prefer to eat from normal ceramic plates. And the prices have increased. But the coffee here is actually really good.'
Christopher Iza, student
'I've enjoyed the food, but this is only my second day here at the university. I like that they also offer a vegetarian option as a hot meal. They seem to be changing their sandwiches on offer every day, which is good. That way we can try many different things.'
Mikal Slotboom, student
'I've bought the same thing twice, but I loved it. It's pretty cheap and there are several different hot meals to choose from. I like the look of their burgers. I haven't had one yet because the queue was very long, but they look delicious. I appreciate that the food is quite healthy, it's no fast food. It's nice to have a proper meal.'
We decided to try one of the warm dishes: fried fish with mashed potatoes and peas. Priced at 4,50 euros, the portion gives you a good value for money and a reasonably tasty lunch. If you add a bottle of soda or juice, your meal will cost you roughly 6 euros. And if you are in the mood for some coffee and dessert, you can stop by the coffee corner and a pop-up restaurant that currently serves delicious 'Madame Cocos coconut pastry'.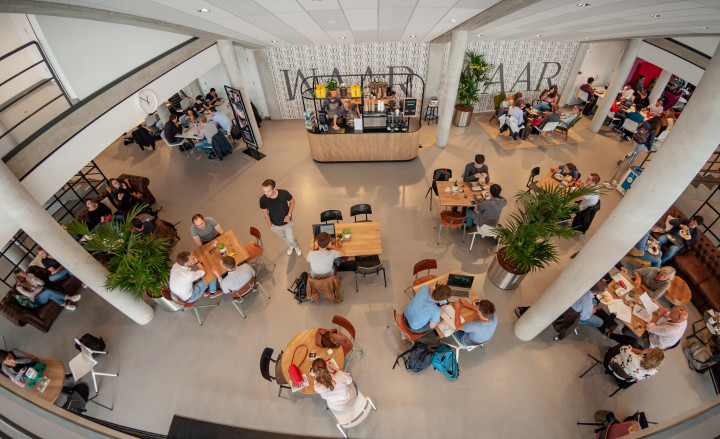 Overall, you can be fairly certain that you will find food of your liking in the Waaier and absolutely certain that you won't eat it in a quiet empty restaurant. At least during lunchtime, the cafeteria is as busy as ever, regardless the slightly higher prices and an overabundance of plastic utensils and plates.
Our rating
Overall score ★★★★
Selection ☆☆☆☆☆
Taste ☆☆☆☆
Value for money ☆☆☆☆
Atmosphere ☆☆☆☆
Speed ☆☆☆☆
Why go: wide selection, reasonable prices, fast service, lively and international atmosphere
Why not go: it's plastic and that's not so fantastic