On the first cool Monday evening of September, a cool wind blows over the multi-field, located next to the intersection Campuslaan/Calslaan. The autumnal conditions do not deter some thirty members of Phoenix Lacrosse from starting a two-hour training session. 'Most of them are suffering from last weekend, when we celebrated our lustrum. In February we existed fifteen years and therefore we all visited Doesburg this weekend. Heavy days', assures chairman Matthijs Kleine (20), who is watching from the sidelines.
American
For a layman, watching lacrosse feels very American. The players shout a lot, only in English, people bash into each other, players wear helmets and body protection and often wear vests with name and number that remind of American Football. Chairman Kleine: 'The sport also comes from the US. Native Americans invented it for fun, but also to solve conflicts and to conquer territory. On the sticks, they carried sharp objects. Unlike us, since there is now a net. When a Frenchman came to the US and added rules, lacrosse was born.'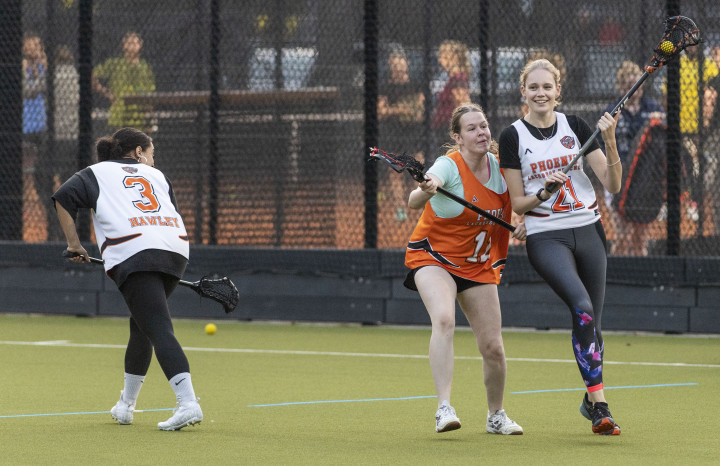 Marieke Rona (21), secretary of Phoenix, talks about lacrosse in the Netherlands, which according to her can be seen as a real student sport. 'You can play the sport in all student cities. The sport is growing in the Netherlands, but it remains a small stronghold. This ensures that we are a close community, because we need each other. The hard core knows each other and you can see that especially on Sundays.'
Matchday
Sunday is matchday for Phoenix. That is when the clubs come together in one city, where all games are played one after the other. Groningen Gladiators, Wageningen Warriors, Domstad Devils... Phoenix players board the train at around 8 a.m. Rona: 'People often ask what sport we play, or what kinds of fish we are going to catch with our nets. In the evening, we almost always have dinner at Happy Italy and then we have a beer at the Beiaard in the city centre. Those are great days.'
The two describe lacrosse as hockey in the air and, for men, ice hockey in the air. According to them, lacrosse is the fastest sport on two legs, because the game waves up and down quickly. In addition to a goalkeeper, a team has nine players inside the lines and a match lasts four times twenty minutes. The aim is to score as many goals as possible by firing the ball into the goal with a stick. 'The language of the sport is English. The referee talks English, the coaching is English, but our conversations in the canteen are too', says Kleine.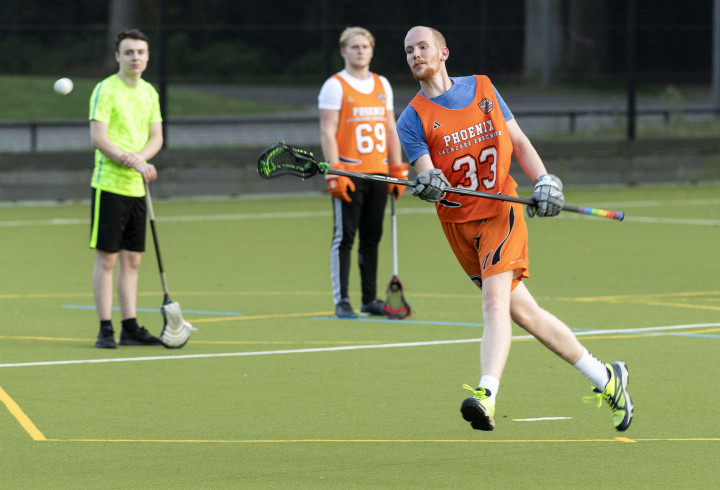 Phoenix has many international members, although the ratio of Dutch to internationals varies annually. 'We always have members from all countries. That makes it fun. Our number of members now stands at sixty, fairly evenly divided between men and women. That is a nice number', says Rona.
The association started fifteen years ago with a few players who had a game in Enschede. Later on, these players moved to the university, where the club started to grow. Kleine and Rona describe Phoenix as a 'real family'. Every month, the men and women get together for an activity - 'often a barbecue' - and also after practice, most players visit the canteen. 'Sometimes short, often long. On Tuesdays and Thursdays, we sometimes miss a class. After the training, we all sit at large tables, or we go to the Vestingbar. There we shout our yell at the top of our lungs. I think most people recognize us from that,' says Rona.
The duo hopes to play a lot again this year and hopes for a dream finish to the season. The final weekend of the season will be on the multi-field on campus, which has lacrosse lines. A rarity in the Netherlands, as there are only two such fields. Rona: 'I dare say that the women will definitely promote this season. It would be wonderful to achieve this here in Enschede in June.'