You are now starting your new role as the President of the Executive Board at the UT. How does it feel?
'I'm tremendously excited to start this new role at the UT. My academic career in the Netherlands started at the UT, so I have very warm memories of the university. When I left in 2013, I was leaving with mixed feelings but I had a fantastic opportunity in Amsterdam. In a sense it really is like coming home, but the role is different and new for me. It gives me the opportunity, together with the team – by which I mean the Executive Board but also the entire UT community – to create an environment, where all members of the community can develop optimally. That is what I'm looking forward to.'
Vinod Subramaniam 
For many at the UT, Vinod Subramaniam is a familiar face. He spent many years working at the University of Twente in various positions. In 2004 he became professor of Biophysical Techniques in Enschede and later served as head of the Nanobiophysics department for almost ten years. The research of his group focused on nanoscale protein biophysics. This work aims to contribute to understanding the molecular mechanisms underlying the Alzheimer's and Parkinson's disease.
Subramaniam was scientific director of research institute MIRA from May 2012 to September 2013. In 2013, he left Twente for a position as scientific director of FOM Institute AMOLF. Two years later, he became rector at the Vrije Universiteit (VU) in Amsterdam, a position he now left in order to 'return' to the UT.
Vinod Subramaniam's own roots are in India. He grew up in the capital, New Delhi, where he was educated at a Catholic boys' school. At eighteen, he left for the US to study Electrical Engineering at the Cornell University. In 1996 he received his doctorate in Applied Physics. As a researcher, he worked at the Max Planck Institute for Biophysical Chemistry in Germany and at AstraZeneca in the UK for a time.
Colleagues and acquaintances speak highly of the new president of the Executive Board, describing him as amiable, respected and very approachable.
You worked as rector at the Vrije Universiteit (VU) in Amsterdam, now you are the UT president. How do you expect these two roles to be different?
'The rector's role is deeply involved in the content of research and education. The role of the president is very different, because it is partly external. It is about establishing strategic directions, communicating them, both internally and externally, and making sure that you are cooperating with stakeholders in the region as well as nationally and internationally. Ultimately, though, you are trying to create an environment where the university and its people can flourish. You don't do that solo. You don't want to be an isolated ivory tower. We are embedded in the region, in the local, national and international context. It is not only up to the president, but the president has a special role – to ensure that the dialogue with all the stakeholders is effective.'
What type of president do you want to be?
'The same type of president as I was a rector. I want to be approachable and somebody who is deeply interested. You can't change me. I am who I am. But it's not about me. It's about the team and the university. One thing I've learnt is that you learn something new every day. That is what is fascinating about the university environment. It shows you that you don't know everything. The organisation evolves and it has new questions and new challenges. As an administrator you need to do the same and be open to those questions. The main thing I've learnt is that I don't have all the answers.'
Did you have any doubts about taking the job?
'No, I didn't have any doubts. I was looking for the next learning curve. I like being on a steep learning curve and I think the role of the president will expose me to a completely new set of challenges and interactions. The fact that I can do this at the UT is very positive. I have been away for eight years, lots has changed, but at the same time I still know a lot of people. I'm not saying I know the organisation, but it is not a blank slate either. It accelerates the process of getting started. I will of course take the time to listen. It's not about me, but about what the organisation wants. That means you need to listen to a lot of people before you make a call.'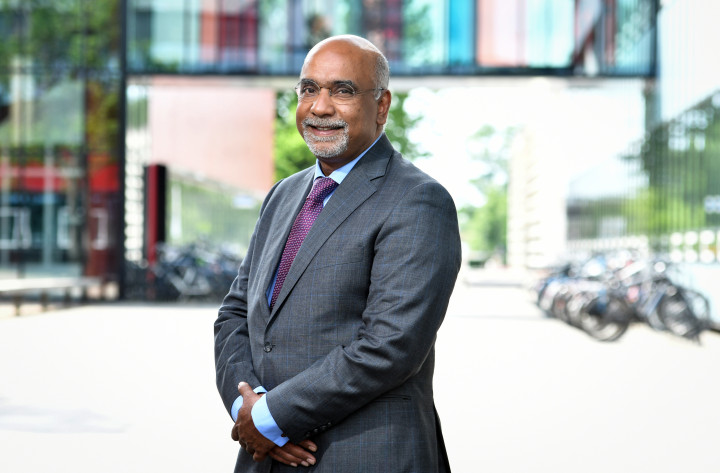 You mentioned that a lot has changed at the UT. What changes have you noticed?
'New people and that is a great thing. Universities are living organisms and it's good the UT has grown. The landscape of education in the Netherlands has also changed. The obvious big change is the effect of the pandemic. The last one and half years absolutely transformed education and educational institutions. The challenge awaiting the UT and other universities is seeing how to deal with the post pandemic situation. What does it mean for education and for working together? These kinds of questions are going to occupy us.
'This is a moment when we have the opportunity to reinvent the university'
We also have the strategy Shaping 2030, which was of course written up before the pandemic. While the broad vision remains just as relevant, the pandemic will have an immense impact on implementation of this strategy. This is a moment when we have the opportunity to reinvent the university. That seems like a fascinating challenge to be involved in. The scale of the university allows us to experiment. That is something we should explore together. This is a fascinating time to be in leadership.'
What do you think about MIRA institute being gone? It was named after your daughter after all.
'The most important Mira, my daughter, is still here so it is all okay. It is good that things evolve and change. What MIRA has evolved into, the TechMed Centre, is amazing. Change is good for institutions and for individuals. That is also what I say about my new role here.'
Do you already have ideas on which direction you want to steer the UT?
'I haven't really started the job yet. The last thing a leader should do is to come in with ideas on what to change, because that doesn't do justice to the organisation and the team. I have plenty of ideas, but you first need to see if they fit the context. I first need to reacquaint myself with the university. We are coming in with a brand-new team as the board and this is a fantastic opportunity to look at all possibilities, weaknesses, strengths and chances. Then we can see how to best serve the university. That is our job: to serve the university and the community.'
You are also the president of national advisory committee to oversee the progress of the national action plan for diversity and inclusion in higher education. Is this a topic you want to emphasize at the UT as well?
'I think diversity and inclusion is something all universities should be doing. When I was at the UT before, I was a member of the Ambassador's Network which started out the first steps towards better representation of women in academia. I see there are a lot more women among academic staff here and that is great. But diversity is so much more, it is not only a gender issue.
'It is important for universities to have leadership role models for folks from the entire community'
Is it a topic that has my attention? Absolutely yes. Is it a topic that will continue to have my attention at the UT? Yes. I think the UT is very much aware of the issue and it is very important to me. It is important for universities to have leadership role models for folks from the entire community, in any form of diversity. I was one of the first non-Western leaders at a Dutch university and I'm still the only one. That needs to change.'
How does it feel to be the only one?
'It's lonely sometimes, but it is what it is and I have to deal with, so I just deal with it.'
Why is the topic of diversity so important to you?
'Quite simply, I believe we should be tapping into the entire pool of talent. Diverse teams work better than non-diverse team, so I want to make sure we are putting together a diverse team. It is not just about gender, colour or nationality – it is about all aspects and you want all those aspects on board. Like I said: I learn every day. I have no monopoly on knowledge. Everyone has a different perspective and they are all equally valuable. Everyone brings a different take on any subject. We need to make sure that we have many perspectives represented around the table, so that we can address a question in its entirety, not just look at it with one set of glasses. That is why diversity is important. It helps us make better decisions.'
'I'm older and a little bit wiser. There have been a couple of defining moments. Firstly, I closed the research door behind me. When I got appointed as rector, I made a conscious choice to interrupt my scientific career, but I did that for a reason. I had the opportunity to create an environment where others could accomplish their goals. I had the opportunity to be the first non-Westerner to lead a Dutch university and be a role model. That was a dramatic change for me. In this position, you don't think about yourself but about the organisation. That is a whole different ballgame. I'm not an active scientist, but I'm still involved in my field and I'd like to continue to do so when I'm at the UT. And most importantly, I'd like to teach again.'
              'I had the opportunity to be the first non-Westerner to lead a Dutch university and be a role model'

Do you miss teaching?
'I enjoy the contact with students. The interaction with young people is at the heart of the university. As a member of the board, you need to be in touch with the core business of the university and there is no better way to do that than to teach or be involved in research.'
Professor Albert van den Berg mentioned that you love cooking and that you used to have a cooking club. Is there any chance you will reinstate that tradition?
'I love cooking! It is like being in a lab, you are experimenting. It is the closest thing I have to being in a lab these days. Yes, we had a cooking club where I had the privilege to cook a couple of times. I didn't think about reinstating the tradition, but it sounds like a good idea!'
Your time in Twente is (re)starting now. What are you looking forward to the most and the least?
'I'm looking the most forward to acquainting myself with the people. It is all about the people. What I'm the least looking forward to is bureaucracy, but I also know that – to some extent – I have the opportunity to change this. I don't care for complicated procedures. I'm curious to see if we can make some things simpler, but again – I can't do that solo. Together we figure out what is the best way to do it. So I'm also looking forward to exploring the aspect that I'm least looking forward to.'
That is a very positive outlook.
'I'm a positive kind of guy. You have to live life with a positive outlook. There is this book by Charlie Mackesy called The Boy, the Mole, the Fox and the Horse. It contains an absolutely brilliant statement. "Is your glass half empty or half full?", the boy is asked. The answer the boy gives is: "I think I'm grateful to have a glass." That is such a different way to look at things.
I look forward to working with the community. This is not a solo journey. It's not the destination but the journey that matters, but the shipmates are the most important. So I hope we can put our shoulders together under the challenges and the opportunities and make the UT a better place. Whatever the goal is, I hope we do it together.'