A car slowly drives onto the old market square in Hattem. The driver rolls down their window. 'Good day, madam mayor,' Danny de Vries says from behind the wheel. 'Good day, mister mayor.' Marleen Sanderse replies. The door opens and De Vries gets out. He is carrying a white briefcase that contains the chain of office of Oudewater. 'Why don't you get yours out too,' De Vries says. After some hesitation, Sanderse retrieves her silver chain from the Hattem's municipal hall.
The scene in the historical centre of town has attracted a small crowd of onlookers. An elderly couple watches the two mayors admire each other's chains of office. This is the first time in a long while that Sanderse and De Vries have met. It is a meeting between two mayors, both of whom took office in the autumn of last year. At the same time, it is a reunion between two former housemates. 'From housemate to colleague,' Sanderse jests. 'It is truly unique to be meeting again like this.'
Twente
The shared history of the two colleagues begins in Enschede in the early nineties - at Europalaan 294, to be exact. De Vries came to Twente from the Randstad to study Applied Communication Science. Together with a friend, he moved into an apartment on the Europalaan. They were looking for a third housemate and Marleen Sanderse made the cut. She was just starting her Public Administration studies at the UT. 'The apartment on the Europalaan was not exactly ideal as a student accommodation,' Sanderse recalls. 'It was located very far away from the centre of town and there was no shared living room.' De Vries picks up the tale. 'I remember you had the best room. Mine only had a bed and a kind of garden table in it,' he laughs.
'Enschede is a fairly compact student town'
Sanderse and De Vries did not live together for very long; around Christmas time, both moved to different accommodations in Enschede. The two future colleagues dove head first into the student life. De Vries joined Taste, lived in the well-known student accommodation Asgard and was a member of the Ius Sanctus society. 'I actually had no intention of joining up. However, I was quickly persuaded during the Kick-In. I never regretted it for a second. It was truly an incredible time.' Sanderse concurs. She joined rowing club Euros. 'I loved being a member of the rowing club. I was very active in it.'
'Enschede is a fairly compact student town,' Sanderse continues. 'That's what makes it fun. On top of that, the university itself is truly unique.' De Vries agrees wholeheartedly. 'I couldn't be happier about my choice to come to Enschede. The rest of my peers from secondary school all stuck around in the Randstad. My time in Twente, where I ended up living for nearly twenty-three years, has broadened my perspective on the Netherlands. There is a lot more to our country than Amsterdam alone. I can certainly understand the discussion between the city and the country. People from Limburg or Groningen sometimes feel neglected by the people in The Hague.'
Profile Marleen Sanderse
Sanderse studied Public Administration at the UT. Shortly after graduating, she lost her left leg due to a malignant tumour in her hip. After her recovery, she came into contact with the national rowing team. She competed in the 2008 Paralympic Games in Beijing. She began her career as a civil servant in 1999 as a government trainee at the former Ministry of Agriculture. Later on, she was a government official at the municipality of Almere. In 2011, she joined the municipal council of Naarden, where she later became a chairwoman and alderwoman. She then moved on to join the provincial council of North Holland. Sanderse was sworn in as mayor of Hattem on 18 September 2020.
Corona crisis
Sanderse occasionally thinks back on her student years, such as when she joined 'the class' - a type of training programme for new mayors. 'We discuss public order and security, among other things. What is the basis for our authorities? That took me right back to Mrs Dorbeck-Jung's lectures. She taught General Principles of Law, if I recall correctly.' De Vries, who studied communication, joins in. 'I believe circa eighty percent of being a mayor has to do with communication. How do you communicate from your role as mayor? What themes do you choose? How do you deal with the entrepreneurs in your municipality?'
The latter is an important topic, especially in times of crisis. Sanderse and De Vries both began their term as mayor in the autumn of 2020. Thus far, their mayorship has coincided entirely with the coronavirus pandemic. 'I have yet to have a normal day,' Sanderse sighs. 'As the new mayor, you want to cheer on your local soccer club, visit the elderly in their care home, you name it. The coronavirus has made all that impossible. Nevertheless, I try to keep in touch with people as much as possible. With the entrepreneurs in the city, for example. You talk about your own difficulties as well, because some measures are hard to explain. I believe that is the only way.'
'I have always had some interest in politics'
De Vries nods. 'I have been an entrepreneur myself for a long time, which certainly helps. Just last year, I was selling local products from Twente in the Markthal in Rotterdam. The coronavirus has made things a lot harder for entrepreneurs in the Markthal. The nature of the projects that my communication agency works on has also changed. That is why I tell entrepreneurs in Oudewater that I see and feel their pain. Together, we try to focus on what is possible, rather than on what isn't. If we cannot get something done one way, we'll try another. I believe this approach has made it easier for entrepreneurs to accept our decisions.'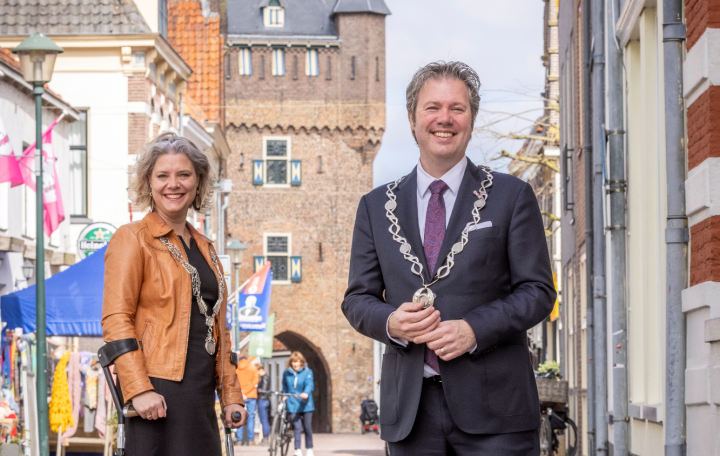 Fireworks disaster
If you cannot get what you want, you'll have to make do with what you have. That has been De Vries's belief since the fireworks disaster in Enschede. As a student, he recorded the explosions in fireworks factory S.E. Fireworks from up close. The footage was shown all over the world. De Vries lost his colleague and friend Marcel van Nieuwenhoven in the disaster and found himself unable to resume his studies for a long time afterwards. 'My life changed on 13 May, the day of the fireworks disaster. Things could have gone quite differently. Since then, I view every single day as a gift. On that day, I learned that life is too short to sit still. That is why I try to focus on the positive as much as possible in my role as mayor during the corona crisis.'
De Vries calls his mayorship the best job he has ever had. However, he does not have his entire political career mapped out already. As a journalist and entrepreneur, he wanted to remain neutral above all and avoid leaning too strongly towards either side of the political spectrum. 'I have always had some interest in politics, but it wasn't until about four years ago that I became an active member of the CDA. The crazy thing is that I once again have to hide my political orientation a bit now that I am mayor. I am expected to stand above the various parties, after all.' Sanderse nods. 'This was the first year that I did not put up an election poster in my window. It felt odd, I used to love campaigning.'
Profile Danny de Vries
De Vries graduated from the UT in 2002 in the field of Risk and Crisis Communication. Since 2005, he served as director of strategy consultancy firm Albers De Vries and, from 2015, as director of the Twente Embassies. Before this, he spent years working as a radio, TV and newspaper journalist. He gained national fame with his footage of the fireworks disaster on 13 May 2000. De Vries was made a Knight in the Order of Orange-Naussau in 2018 for his role in the fireworks disaster, his dedication to Twente, the royal house and LGBTIQ+ emancipation. He was sworn in as mayor of Oudewater on Monday 16 November 2020.
Public administration
Sanderse's political career began in the municipality of Naarden, where she held a seat on the municipal council for the CDA. 'That makes us housemates, colleagues and members of the same party,' she laughs. In Naarden, Sanderse served as municipal council member, chairwoman and alderwoman. In 2019, she joined the provincial council of North Holland. 'I have always had an affinity with public administration,' Sanderse says. 'That's also why I decided to study Public Administration in Twente. It runs in my family, too: my grandfather and my father spent years on the municipal council of the Noordoostpolder.'
In early 2020, Sanderse applied for the position of mayor of Hattem. 'When we drove home after the interview, I said to my husband how amazing it would be if I could become mayor there.' A few months later, her son Pieter placed the chain of office around her neck. 'Because of the coronavirus, it was a small ceremony. It was a truly precious moment for me. I had to pinch myself. Is this really happening?'
A sound echoes through the open window of the mayor's office. The bell of the Andreaskerk on Hattem's town square is striking two o'clock. Although the colleagues still have much to talk about, it is time for the next appointment. 'It's remarkable that we have been through the exact same things this past year,' De Vries concludes. 'In two similar towns, to boot.' Sanderse agrees. 'We should sit down together more often, Danny. You can teach me about communication and I can tell you more about municipal politics.' De Vries laughs. 'As soon as your cafés are open again, I will come visit you again here in Hattem.'