'I got a very warm welcome. It's been great to meet so many knowledgeable, inspirational and social people and I was struck by the entrepreneurial nature of the UT,' he describes the first two months on the job.
Frank Kresin has been in charge of the DesignLab since January 2017 and he already has a clear vision for its future. Among other things, the new Managing Director would like the lab to function as a multidisciplinary research and development facility with a real impact. He is, in fact, preparing a brand-new DesignLab Research Program. 'The DesignLab is a wonderfully flexible space with great staff and large network, but we should have a clearer goal of what we want to achieve in the world,' thinks Kresin.
Combining different disciplines
Frank Kresin has a background in filmmaking and a Master's degree in Artificial Intelligence. He came to the UT after ten years as a Research Director at the Waag Society, where he worked on many projects related to themes such as Creative Care, Future Internet and Smart Citizens. Having an interdisciplinary experience himself, Kresin now wants to work on making the DesignLab into a platform where people from all disciplines meet, inspire each other and work together to solve societal problems.
'The lab is and needs to be a space for the whole university, not only specific faculties. It should be an intersection of various scientific fields, paradigms and outlooks, a facility where we combine science, technology, ethics and design thinking, because today's complex problems – such as the aging society, migration and energy crisis – are omnipresent and can't be solved by a single discipline,' says Kresin.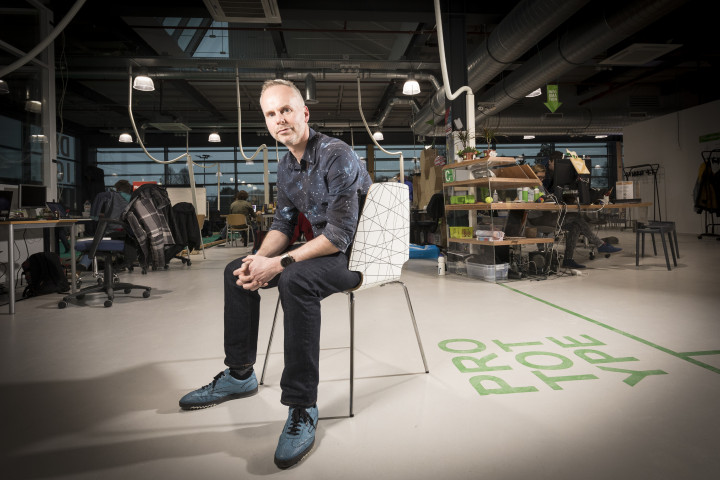 Sustainable Development Goals
'It is important for a lab like this to commit to more sustainable future and I want the DesignLab to truly connect to both the EU Grand Societal Challenges and the United Nations Sustainable Development Goals. We are responsible for making the future better than the present,' says the Managing Director. 'That's why we need open playgrounds, where people can make new concepts, explore, succeed, but also fail and start again.'
And the DesignLab should be just that – 'a safe haven for innovations', as Frank Kresin calls it. Innovations that can be achieved by experts from various fields working together – randomly, but also in official collaboration with companies, governmental and non-governmental organizations and, moreover, within the aforementioned research program.
New research program
'We want to pose new questions that people from only one faculty wouldn't. We are working on attracting DesignLab Research Fellows, researchers who are in the habit of doing multidisciplinary research and will help us shape the lab. Although the research program will be co-defined by the fellows, it will deal with themes like societal robotics, textiles and smart materials, digital society, personalized healthcare, critical design & art science collaboration,' describes Kresin.
Even though the research fellows will not receive any funding, their collaboration with the DesignLab will be mutually beneficial, thinks Kresin: 'They will have access to all the DesignLab facilities: a well-equipped space for hosting events and workshops, support from the scientific board, and talented students to work with.' Interested researchers can still apply before the 1st of April.
Making stronger connections
As mentioned, one of Frank Kresin's main goals as the DesignLab's new Managing Director is to make stronger connections with the entire university and the outside world. 'One challenge that faces us now is reaching out to the rest of the UT community. We already have strong links with BMS, EI and EWI, but the UT is much larger than that,' says Kresin. 'There is way more potential here than we are currently using. We can have massive impact if we work together.'