Electric Superbike Twente officially started working in September 2017, which makes it the youngest student team at the UT. The focus of its 15 members is to build one of the fastest electric racing motorcycles from scratch. And to race it in the upcoming MotoE competition, which they say is 'like MotoGP, but for electric bikes'.
'We mainly want to show that sustainable vehicles can also be fast and fun,' says Tim Veldhuis, the Team manager of Electric Superbike Twente and a UT student of Industrial Design. 'Our motorbike will be able to accelerate from 0–100 km/h in under three seconds, have a maximum speed of 250 km/h and weight less than 250 kg.'
MotoE in the Netherlands?
With these specs, the team believes their superbike will be able to secure a podium place in MotoE, a competition that challenges teams from all over the world to design, build and race electric motorbikes. 'MotoE is a championship that consists of several races, held a few weeks apart,' explains Veldhuis. 'All teams – which include both student and professional teams - have to compete in all the races and get points for each round.'
The exact dates of the races are not known yet, but the competition should begin in August 2018 and end in October 2018, when the overall winner will finally be crowned. If it comes to the location, the Twente team hopes at least one of the races will take place close to home. 'Last year all races took place in England, but we hope that next year one will be held in the Netherlands. That is something we are working on together with the Delft student team and the MotoE organizers,' says Veldhuis.
Racing against time
Before they drive around any race track, though, the team first needs to race against time. 'We are already on a tight schedule,' says the leader of Electric Superbike Twente. 'We have divided our year into four stages: design, build, test, race. Currently, we are still in the design phase, but our design needs to be finished before Christmas. In January, we will begin physically building the bike, which should be ready in April when we will start testing it.'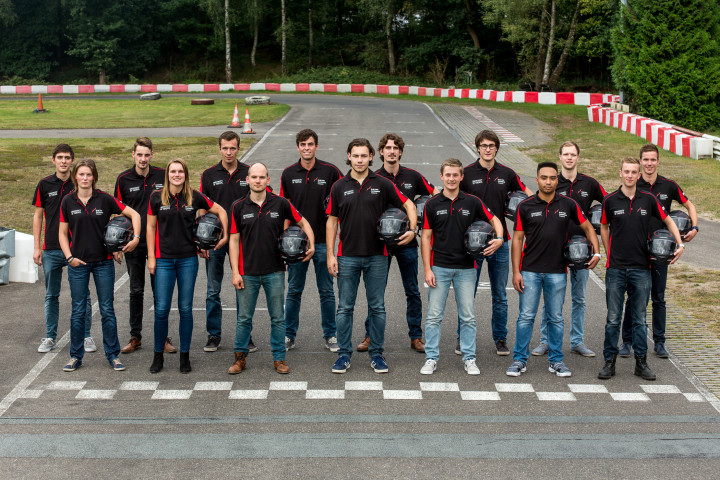 Photo by: Sebastiaan Bors Photography
The team has reserved a lot of time for the testing phase. 'Riding a motorcycle is also largely about "feeling" – how it turns in corners, how stable it is etc., and so we want to have the time to redesign parts if necessary,' explains Veldhuis. Will he be the one driving the superbike? 'I'll probably take it for a spin, but no. We will have a professional driver, who will represent us in the competition.'
'The more races, the more fun'
The MotoE competition is naturally the main milestone of Electric Superbike's year. 'Racing will be the climax of the whole experience. Although designing and building the bike is also great, the race will certainly be the most fun part,' says Tim Veldhuis. 'The more races, the more fun. And the more opportunities to share our mission: showing that electrical mobility is both sustainable and cool.'