At the first glance, the cafeteria in the Spiegel certainly looks better. The modern design and furniture did it good. And perhaps it attracted new customers because I don't remember seeing it so busy before, nearly all tables are taken. All that glitters is not gold, however. Let's first eat before we judge. What is it really like to have lunch here?
Pleasant and tasty, I would say. You might consider it a shame that the 'cold' lunches on offer, such as sandwiches and salads, all come premade and packaged, but you might be happy to hear that 'Happy Asia' is in town. If you are in the mood for some hot Asian dish ready to be grabbed from the counter, you no longer have to cycle to 'Wok to go'. The Spiegel is the place to be.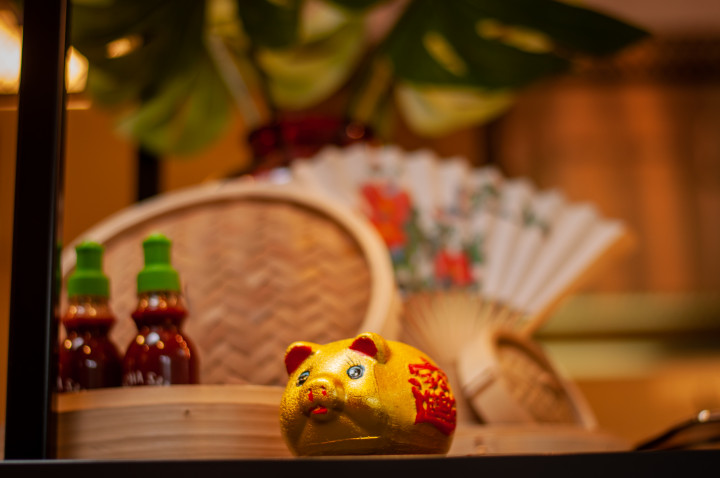 WHAT YOU THINK
Eu Chieh Chuo, Master student
'I don't see the salad bar anymore which is a pity. And there seems to be a slight price difference. I bought the more "luxurious" soup which used to come with free garnish. Now all garnish is paid extra which isn't mentioned anywhere. There are also no ceramic plates or metal cutlery, everything is made of plastic or paper. I'm not completely convinced that it's safe. My engineering mind says it might not be.'
Johny Baayens, painter working in the building
'Sometimes we get a free cup of coffee from the staff which is very nice. The soup tastes very good. There is less variety than there used to be and they no longer offer any typical fried Dutch snacks. But the food looks very good and it's nice and fresh. It's just a bit more luxurious than it used to be. However, most of the time we bring our own food. If we eat out too much my wife gets angry. And it gets a bit too expensive.' 
Jorien Terlouw, staff member
'What they have is good, but the choice is limited. It used to be possible to make your own salad and sandwiches, now they are all premade. However, the service is still friendly and fast and the prices seem more or less the same.'
We tried the 'Thai green curry with rice and nuts' that was on offer that day. With the side of (nearly) unlimited amount of prawn crackers and fried onions, it definitely satisfied our taste buds. I would definitely go back to see what Eastern meal is on the menu today. But I might need to think twice, because with the price of 4,95 euros per meal and 1,50 for an Appél-brand soda, the lunch is borderline 'too expensive' for everyday consumption.  
What will not make it any cheaper is the plastic cutlery. We used chopsticks provided with the curry, so we didn't experience any issues first-hand, but we were informed by some of the customers that those who don't buy a meal need to pay 10 cents for the plastic spoons, forks and knives. Yes, ceramic plates and metal cutlery are also history in this UT cafeteria.
our rating
Overall score                          ★★★★   
Selection                            ☆☆☆
Taste                                   ☆☆☆☆
Value for money               ☆☆☆
Atmosphere                       ☆☆☆☆
Speed                                  ☆☆☆☆☆
Why go: ready-made warm Asian meals, good and fast service, pleasant and lively environment
Why not go: slightly high prices, limited selection, no proper plates or cutlery