So Thursday - a kind of dress rehearsal day - did not run smoothly. Just before the parade, Solar Boat Twente tested boat Ceto one more time on the open sea. As the waves in the Monegasque sea were higher than on Wednesday, the boat did not come out of that test completely unscathed. Seawater entered a control box, causing a spark. This did not cause panic among the team members, on the contrary. Armed with a soldering iron, the technicians fixed the problem in fifteen minutes, allowing the team to launch the boat again just before the parade.
Text continues below photo.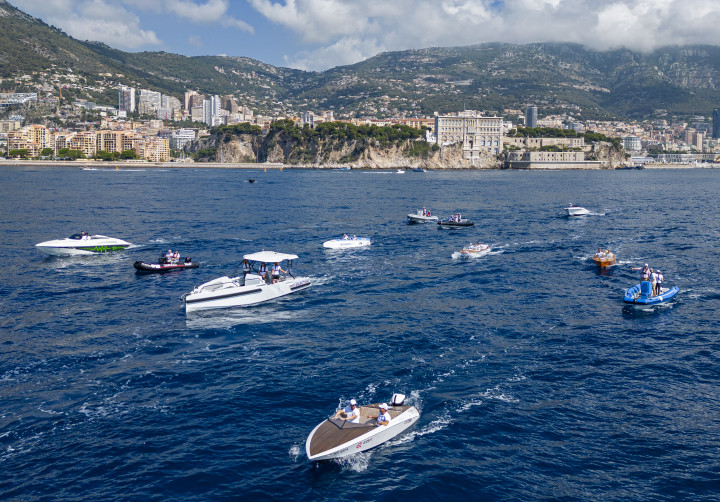 The parade functioned mainly as a ceremonial duty event. The teams - from 25 countries - circled in front of the Yacht Club Monaco with national flags and showed the beau monde on the quay their vessel. Even the greatest layman could see during those few laps that the differences between the teams turned out to be great.
Indonesian neighbour
Very unusual it is not. Take Solar Boat Twente's Indonesian left neighbour in the paddock - from Diponegoro University - as an example. Or one paddock further, the American team from Louisiana. Both teams practically built their boat on site in Monaco, unlike the Twente team, which only had to do some fine-tuning on the first days. Due to logistical challenges, the two aforementioned teams were actually behind before the start. That provided the next goal: pass the technical inspection and every metre on the water is a win.
Text continues below video.
While Bernard D'Alessandri, Secrétaire Général of the Yacht Club de Monaco, told a camera team why the event is of great importance for a sustainable maritime sector, the teams were preparing for qualification. That initially seemed to go successfully for Solar Boat Twente. The boat foiled (a system with hydrofoils lifts the boat out of the water from a certain speed, ed.) smoothly above the water, but when Ceto was sailing at the highest point, a wave hit the boat twice at its most vulnerable point.
Damage
This caused major damage to the boat. Such serious damage that Ceto did not even make it back to land under its own power. With a little cup, the pilot still at sea scooped water from the inside of the vessel. How serious this damage is - also in view of the coming days - is not yet clear. 'But salt water has run into the boat, then we are going to try to remove that with fresh water and then the boat has to dry for hours,' explained team member Jan Hein Swillens.
He hopes the team can get back in the water tomorrow with a closed boat. Due to the broken hydrofoil, foiling seems a pipe dream. It is up to team manager Maartje Kuperus to keep going, as the Tech Talk awaits on Thursday night, where the team will want to impress.