There were a total of five categories such as the 'most active student' and the 'best event'. The winners were decided by the pre-show votes, the audience votes and the votes of the jury. This year's jury consisted of Mike Verkouter (Incubase), Arjan Kampman (Alderman) and Saikiran Samudrala (previous winner of the most active student award).
'Winning was just the cherry on the top for me'
The most active student of the year was won by Nimisha Verma. 'It still hasn't sunk in yet. I didn't really expect to win, I was just happy being nominated. When I learned that I was nominated, I was extremely surprised.'  
Being president of UniTe (the umbrella of internationalization platform) and student assessor of the student associations board at ITC are just among a few of many extracurriculars she has racked up in addition to being a regular Master student at the ITC faculty. 'Now, I plan to relax', she added jokingly when asked how to plan to advance her achievements.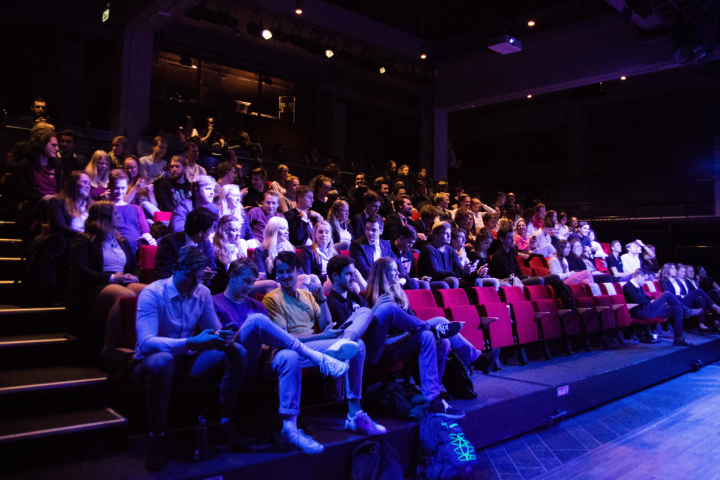 Photo by: Mechteld Hoeksma
'Help people save time and focus on what really matters'
Geanny Amor dos Santos, founder of the startup Flawless Workflow, received the most entrepreneurial student award. Her company is a programming service that automates tasks for companies so that they can focus on their core activities. 'When I was doing my bachelor internship, I started automating things for myself and I felt there was a huge need for it.'
She was thrilled to receive the award, 'It is an honor to be nominated especially since I know that there are a lot of individuals looking to become entrepreneurs and I was able to make it'. Having received the 4TU wildcard at the UT Challenge 2021, Flawless Workflow will be presented at the 4TU Impact Challenge 2021 at Helsinki.
'Happy to have made an impact for international students'
The special category award, a category newly introduced by the Student Union this year, was awarded to the ESN Twente. 'It feels really good to be appreciated for what we did, especially because we endured a lot during the first weeks', says Fabian Jazbek, the communication manager at ESN at the time. ESN Twente played a big role in developing a matching service for locals and internationals when a lot of students weren't able to find accommodation during the housing crisis. 'We are really grateful for the support we received from UT employees such as Arnold Enklaar. We are glad that our efforts helped international students and we will continue to do more when we have the possibility.'
ALL THE WINNERS
Event of the year – Enschedays
Board of the year – Kick-in Committee 2021
Active Student of the year – Nimisha Verma
Entrepreneurial  Student of the Year - Geanny Amor dos Santos
Special Award – ESN Twente