The host of the show, Martijn Meefout, opened the evening by introducing the jury members: Tom Veldkamp, the future rector, Mike Verkouter, startup ambassador of Novel-T and June Nods, Alderman of the city of Enschede. The show quickly went on to announce the winner of the different categories, based on both public and jury votes.
'I love helping others'
The most active first-year student award was won by Fatima González-Novo. 'It honestly feels great. There are so many students at the university, so I'm very grateful for the award. I still can't believe I won.'
González-Novo is active as a 'buddy', connecting international students with the Dutch culture and the UT, in addition to being active in several social services. Being a busy first year student does not hold her back from being active, she says. 'I never felt that I was doing much. I love helping others. It was hard in the beginning to cope with my studies and committee work, but at the end I learnt how to organize myself.'
'Always finding something to do'
Danique Lummen was happily surprised to be awarded the Most Active Student award. 'It's strange, but fun! After being nominated, I tried to find out who nominated me, only to find that it was my fellow board members pretending to not know anything.'
Some of her contributions include being the board member responsible for educational affairs at I.C.T.S.V. Inter-Actief and being active at the Kick-In and the UReka University Council. 'I don't really like to do nothing, so I'm always trying to find something that I can do next to just studying.'
'Most entrepreneurial student and university'
Lefika Otisitswe, cofounder of IMPULSE and also one of the finalists of the UT Challenge, received the most entrepreneurial student award. With his company, he focuses on sustainability. 'The lack of knowledge consumers have, including myself, when it comes to our carbon footprint and the true cost of the consumer goods they buy on a daily basis, that is what made me start IMPULSE.'
He was thrilled to receive the award. 'It is quite amazing to be the most entrepreneurial student at the most entrepreneurial university.'
All the winners
Sports Award winner: William Bos
Student Union Appreciation award : OS Board (2019/2020)
Best Event/Committee: The Royal Pink Palace
Henk Zijm Internationalization award: ICOS 2019/2020
Jan Schuijer Culture Award: 47th Board of Apollo
Best part-time board : OS Board (2019/2020)
Best full-time board: Kick-in Committee 2020
Most active first-year student: Fatima González-Novo
Most active student: Danique Lummen
Most entrepreneurial student: Lefika Otisitswe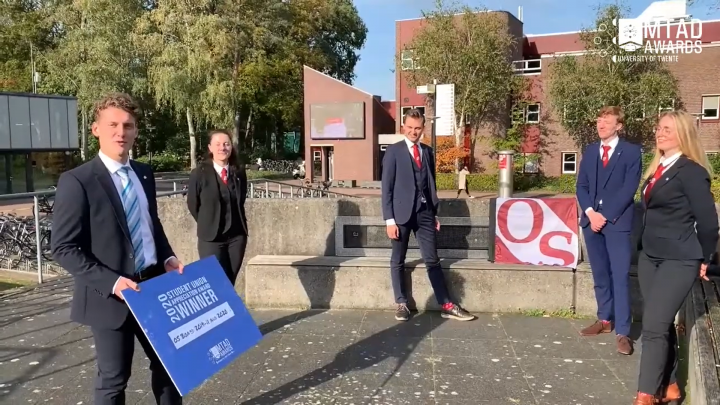 Screenshot: the OS board receiving the Student Union Appreciation Award.