The lecture titled 'Dutch identity: from milk to drugs' was part of the Week of Inspiration. It looked into how Dutch people see themselves now and how they have defined themselves over the past decades. Professor Kennedy drew a picture of how a nation with once clear values slowly transformed into its current search for 'who are we, really?'
Professor James Kennedy
James Kennedy is professor in Modern Dutch History at the University of Utrecht and specializes in the post war history of the Netherlands.
Language
According to this year's study by the SCP (Netherlands Institute for Social Research), the Dutch mainly think of the following when asked about their homeland: the Dutch language, King's Day, Sinterklaas, bicycles and the Elfstedentocht [famous ice-skating event in Friesland, last edition held in 1997, e.d.].
'There are a few things we can learn from this,' said Kennedy. 'Firstly, this shows a high degree of continuity, that things haven't changed much in the recent decades. Yet, it also reveals concerns specific to this day and age. Specifically: the language. The Dutch have become more conscious of their language as something that belongs to them. You can see that in many issues discussed right now, such as: how much English should be taught at universities? What should we do about migrants? The status and standard of Dutch has become more important recently.'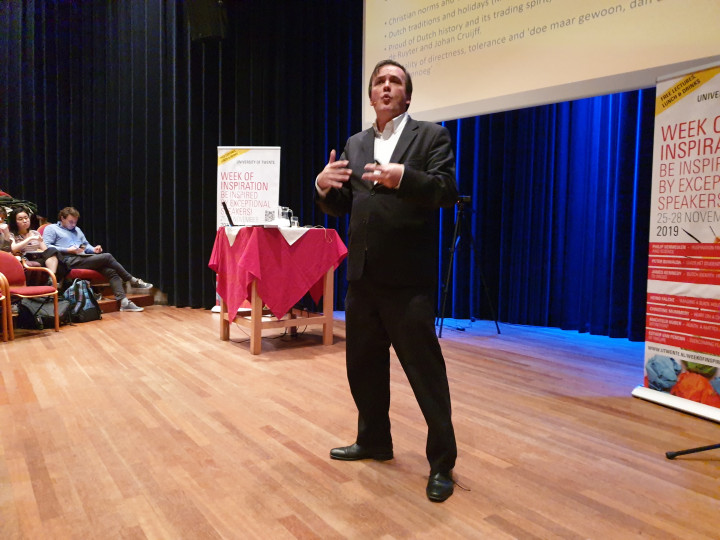 Reconstructed nation
'The Dutch identity is under pressure now,' continued the professor. 'People are concerned about who they really are, what is left of them and how to maintain it.' How did it get to this point? To explain, Kennedy outlined three phases of the Dutch national identity.
Starting after the Second World War, the people of the Netherlands formed a, what Kennedy called, 'reconstructed national community'. 'The nation united as a country that fought bravely against tyranny, as a country built on Christianity, solid values, community and freedom. This sentiment changed a lot in the subsequent decades.'
Guide land
Which brings us to the 1960's and to the 'Guide land' period, which lasted until the 90's. 'This era brought the expression "bespreekbaar maken", making everything open and being willing to discuss anything, even topics that were taboo in other countries,' explained Kennedy. 'The Dutch opened up topics of sexuality, drugs, euthanasia and so on. What made them better was not doing it, but being willing to talk about it. The Dutch of that time saw themselves as more free, progressive and openminded than other nations. They considered themselves the "guide land" for the rest of the world.'
Searching for answers
Yet, since the mid 1990's, the Dutch find themselves in a period of 'searching for a defining identity', according to Kennedy. 'Right now, people are getting worried. They are asking "who are we, really?" The current debate is trying to answer whether this nation is built on symbols and traditions, such as Sinterklaas and Zwarte Piet, or other values. Whether this country is secular or Christian and whether it is inclusive or exclusive. Are you Dutch only if you participate in all the Dutch traditions or should we accept everyone as they are?'
'This illustrates how the Dutch identity relates to many important issues,' said Professor Kennedy. 'The question of Dutch identity is also the question of: who belongs here? What education should our children receive? These are not superficial topics. It is about more than just windmills and dikes.'