Having your bag checked is mandatory when you try to enter the campus of the Sorbonne University. It goes to show that the recent past of terrorist attacks still keeps the Parisians on their toes, even when entering a presumably safe haven like a university. Message received.
Heroes
Inside the underground auditorium of the modern looking university, both the atmosphere and temperature are a lot warmer. Hundreds of students from all over the world have gathered here to officially start their two years at the EIT Digital Master School, preparing them to become 'tomorrow's digital innovators and entrepreneurs', as the slogan of the pan-European master school states. Adding to the warm welcome is the sound of the newly formed EIT Digital Academy House Band, consisting of second year's students. They have no problem getting the crowd of their feet, playing songs like 'Heroes' by David Bowie and their very own version of AC/DC's TNT ('Cause we are EIT… Digital').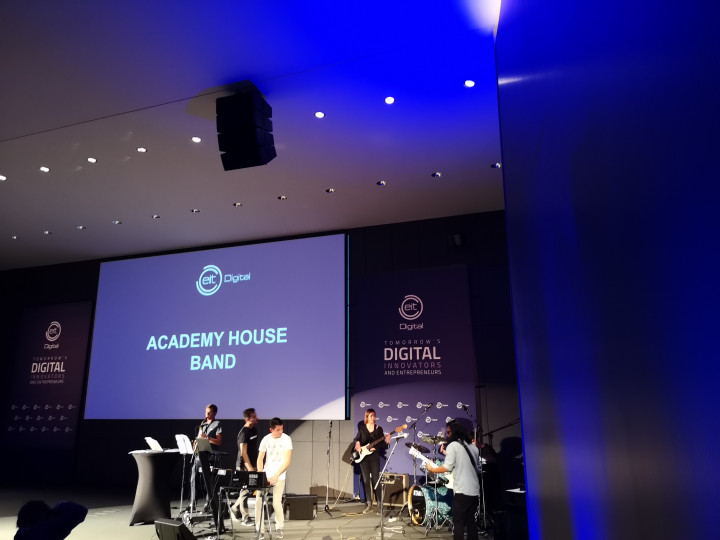 'It's up to you to think big'
Following the energizing welcome, the students are in for talks by speakers like EIT Digital CEO and UT professor Willem Jonker, encouraging the students to become Europe's innovation problem solvers. Arturo Varona, the new head of the EIT Digital Master School, adds that these four hundred students are chosen amongst thousands of applicants. 'For every one of you here, five people weren't selected. It's up to you to think big, from a European perspective, and solve real-life problems.'
Whiteboards and post-its
These three days, it's up to the students to tackle some problems they thought up themselves. Part of the kick-off event is a Business Challenge, where the students get together in teams of eight, using an entrepreneurial mindset to form a problem into a problem-solving business idea.
'I want you to find your unique selling points'
Mere minutes after the briefing, the students find themselves in the (also underground) library of the Parisian university. It soon becomes a melting pot of fifty groups with as many whiteboards and even more ideas and post-its. In addition, coaches are running around to steer the students in the right direction, giving sound advice like 'I want you to find your unique selling points' and 'Streamline your ideas'.
Reducing paperwork
One and a half hours in, Niels Dikken, one of the former UT students, is happy with the progress already made. 'In total we have around eight hours to work on our business idea and prepare a five-minute pitch. I joined up with a team that's focusing on digital transformation. In the Netherlands, we have a sort of digital ID card, the DigiD. But in Italy for instance, the country where my teammate who came up with the idea comes from, there is a lot of government paperwork in all instances. Our idea is to reduce this paperwork.'
Dikken, who studied Creative Technology at the UT, knows this is easier said than done. 'Our idea is very broad, which has its upsides and downsides. That was also the harsh but true feedback from our coach, who asked us how we would turn this into a viable business.'
After the Business Challenge, Dikken will head back to Madrid to continue his regular EIT Digital master's programme Human Computer Interaction and Design at the Universidad Politécnica de Madrid. 'It's quite a different culture compared to Twente. The Spanish culture of being tardy is also present at the university. So it's no exception that professors are fifteen minutes late to their own lectures.'
Dikken got in touch with EIT Digital through his fraternity, Luxovius. 'I had a hard time choosing my bachelor's study. And after three years studying I didn't know what to do next. But my fraternity mates recommended me to enrol in the EIT Digital Master School, since I really like being abroad and the combination of technology and entrepreneurship.'
'EIT stimulates our entrepreneurial mindset, which we can use to solve world problems'
Entrepreneurial mindset
While Dikken is talking, his groupmates are leaving to get some coffee. There isn't any in the library, which is made clear by a few bursts of yawns from the participants throughout the challenge. Another former UT student, Tim Brinkman, is leading his group with the idea he thought up himself. 'I'm very interested in the topic of sustainability. So I thought of the idea to use digitalization to make the construction sector more sustainable, since it's one of the least sustainable sectors there is.'
Victory for Tim Brinkman's team
Tim Brinkman's team was named the winner of the Business Challenge on Saturday.
Brinkman, a former University College ATLAS student now studying in Milan, works together with seven other students to develop a management tool for reusing materials. 'I enjoy the enthusiasm of everyone involved! We first had to map all the different stakeholders in the construction sector. I have my own mindset regarding sustainability, but I like that others can add new and different perspectives on the matter. That way, we can work out our idea, maybe even to the point that EIT Digital can help us out developing this into our own start-up. That's what I like about this institution: EIT Digital stimulates our entrepreneurial mindset, which we can use to solve world problems. For me, that was the reason to study here.'