Although both A3T and Laced Horns are based at the University of Twente and sponsored by the Robotics and Mechatronics (RaM) group, next week they will become rivals. Because only one of them can potentially become the winner of DroneClash. Two teams and two very different strategies. Let's see what they have up their sleeves.
Who is on the team?
A3T is a newly formed student team at the UT. Founded about a year ago by UT students Dieudonnée Muhoza and Gabriel Damian, A3T currently includes six Dutch and international members from various disciplines such as Advanced Technology, Electrical Engineering, Computer Science and Psychology.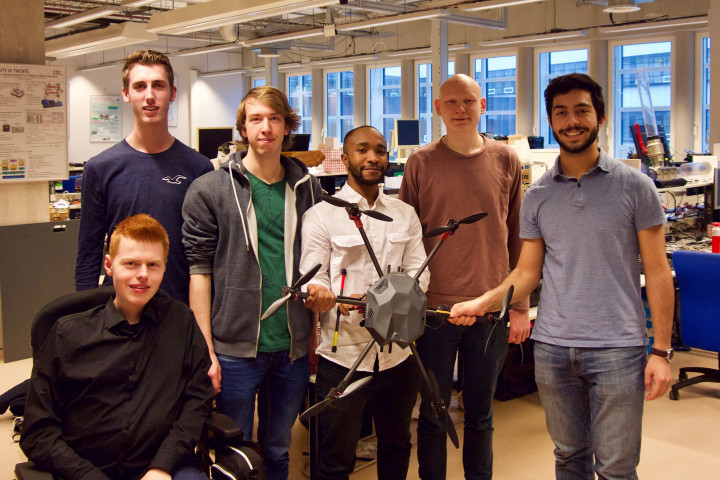 A3T team with one of their drones
The five members of the team Laced Horns come from the UT's Robotics and Mechatronics lab and from the UT spin-off Clear Flight Solutions, which is well-known for its Robird and other drones.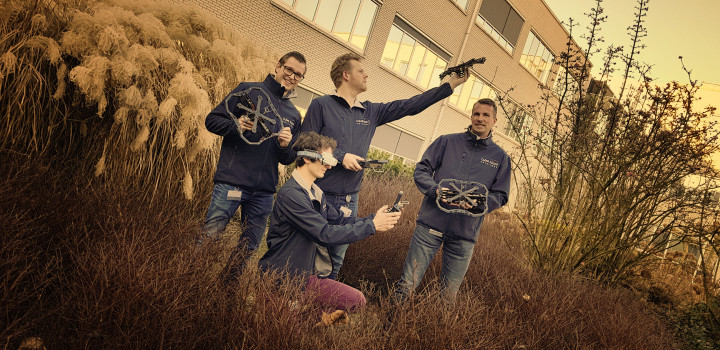 Laced Horns and their drones
What's the fun in a drone battle? 
Although they are intensively preparing for the upcoming DroneClash, this event is not the reason why the A3T team got together. 'Our main goal isn't to fight drones,' says Dieudonnée Muhoza. 'We want to become an official UT team and enter big international drone competitions like the UAS Challenge. We are participating in DroneClash mainly to gain experience and visibility.'
Laced Horns, on the other hand, formed their team solely because of DroneClash after they were approached by the event's organizers from TU Delft. 'We are making a weaponized drone, which might seem a bit contradictory since Clear Flight Solutions is famous for its focus on safety and overlap of drones with nature. But, in the end, it is still research on drone technology,' says the team captain Geert Folkertsma, who works both at the UT and Clear Flight Solutions. 'All our members have a lot of experience with drones. We wanted to join DroneClash to show how well we can actually design, build and fly drones.'
RULES OF DRONECLASH
The goal of DroneClash is to battle other teams, and earn points while doing it. Each team is allowed as many drones as they like, but they need to bring at least one Fighter drone and one Queen drone. The main idea is to bring down the rival Queens, while keeping their Queen in the air and flying Fighters through an obstacle course inside the battle arena.
The competition will have several stages and two to four teams have to battle each other in the same match. In the end, several prizes will be awarded and the best team will take home €30.000.
Would you bet on 'secret weapons' or 'robust drones'?
A3T are very careful about (not) revealing their plans for the drone battle, but there are a few things they can share. They will be using five drones in total: three Fighters, one Defender and one Queen drone. While their Defender will fly autonomously, all other drones will need to be controlled by pilots. 'We know how to pilot drones. And even though Laced Horns are really good in that aspect, we think we found a way to defeat them,' says Gabriel Damian. 'We have a secret weapon.'
'We have a secret weapon' 
Laced Horns are more open about their strategy. 'We focused on designing and building a robust drone that can withstand a lot. Our three drones are made of carbon fiber plates that also protect the propellers,' explains Folkertsma. 'We hope to rely on good piloting skills and the drones' robustness. Our plan is to fly them into other drones and disable them by bashing into them. Our Fighter drones are also equipped with weapons, such as a spear – and the rest needs to remain secret for now.'