Arie Vermeij, a retired general of Defense of the Dutch Government, told the participants about why communication is a very important part of the military and how he used this channel in many of his operations.
'Words and communication and building comprehensive plans are far better to solve conflicts. Weapons only offer a temporary solution,' says Vermeij. 'I was responsible for a number of Dutch operations abroad during my career, including Bosnia, Iraq and Afghanistan. When leading these missions, you have to communicate as efficiently as possible with your people, because they have to know you and you have to know them. If you send soldiers on a dangerous operation, they have to trust you and they have to believe that the operation is worth risking their lives for.'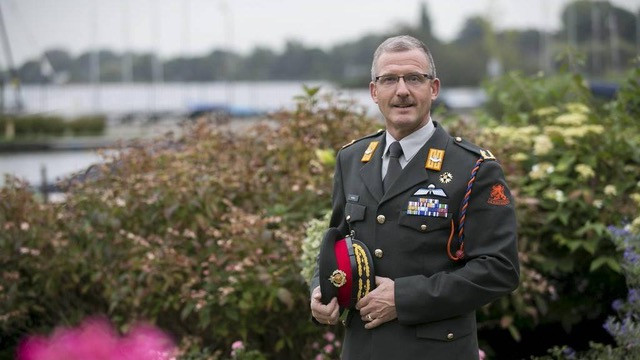 'Communication plan is just as important as a military strategy'
Before starting a mission, Vermeij always had to set up a clear communication plan. 'You have to know who your audience is, because you are dealing with both internal and external target groups with whom you have to communicate. The communication in the local area is very important, you have to get your key message across. During most missions, this message is that the army is there to support the locals, to help rebuild schools as well as the general infrastructure. It is vital that people know the end goal of your mission. Making a communication plan is just as important as making a military strategy.'
Press conferences in Bosnia
Vermeij gave a great number of examples during which efficient communication was vital in bringing a mission to a successful end. 'When I was a commander in Bosnia, I held a weekly press conference for the local media. I explained my plans and made sure I kept in touch with the population and their leaders. It was vital that they remained calm during this crisis. When a nervous breakdown caused one of my soldiers to throw a hand grenade at our own control posts, I had to make sure this was investigated thoroughly before giving the media any specific information. Because this was communicated in the correct way, political damage and loss of morale was avoided.'
Workshops by professionals
After Vermeij's speech, the afternoon was filled with interesting workshops by a number of professionals in the field of crisis communication. Amongst them was Chiel Seinen from Shell, Hinke Mulder (Head of Communication at the UT) and Eric Verhelst (IT & Privacy Lawyer). The day ended with a networking drink in the foyer of the Ravelijn, where the communication students and professionals could further discuss the day's theme and get to know each other.