'The National Model United Nations is the official simulation of the UN. This year, I participated as a member of the Delegation of the University of Twente, together with over 5000 students from 30 different countries,' Hannah Kuhn describes the big international event that took place in March 2017 in New York.
'Slightly intimidating, but so much fun'
'During the five day event, we simulated the work of the UN in several committees. Our delegation consisted of eleven members from the UT and it was representing the Lao People's Democratic Republic,' continues the Bachelor's student of European Public Administration. 'We were divided into seven committees, all focused on different topics, such as disarmament and the Sustainable Development Goals. I participated in the Third Committee of the General Assembly, which focused on ensuring better response after natural disasters.'
This was the very first time that UT students took part in the NMUN. 'We had to arrange everything ourselves and it cost us a lot of effort,' says Kuhn. 'It was totally worth it, though. It was slightly intimidating – because of all the advanced students who were participating - and we didn't get much sleep, but it was so much fun!'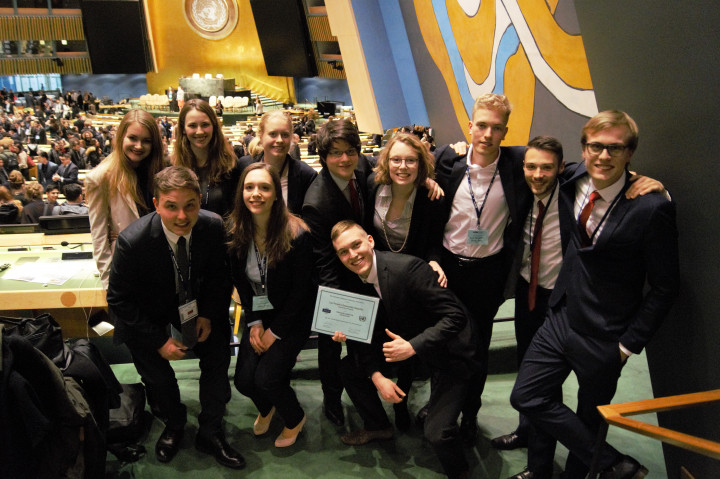 Less debates, a lot of writing
Every day, the UT team had to attend committee sessions, focus on forming coalitions with other represented countries and, in the end, present a resolution paper. 'Ours got accepted!' says Kuhn excitedly. 'Our goal was to focus on ethnic minorities, because the Lao People's Democratic Republic has a very diverse population, which means that, for example, radio services after natural disasters should be provided in many languages. This focus was included in the final plan.'
Was it easy for the students to get support for their ideas? 'You have to create a legal paper, but there are so many countries and positions it can be difficult to come to an agreement. It can get quite messy. You always have to keep the conversation open, though. Even if you disagree on a topic, you have to keep talking, otherwise you will never find a solution. However, overall there were less debates than I expected and a lot more writing.'
'Hundreds of people listening to you'
Besides writing, the students also got to meet a diplomat from the Lao People's Democratic Republic and visit the Headquarters of the UN General Assembly. 'Being able to speak there was the most exciting thing I've ever done,' thinks Hannah Kuhn. 'The microphone turns on, your head is shown on the screen and there are hundreds of people listening to you. It lasted only a few seconds, but the moment was very precious for me.'
Hannah Kuhn even wishes she could participate again. 'You learn so incredibly much from it,' she says. 'We had to arrange everything ourselves, but it would be great if the UT itself organized another delegation next year. It's a huge international platform where the university can represent itself.'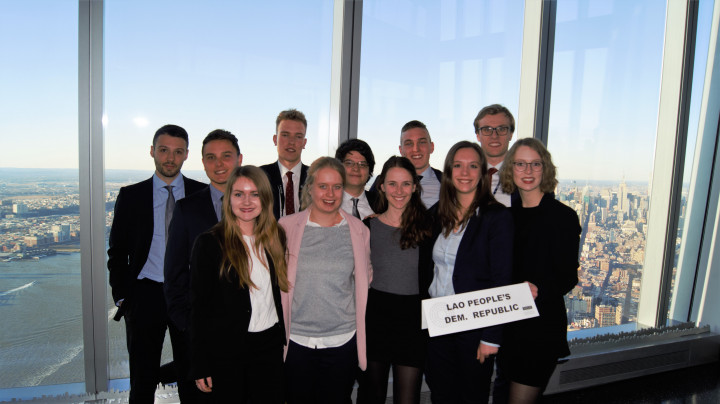 The UT students who participated in the 2017 NMUN: Harpo Vogelsang, Inga Feldmann, Lea Rau, Till Heitmann, Hannah Kuhn, Ariane Luessen, Valentin Schläffer, Jakob Teichmann, Ferdin Arsoski, Silvan Lange, Milena Niehaus.