MESA+ has achieved many milestones this year: NanoLab is celebrating its 5th anniversary, the Dutch government has recently confirmed a financial contribution to the activities of NanoLabNL within so-called Toekomstfonds (Future Fund), and High Tech Factory is now officially a part of the national iLab network.
'iLab network connects us to the top sector'
High Tech Factory now carries the 'iLab' label. What does it mean? 'There are several iLabs in the Netherlands. Each one has its own special focus and they are all certified by the Dutch Topsector Chemie. We were approved for the label thanks to our unique cleanroom space and a production facility,' explains Janneke Hoedemaekers, the Managing Director of MESA+ and High Tech Factory.
'Being a member of the iLAB.COCi network is especially valuable to us, because it allows us to showcase our work in chemistry, which is also a big part of our high-tech card,' continues Hoedemaekers. 'It provides us with an easy access to the policy domain of chemistry and connects our chemistry research and innovation activities to the top sector.'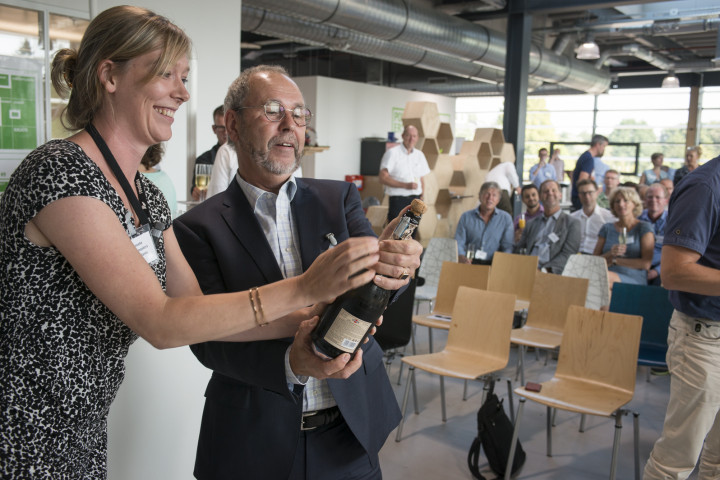 Results of chemistry research
Besides a celebration, today's Network Event served as a presentation of what chemistry-based research can lead to. It included a market of research and company demonstrators connected to High Tech Factory and MESA+ institute for Nanotechnology.
'It is good to see what comes out of our research, because new technologies that we work on today will be visible on the market in ten years, which can seem like a long time,' says Hoedemaekers. 'We will therefore demonstrate prototypes to show companies that they should also focus on the newest technologies that are just being developed.' For instance, one of the prototypes presented at the event was a flexible ceramics material alias flexiramics by company Eurekite.
Shaping the future by connecting all stakeholders
'We are organizing this event to bring attention to many news happening within MESA+ and High Tech Factory, such as some organizational changes or broadening of the High Tech Fund, which now allows us to invest in equipment in the entire region of Twente, not only the High Tech Factory,' says Janneke Hoedemaekers. 'Today's event was also meant to connect all MESA+ stakeholders, including the government, and open a discussion on what can be achieved in the future and how.'